Student Spotlight: Carolina Lyon De Ana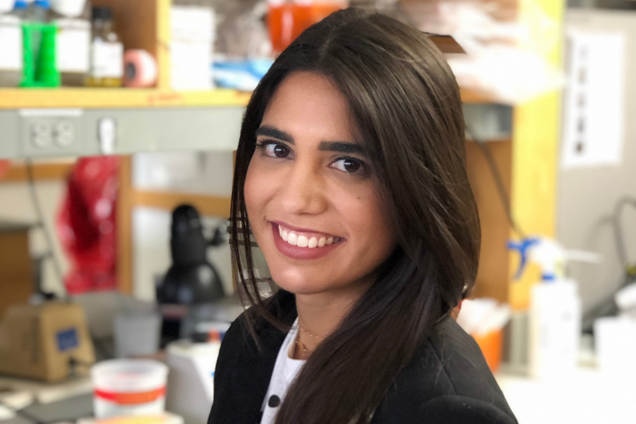 PhD candidate and BU PhD Student Organization (BPSO) officer Carolina Lyon De Ana fell in love with Boston when she first moved to the U.S. from Venezuela in 2008. After leaving the city to pursue her undergraduate degree from Florida Gulf Coast University, she knew she eventually wanted to move back here.
In 2015, Carolina began the Master's in Pathology and Laboratory Sciences program, which she completed in 2017. She knew she wanted to study pathology when she worked in a diagnostic lab during her undergraduate career, and realized the importance of accurate diagnostic methods when it comes to patient care.
"I was driven towards studying pathology because it uses laboratory techniques to understand and diagnose diseases," she said. "I felt that pathology included the hands-on work of laboratories that I enjoy, and the theoretical aspect of disease mechanisms that I find so fascinating."
Re-adjusting to life in Boston was made easier with the help of the friends she made in the Master's program.
"Since it's a small program, we became close friends and helped each other in getting used to the city living! The Department of Pathology is a close family, and they made me feel at home even when home is so far away from me," Carolina said.
Outside of her GMS studies, Carolina likes to dance. She credits her passion for dance to her grandparents, who are from Spain. Carolina grew up dancing flamenco and joined a group here in Boston as a hobby and a reminder of her roots.
As a current PhD candidate in the Department of Microbiology, Carolina works with Dr. Joseph Mizgerd, Professor of Medicine, Microbiology, and Biochemistry. The lab focuses on the immune remodelling of the lungs as they become exposed to streptococcus pneumoniae, the most common bacterial cause of pneumonia.
Carolina says she hasn't quite figured out her dream job yet, although she knows she wants to do lab-driven research that improves patient care.
"As soon as I started the PhD I realized all the opportunities we have for future jobs and careers thanks to the BEST (Broadening Experience in Scientific Training) program, so I am still deciding," she explained.
When asked about the best part of her experience at GMS, Carolina said that being an officer of Biomedical PhD Student Organization has allowed her to be involved with other classes, meet new people, and see the PIBS program grow and improve. In addition to BPSO, she said that being a student here has allowed her to find a home away from home.
"Both the Master's in Pathology program and the PhD PiBS Program are blessed with special faculty that work hard to keep us happy, and to make us feel at home. I have always felt welcome and as part of a family here, and that is thanks to the faculty welcoming us so warmly."