Student Spotlight: Anna Nagy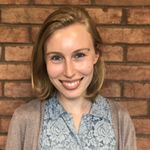 A California native and graduate of an arts high school, Anna Nagy did not initially plan to study genetic counseling in Boston. During her undergraduate years, she decided to make the shift from piano to science and studied human biology at Stanford University. It was when she worked in a laboratory and researched Type 2 diabetes, however, that Anna became fascinated by the scientific research process.
"I kind of fell in love with the way some of the researchers think, and their ability to ask questions and answer them," she said.
Wanting to escape the California heat and try somewhere new, Anna chose to make the leap and move to Boston to study at Boston University's Graduate Medical Sciences.
"I came here and just kind of felt such a warmth in the program, and I felt that they really cared about me as a person and my growth," she said. "I wanted a place where I would feel supported, especially since I was making such a big move."
Anna decided on her path of genetic counseling because she appreciated the balance between the science of genetic testing and the emphasis on communication with patients.
"Genetic counselors are in kind of a unique position of being an expert in the science, but also being an expert in counseling and making sure that the person and their emotions are taken into account."
Anna noted that the MS in Genetic Counseling is one of the smaller programs with only 11 students, making it easy to get close with her peers. "It's a great community, and I'm really lucky that I had them when I uprooted my life to come here."
Outside of her studies, Anna enjoys gardening and has a plot at the Fenway Garden Society that she shares with her roommates.
While she's unsure if she will move back to California after graduation next year or stick around in Boston, Anna says she is glad she decided to make the move and that it has been a great transition.
"When you walk down the hallways here you can feel a sense that there's always something going on, and new discoveries being made," she said. "I feel like I've been able to focus on who I want to be in terms of my career in the future, and that's been really exciting for me."