Nephrology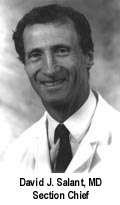 Research Activities
Ten of the twelve full-time Section of Nephrology staff based at the main campus are extensively involved in research that encompassses the fields of autoimmunity; renal immunopathology; cell biology of ischemic and toxic renal injury; renal tubular cell physiology; renal cancer gene regulation and development; outcomes research in the end-stage renal disease (ESRD) population; and vascular access patency in hemodialysis patients. David Salant, M.D., Chief of the Section of Nephrology, and Professor of Medicine, oversees the Section's activities.
Direct funding from external sources, primarily the National Institutes of Health (NIH), totaled almost $2 million this past year and supported the laboratories of most research faculty members. Six faculty are principal investigators on independent research grants or research training awards from the NIH. In addition, Boston VA Health Care System (BVAHCS) based faculty are involved in the VA cooperative studies program, "Multi-center clinical trials of therapy of renal diseases." Section members hold the position of study chairmanship of trials to determine the efficacy of antithrombotic agents in maintaining vascular access for dialysis and to define the effects of homocysteinemia in patients with kidney failure.
Existing faculty continue to receive wide recognition for their work. Recruitment of talented young investigators with interests in inherited and polygenic diseases affecting the kidneys, developmental biology of the urogenital system, and immunologic renal diseases is envisaged as a way to further enhance the program. Such recruitment would also allow the Section to compete effectively with other major renal research programs for a limited pool of high-quality postdoctoral fellows who are committed to research.
Clinical Activities
Activity in the renal clinic office increased an additional 22% this year. The hemodialysis program has continued to grow steadily through the entry of new patients, to the current level of approximately 170. Approximately fifty-five patients are on home peritoneal dialysis. In collaboration with Gambro Health Systems, this program continues to provide care for many of Boston's underprivileged patients who suffer from kidney failure. The program is a source of admissions to Boston Medical Center (BMC). Renal staff members cover the hemodialysis shifts several times a week and see the home dialysis patients in the clinic every month. They also answer calls from patients regarding intercurrent problems.
Inpatient activity grew 8% since last year. This rise was due mostly to a high rate of admissions to the care of Section physicians on the ESRD service, which also attends to the medical needs of inpatient renal transplant patients and operates a busy transplant follow-up clinic. Two renal teams provide consultative and acute dialytic services on each of the main campuses, particularly to the surgical and medical critical care units, but also to pediatrics, high-risk obstetrics, oncology, and other surgical and medical services. Consult activity remained at about the same level as last year. Renal physicians also oversee the inpatient hemodialysis program that Gambro operates and the Continuous Renal Replacement Therapies (CRRT) in all intensive care units on both campuses.
Three BVAHCS-based renal physicians provide consultative inpatient services at West Roxbury, oversee the inpatient and outpatient dialysis unit, and conduct three outpatient clinics per week (renal, hypertension, and transplant) in Jamaica Plain. In addition, BVAHCS physicians contribute substantial time to general medical activities, including MICU and ward attending at West Roxbury VA. Boston University School of Medicine (BUSM) and Harvard Medical School services have been integrated at the West Roxbury VA, and fellows from both schools are working as part of a co-operative team.
In addition, the Section provides medical coverage of inpatient hemo- and peritoneal dialysis at Jewish Memorial Hospital and the Suffolk County Jail. A BMC renal physician staffs a weekly renal clinic at the East Boston Neighborhood Health Center.
Education
All clinical faculty participate in delivering a total of ten lectures and more than seventy hours of tutorials for BUSM's "Biology of Disease" course. Renal clinical electives are offered at the BVAHCS and at both main of BMC's main campus sites. They are very popular and are almost always completely filled with first-rate students. A renal fellow and attending supervise students on a one-on-one basis at each site. Renal staff regularly serve as student and junior faculty advisors and sometimes participate as facilitators in the "Integrated Problems" course.
Several investigators have joint appointments in BUSM's graduate program and serve as thesis advisors to master's and Ph.D. students. They also interview M.D.-Ph.D. candidates. Renal faculty members are also actively engaged in tutoring and supervising students in the Graduate Program in Molecular Medicine.
The ten M.D. faculty at the main campus contributed nine months of ward attending in medicine in 2002, including three months by Steven Borkan, M.D., Firm Chief. Four of these individuals also covered the inpatient dialysis and transplant service, which is equivalent to twelve months of MICU or CCU attending. During this time, they have very close contact with resident staff. Historically, renal staff have been sought after to attend on Medicine because of their clinical and teaching skills. The three staff members at the BVAHCS attend for a total of six months in the MICU and on the wards.
Renal clinical electives are offered at the BVAHCS and at both main campus sites. Residents are given substantial responsibility for working up and following patients on the consult services. They work closely with a renal fellow and are intensively supervised by an attending. They participate in all clinical conferences and attend all formal teaching sessions, journal clubs, and research seminars.
The renal fellowship program continues to attract excellent clinical fellows to the four first-year positions distributed between the BVAHCS and main campus services. The renal fellows are highly regarded by the house staff and provide valuable bedside teaching, as well as an invaluable service to patients.
An institutional NIH training grant supports the research training program; this grant has been renewed for five years (2000-2005). All positions were continuously filled through 2002, and 60% of program graduates have academic appointments. Postdoctoral fellows have also competed successfully for support from the NIH (NRSA and K08) and the National Kidney Foundation.
Major Accopmlishments
The clinical service provided by BMC's nephrology program has received significant accolades in the past year. The American Association of Retired Persons (AARP) voted it tenth in the nation, and U.S. News and World Report ranked it in the top thirty.
Wilfred Lieberthal, M.D., Professor of Medicine, received a five-year continuation of his NIDDK research grant to study mechanisms of apoptosis in acute renal failure.
Ian Rifkin, M.D., Ph.D., Assistant Professor of Medicine, was awarded the prestigious Clinician Scientist Award (2002-2005) from the National Kidney Foundation for his work on autoimmunity.
John Schwartz, M.D., Professor of Medicine, received a new, five-year research grant from NIDDK to study vesicle docking and proton secretion in renal tubular cells.