Gwynneth D. Offner, Ph.D.
Director M.S. Medical Sciences Program, Associate Professor of Medicine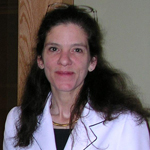 Gwynneth Offner
617-638-8221
Room L-317
Gwynneth D. Offner, Ph.D. is the Director of the M.A. in Medical Sciences Program and an Associate Professor in the Department of Medicine. While her primary focus is teaching, advising and mentoring students, Dr. Offner has also directed an NIH-funded research program for nearly 25 years. Dr. Offner grew up in the Washington, D.C. area and came to Boston to attend Wellesley College where she majored in Chemistry. She subsequently received a Ph.D. in Biochemistry from BU School of Medicine and has been on the faculty here since 1986. She teaches in the Biochemistry courses for both medical and graduate students and is Director of the Biochemistry course for M.A. in Medical Sciences students. Her research focuses on the structure and biological functions of a group of glycoproteins called mucins. These proteins serve as part of the non-immune host defense system and have been linked to many diseases including cancer, cystic fibrosis and inflammatory bowel disease.