Category: Homepage Spotlights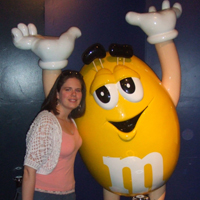 Fighting crime can start from GMS!  Often, the most influential information in a court case is built from the evidence obtained at the crime scene and processed in the lab. With all the terrible crimes that can be committed, it is comforting to know there are individuals like Crystal working to gather and analyze essential evidence that identify suspects. Not only has she been practicing forensics at the State Police DNA Unit, but she has been working to create a more effective system to analyze DNA collected from a crime scene.
Q: What program are you in enrolled in and why that program?
I am in the Masters of Science in Biomedical Forensic Science Program. This is my third year in the program attending part-time. I studied forensics and chemistry during my undergraduate studies at Ohio University. Forensic science has so many disciplines, which can be applied to many places. I was working in the State Police DNA Unit and a number of my coworkers were already in the Forensic Science Program at BUSM. I wasn't sure if I wanted to continue school, so I took one year off. Then I sat in on a class here. There are not many opportunities like the program at BUSM in Forensic Science.
Q: Recently, you attended a conference and presented a poster. Can you tell us about that experience?
My advisor, Dr. Grgicak pushed me to do the poster. I was initially uncertain as to if this was a good idea, but once I actually saw the poster hanging up in the hallway, it was like: Wow, I did that! I ended up being extremely pleased with the poster and proud of the work I did. Now I am even looking into publishing a paper based on this poster. The poster, titled 'A Comparative Study of Biological Fluid Identification Methods:  Lateral Flow Immunochromatographic Test Strips and Real-Time PCR Quantitation using Quantifiler® Duo," presented information on analyzing DNA from sexual assault kits. When analyzing these kits, the initial step is to determine if there is any male DNA and then, if there is, further testing is done to determine the exact DNA.
I presented my poster at the 2010 Annual Meeting for the Northeastern Association of Forensic Scientist. Presenting my poster at the conference allowed me to gain a new appreciation for the peer review process, and I was pleased with the receptive attitude my poster received. It also provided me with interesting feedback and new questions to investigate. The best part of the conference was the free-form case presentations from different labs. It was open to the participants to introduce  their own interesting topics, and was a great opportunity to gain a feel for the experience of different labs throughout the region. The conference taught me that there is still a long way to go in the field and it ignited thoughts of 'what next' and 'where do we go from here'.
Q: What does working in the State Police DNA unit involves?
There are two aspects of the job. One is the crime scene response unit. This means I get to go out to the scene of a crime to collect evidence. Doing so, I get to interact with victims and suspects, although I am really just collecting evidence from them, not asking them questions or interrogating them. The other aspect of the job is criminalistics, which includes working on the evidence in the lab. Overall, I don't interact frequently with the people involved in the investigation, although I have received a 'thank you' from a victim in one case.
Q: Does your job ever require you to testify?
Yes. I am often called to court, but I have only actually testified 10-12 times in four years. Often, when I am called to the courtroom there tends to be a lot of "hurry up and wait" occurring. It's not like you see on TV.  The courts are unpredictable, and I don't often actually testify.
Q: What is next for you and your career?
I don't have a life plan right now. My advisors are definitely encouraging me to continue my education with a PhD, but I am thinking that I need to develop my lab skills and gain more hands on experience in the field. It is a challenging career to have, as one must live near a city with crime to have the most opportunities. My husband recently accepted a job in Chicago and has been living there since this fall.
Q: Wow, how long have you been married for?
We were married in October of 2009. We have been together for ten years, since high school, and it just worked out that we went to the same college after graduating. He moved out here for a year, but had a better opportunity in Chicago. Now it is just me and our Irish Wolfhound, Apollo, who is a gigantic, wonderful dog that requires lots of playtime.
Q: Between working full-time, attending classes, creating posters, maintaining a marriage, and taking care of a dog, what do you do for yourself?
Don't forget thesis writing and comprehensive tests.  Well, I enjoy being involved in sorority life in Boston. I was in Delta Gamma at Ohio University, and I am able to give back to that organization as the treasurer for a chapter here in Boston.  It is a small chapter, but I am excited to report we have been able to lease a small space for the women of the chapter to gather and organize, and we are now in the process of renovating it.  It has really allowed me to stay connected to my past and connect here in Boston.
Q: Any words of advice for others presenting their posters or interested in the Forensic Science field?
It is a rewarding career if you are truly interested in it and can handle it.
Take a class if you think you may be interested in Forensic Science; you don't necessarily have had to be a forensic major to get into the field.
For presentations: Be prepared and confident in what you have done.
o   No one else knows what you've done or as much as you know about your research.
Crystal Oechsle has given us a small taste of what it means to be involved in the Biomedical Forensic Science Program and the type of opportunities one can gain from this field. While she manages her career, school, a husband, and a personal life with grace and a smile, she is making an impact in the field of forensic science.

Do you know what it is like to present a poster at a conference with over 30,000 attendees? Conor Smith, a graduate student in GMS, presented a poster at the Society for Neuroscience meeting where attendees came from all over the world.  He was able to attend the meeting with the help from a travel grant from the GMS office and he sat down to share this exciting experience with all of us.
Q: You recently attended the annual Society for Neuroscience 2010 meeting in San Diego. Can you tell us a little about what you were doing there?
There were really two main activities I was concerned with at the meeting. The first was to present my own poster entitled "Mechanisms of Pregnenolone Sulfate-Induced Increases in Plasma Membrane NMDA Receptor Expression in Rat Cortical Neurons". During my presentation I fielded questions and received input from other scientists at the conference.
The second part of the meeting basically involved seeing as much as possible. This conference covers the cutting edge in research. It is a sample of the most advanced research conducted worldwide. There was such an abundance of poster presenters at the meeting that it took approximately 20 minutes just to walk straight across the room holding them all. That doesn't even include walking through the aisles and seeing all the posters. It was also a great opportunity for networking, it gave you personal contact as you met with people face to face.
Q: What stands out to you the most from this experience?
I really enjoyed learning about the cutting edge research. You can tell which research is popular and new by the crowd surrounding it and I noticed that a BU poster being presented on optic genetics always had a mass of people surrounding it throughout the conference. Some of the best new research is right here on our own campus. All the vendors at the conference was another exciting opportunity to learn about new products that could potentially help my research. The new technology presented by vendors can provide new methods for investigation, and many of the new inventions have reduced in size. For example, this one machine, which takes up about the same floor space as a washer and dryer, has now been reduced to approximately the size of a small microwave. This is something I can bring back to the lab at BU and inform the people here of better methods for conducting research.
Q: How has this shaped your current research?
Presenting my poster and observing the other posters has really formed the direction of my research, especially what not to do. It has helped me understand why the novel studies have the most impact. It is guiding the direction of my research as it has given me new ideas. I found it extremely helpful to hear others comments on the posters, to hear their own experiences and useful tips they offered.
Q: What program are you in and why did you choose this program?
I originally started as a lab tech in the department of biophysics. As I became familiar with this lab and visited labs at other institutions, I realized that the Pharmacology department at BU was the best department for my interests in neuroscience and pharmacology. I just liked what this lab had going on and the structure of the program. There was the right balance of academics and research.
Q: Can you tell us more about your research here at BUSM?
 Pregnenolone sulfate (PS) is a neuroactive steroid that enhances NMDAR mediated synaptic transmission, augments LTP in hippocampal slices, and acts as a cognitive enhancer in impaired animals. This is important because of its possible role in synaptic plasticity, memory formation, and neuropsychiatric diseases, such as schizophrenia. To test that PS induces an upregulation of NMDARs at the surface of cortical neurons we exposed cultured rat neurons to 100uM PS for 10 minutes. We observed that PS is sufficient to induce increases in intracellular calcium in the absence of extracellular calcium.
Q: So when you aren't in the lab, what other activities are you involved in?
I like to hang out with friends when I can. I read a lot or just spend time at home with my wife. We've been married for 2 years now and we still like to go out to eat together and find new places to dine in Boston. We've been to a wide variety of restaurants in Boston. It's a great city for excellent varied dining as well as for receiving a higher education.
Q: Any advice for other prospective students?
Go to the Society for Neuroscience meeting. It is a great way to see a wide variety of research as well as a great way to get more information on how to do research. Also, go as early in your Ph.D. career as possible and see what interests you. You don't have to be a presenter to go.
Take the advice from Conor and try to attend national and international meetings.  It is a great way to meet scientists from all over the world and get lots of exposure. You can learn more about travel grants by visiting the website http://www.bumc.bu.edu/gms/gateway/students/phd/professionaldevelopment/travel-awards/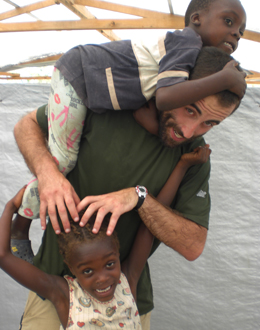 Have you seen the amazing photography—all created by our own GMS students—displayed in the GMS office? If not, please stop by and enjoy these beautiful art works. One of the photographers is Daniel Dworkis, an MD/PhD student, who is not only passionate about science but balances his life with many activities such as photography, volunteering, etc. He sat down to share with us his perspectives on science, medicine, and the game rock, paper, scissors.
Q: So you've been doing some traveling recently? Can you tell us about where you've been and what you were doing there?
Yes, that's right. I recently became involved with the Harvard Humanitarian Initiative and spent a month in Haiti working with that organization at the displaced persons camp Kam Lespwa / Klinik Lespwa (meaning camp or clinic of hope, respectively). It was an amazing experience that provided me with a unique opportunity to help people. Applying some of my lab experience in the field, I conducted some public health research, looking at different types of malnutrition present in the camp.
Q: What is one of your strongest memories from this experience?
Working with the children in the camp was amazing, and since I speak Haitian Kreyol, I was able to really interact directly with them. I would walk by a group of kids and they would be so surprised when they realized I actually understood them—my favorite part was trying to teach them the game 'rock, paper, scissors,' a game I've been playing since I was a kid. They really didn't buy into the idea of paper beating rock, but that did not stop them from surrounding me and demanding to play every time I went by!
Q: How has this experience changed your perspective?
Being able to bring my research skills to Haiti and apply them in the field really reminded me of why I'm in this program: I worked alongside wonderful doctors and nurses who were trying to address the medical issues they saw, and by bringing my research skills to look at the public-health data we collected in a new way, I was able to expose some previously unrecognized trends and concerns. So I could really see how the PhD and MD parts of my training were working together. It also really solidified my desire to work for at least part of my career internationally, probably in post-disaster or refugee settings.
Q: What program are you enrolled in and why did you choose this particular program?
I am an MD-PhD candidate in the Graduate Program in Molecular Medicine, researching factors affecting the severity of sickle cell anemia. After studying biophysics at Brown I began working at BU in the bioengineering department, and entered the MD-PhD program here intending to work on developing new bio-optic devices for research. However, during my first year of medical school, I went to a series of great talks focused on medicine and research in the setting of poverty both at home and abroad; the speakers posed some very challenging questions, and I realized I really wanted to devote a large part of my career to addressing both the bio-molecular and socio-economic etiologies of disease. Just before starting at BU, I had volunteered as a summer-camp counselor for kids with sickle cell anemia, and had seen first-hand the complex physiological and socio-economic havoc this genetic disorder wreaks. I was fortunate enough to be able to join the Center of Excellence in Sickle Cell Disease under the guidance of Dr. Martin Steinberg in the Program in Molecular Medicine. Currently, I'm researching how genetic variation modifies endothelial processing of inflammation in an effort to identify molecular pathways that might alter the severity of sickle cell disease.
Q: Why BUSM?
The mission of this school is extremely meaningful and congruent with my personal perspective. I am thrilled to work at an institution where the guiding principle is service for the underserved, and I see such a real passion here from the people I meet and work with. I also consider myself to be very fortunate to be in a place like BU that does so much to guide students toward reaching their goals, even when those goals include atypical things like temporarily leaving the laboratory to work in a displaced persons camp!
Q: So when you aren't in the lab, what other activities are you involved in?
I am a co-leader of the emerging advocacy program here at BUSM. It is a 4-year comprehensive curriculum, from teaching advocacy for patients to changing national policy. As part of this curriculum, I am currently teaching a class with a couple of other students on how legal status effects healthcare. I love the challenge of teaching the class and the opportunity to work with so many talented and motivated individuals. I am also part of the advisory council of Massachusetts Housing and Shelter Alliance (www.MHSA.net), and have learned a tremendous amount from that organization about addressing larger-scale public-health issues. I also teach a kickboxing class, which I learned as a kid from my father (who actually trained with Chuck Norris). In my non-existent free time, I also enjoy include running, yoga, and, of course, photography.
It is clear that whatever Dan may face next, it is certain that he will excel. Beyond that, Dan is also challenging us to set an exceptional standard to care for others and strive for continued improvements and excellence.
By GMS student,
Maggie Wentworth