A Day in the Life of a PGY-1 Resident – Dr. Khan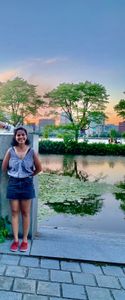 Sarosh Khan, DO
Class of 2026
Dear reader, I am thrilled that you stumbled on this page. My name is Sarosh, and I am a PGY-1 at BMC Psychiatry. I spent my formative years in Pakistan before my family moved to Connecticut in 2006. Through college and medical school, I lived in New York City, Maine, and now, living in Boston feels like a dream! I love the vibrancy of this city and every neighborhood offers a different flavor of life.
Our intern year is divided into four months of Medicine, two months of Neurology and six months of Psychiatry, and we split time between rotating at Boston Medical Center and Boston's VA system. Currently, I am on an inpatient Psychiatry rotation at the Brockton VA. My day begins with coffee and selecting a podcast for my ride to Brockton. We typically start at 8:30 AM, with interdisciplinary rounds, followed by evaluating new admissions and intakes, with time each day for discussing treatment plans with the team. Fridays at Brockton are also special because we compete for candy and other surprise wins in Jeopardy (psych-version). My co-interns and I usually take a noon break for Starbucks. Then, I finish my notes and head home around 5 PM. On Thursdays, we spend our mornings on the Consult-Liaison service, followed by didactics in the afternoon at BMC.
In my free time, I love running on the esplanade, getting wrangled by my aunt's dog in the Commons, planning bonfires, hikes, and food adventures with co-residents.
The transition to residency, especially in a new city can be challenging. Suddenly, you wear a big red sign around your neck that says "DOCTOR". The hours can be long, and the problems unpredictable. However, I have found that when I am lost, there is always help around the corner. It may be a message in my group chat with the PGY-IIs or the chief residents, or advice during didactics from faculty or program leadership, or it has come during dinners and drinks with my co-interns. And, last but certainly not the least, help has been the joy of having my aunt and her wife, and their dog, Frankie close by.
Thank you for reading. Best of luck on your residency journey.
Sarosh
Written by Dr. Khan in September 2022