DEI Events
---
Event: Overcoming Imposter Syndrome
Date: November 30, 2021  | 12:00
Location:  L-311
Description: Dr. Raul Fernandez, lecturer and former Associate Dean for Equity, Diversity & Inclusion at BU Wheelock, lead  a discussion on what imposter syndrome is and strategies to empower yourself against these doubts.
11/2 Overcoming Imposter Syndrome – Learn Strategies to Empower Yourself Against These Doubts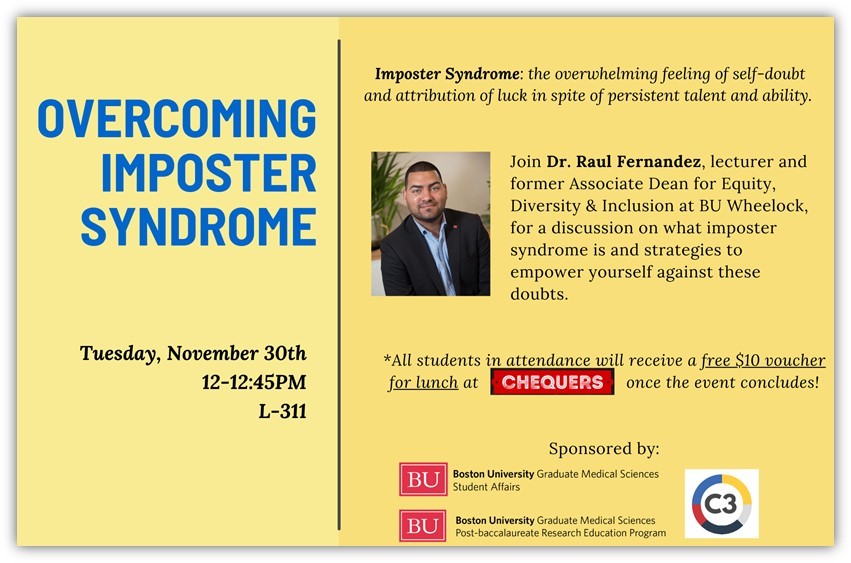 ---
Event: "Diverse Clinical Perspectives" A Student-Faculty Speed Networking Event

Date: Thursday, January 30, 2020 | 5:00 – 7:00 pm

Location:  L-311
Description: You are invited to attend a student-faculty speed networking event for students interested in pursuing a clinical career.
The event will take place on Thursday, January 30, 2020 from 5:00 – 7:00 PM and will be an opportunity for students from underrepresented groups to connect with BUSM faculty from diverse backgrounds.
Faculty members in attendance will represent various clinical disciplines. There will be a maximum of 40 students, and students will rotate in groups of 5-6 at a time to discuss structured topics in 15 minute intervals.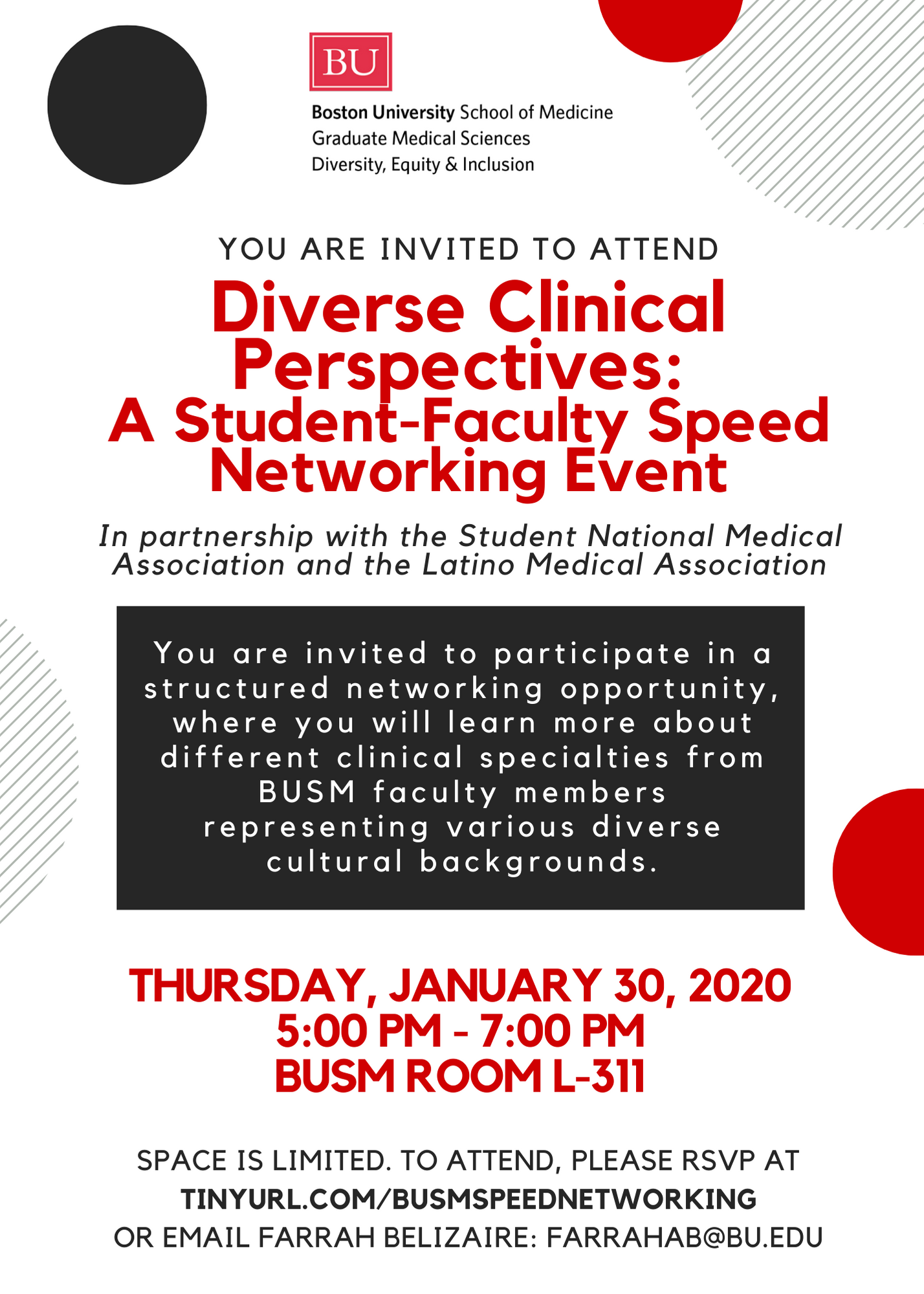 ---
Event: Overcoming Stereotypes and Imposter Syndrome
Date: Tuesday, November 19, 2019 | 12:00 – 1:30 pm
Location:  L-110
Description: Join us on Tuesday, November 19, 2019 from 12:00 – 1:30 PM in L-110 for a talk on "Overcoming Stereotypes and Imposter Syndrome"
led by Alden Landry, MD, MPH (pictured in the center above).
"Imposter Syndrome" is the feeling that you've only succeeded by luck or faking it, rather than by talent or qualifications.
This interactive and informative session will engage attendees to understand the complexities of imposter syndrome and its potential impact on career growth and personal well-being, and will provide strategies to alleviate it. Open to all.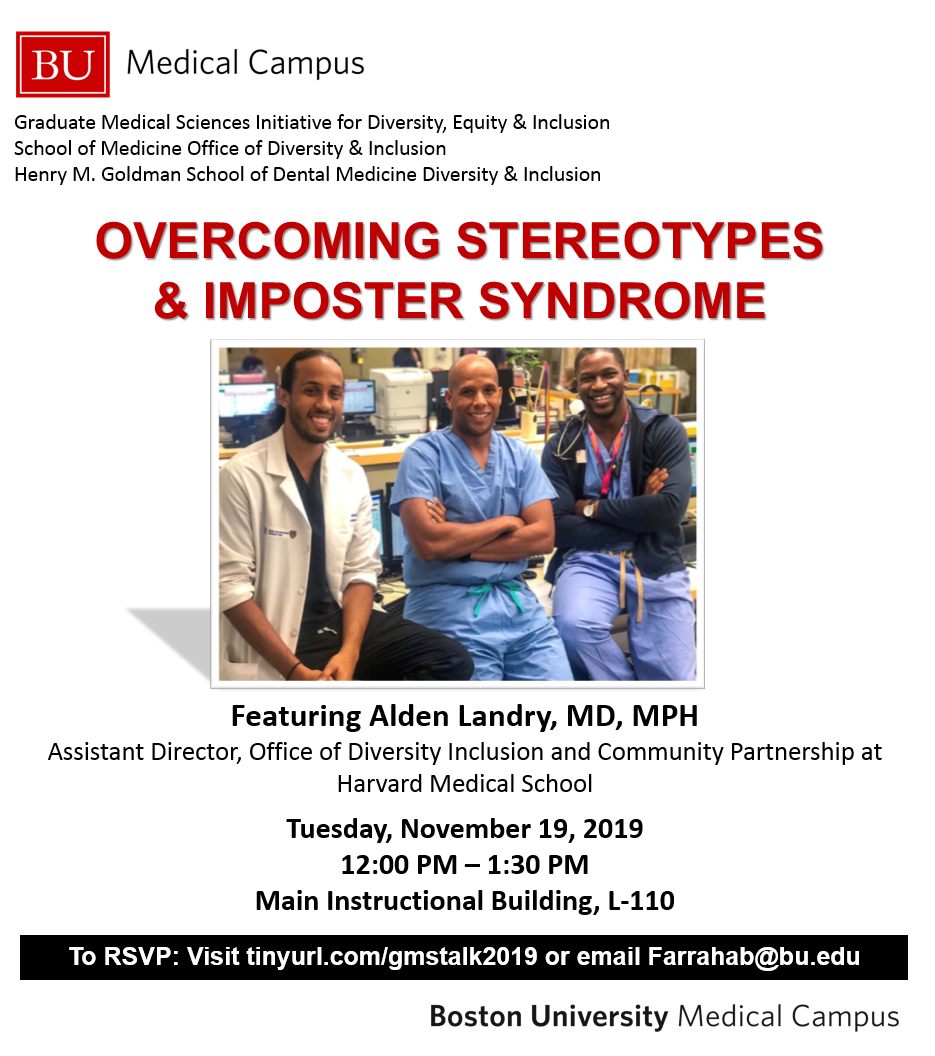 ---
Event: Fall Networking Reception for Underrepresented Minority (URM)* Students + Allies
Date: Thursday, September 19, 2019 | 5:00 – 7:00 pm
Location:  L-109
Description: Join the initiative for Diversity, Equity & Inclusion and the Minority and International Scientist Organization (MISO) for a Fall networking reception to kick off the new school year. This reception will be an opportunity to network, learn more about GMS's commitment to diversity, and share your thoughts on how we can work together to foster and inclusive environment that celebrates the richness of our GMS community. All are welcome. Food will be provided.
*Individuals from racial and ethnic groups that have been shown by the National Science Foundation to be underrepresented in health-related sciences on a national basis (Blacks or African Americans, Hispanics or Latinos, American Indians or Alaska Natives, Native Hawaiians and other Pacific Islanders). In addition, individuals with disabilities, who are defined as those with a physical or mental impairment that substantially limits one or more major life activities, as described in the Americans with Disabilities Act.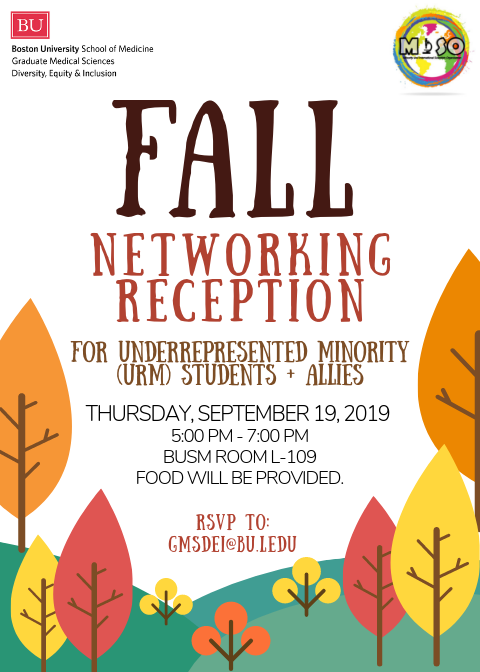 ---
Event: Bio Diversity Networking Event
Date: Thursday, April 11, 2019 | 6:00 – 9:00 pm
Location:  Hiebert Lounge (14th Floor)
Description:
On Thursday, April 11, 2019, the Color of Biotech Massachusetts partnered with the Initiative for Diversity, Equity & Inclusion at BUSM's Graduate Medical Sciences, BU BEST and the Boston Medical Center Office for Minority Physician Recruitment to host a "Bio Diversity Networking Event" from 6 PM – 9 PM in the Hiebert Lounge.
The event presented a unique opportunity for the BUSM community, particularly those from underrepresented minority groups, to network with industry professionals from across the city's pharmaceutical and biotechnology fields.
The evening activities featured a panel discussion, From Bench to Bedside: The Broader Impact of Research & Industry for Underserved Communities. Panelists included: Clinical Research Director, Sanofi Immunology & Inflammation Development Therapeutic Area Raolat Abdulai, MD, MMSc; BUSM Assistant Professor of Medicine, Epidemiologist, BU Slone Epidemiology Center Traci N. Bethea, PhD; Senior Principal Scientist, Internal Medicine Medicinal Chemistry, Pfizer Worldwide Research and Development Michael Green, PhD; and Vice President of Corporate Development, Emulate, Inc. Stanley O. King, ll, PhD.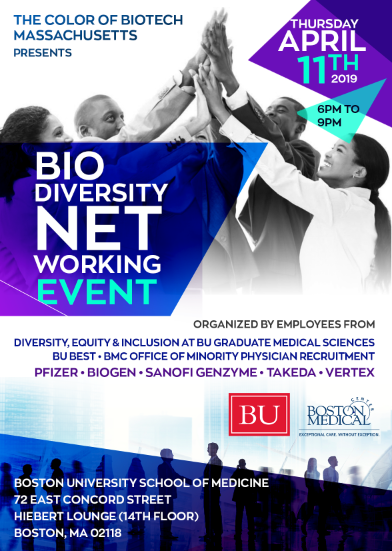 ---
Event: Implicit Bias & Microaggressions: How our Brain Takes Short Cuts
Date: February 13, 2019 | 12-1:30 PM
Location:  L112 (72 E. Concord St.)
Description: Progress in careers requires positive interactions with others- interactions that are shaped both by objective information and subjective processes. Guest Speakers Dr. Aza Allsop (Harvard Medical School) and Dr. Bruce Birren (Director of Genomic Center for Infectious Diseases at the Broad Instiute) led this interactive discussion, where participants learned about the neurocognitive processes that underlie implicit bias and microagressions, as well as some constructive steps to counteract these both personally and systematically.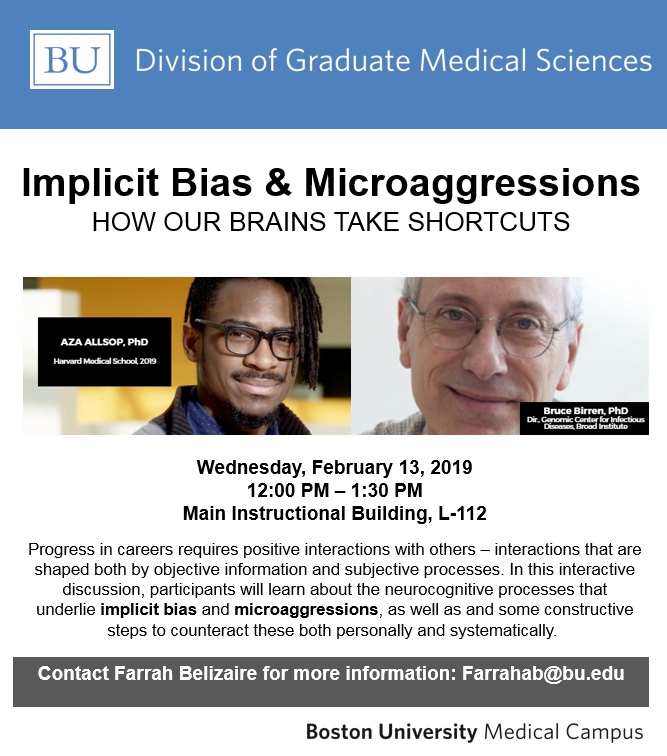 Past Recorded Events