Meet Olivia
Physiology and Biophysics PhD Candidate
---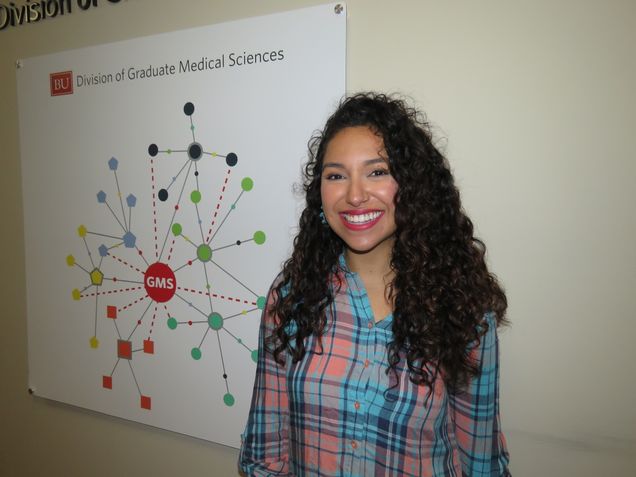 Olivia Chavez entered the umbrella Program in Biomedical Sciences (PiBS) in fall 2016 and joined the Department of Physiology & Biophysics for her dissertation research.  For her undergraduate education she attended the New Mexico Institute of Mining and Technology, where she studied biology. She then completed a summer fellowship at University of Idaho, where she studied the effects of low-dose antibiotics on biofilm formation, and then went on to work at a microbiology lab at New Mexico Tech. Now in her work at BU she studies "bad cholesterol", or low-density lipoproteins, and their contribution to disease progression in diabetes.
Is there a person or an experience in your life that led you to want to pursue a career in science?
I have a cool story! I liked science from a young age. In high school all of my electives were science classes. I never did fun stuff like art or photography, I ended up taking all of the science classes. On career day I had chosen a veterinarian, a makeup artist and a nurse and they were all full so they just put me with microbiology. The guy who was doing the microbiology presentation had just discovered a new archaebacteria that survived in radioactive waters in the world's deepest mine. And I got pumped up about that. I remember going home and telling dad, "I want to do that. I want to discover something".
Flash forward to college, I'm at New Mexico Tech, and I'm telling dad about my microbiology course and he's like, "Is that the guy that you met in high school"? We kind of put the pieces together and it was. It was the same professor and I didn't know that. So I was his biggest fan and he had no idea; he had no idea that he was my inspiration for wanting to discover things.
He ended up being my PI for my master's thesis so I worked with him on the microbiology of uranium contaminated soils. I finally told him when I left New Mexico Tech, "I have a story for you!"
He's a very serious man, so it was cool to tell him that.
You started off with an interest in microbiology but you're not doing that now. So, what led you to carry out the type of research that you're working on and can you give us a little idea of what it is?
What I do currently is study the structure, stability and remodeling of lipoproteins in diabetic patients. That involves biophysical and biochemical techniques with these particles. How did I find myself here? I wasn't seeking it. I was following my nose; looking for a lab that was a good lab environment. I was attracted to the science because of the challenge. Biophysics is a really intimidating field. I liked the challenge, but also it's very interdisciplinary, which is what I was used to. I love medicine and I love microbiology, but I'm also really into bugs, ecology, space. It was a good fit to be interdisciplinary.
What do you like the most about BU?
I like that I have access to all of the other departments. So when I have questions about a technique that I don't know, or if I'm just curious about the recent development of Alzheimer's research or something, I can go check that out. I also have buddies on the CRC [Charles River Campus] so I do stuff over there, too. It's pretty easy to meet people and to coordinate, everyone's pretty friendly.
What do you outside of lab, outside of BU, outside of school?
I like to go outside as much as I can. I like to go running and look at flowers. I like to explore the different foods for sure. There's no reason to ever repeat a restaurant in Boston, you can go somewhere new every single time. I have a favorite place to eat but it's not a restaurant. I like the fish market in Allston, and they like me too. We're buddies.
What has been the most surprising thing about your graduate studies here at BU? What have you learned about yourself or how have you grown?
Every once in a while I'll look back and think, "Hey, I'm doing pretty good!" In retrospect, I look back and I'm confident but I still get imposter syndrome. But I have a really good support system. My family is just the biggest supporter, always holding me up and cheering me on. They're my biggest fans. My Boston family, too. We really are a family, like my friends that I've made through PIBS and that I hang out with on the side. We all kind of do that for each other. We all have "Imposter Syndrome" still, and all of us will tell each other, "You deserve to be here. You're smart." Every publication, fellowship award, or things like that we're like "Remember you earned this." There's a reason it's competitive for this program. Everyone here is awesome, they're good at what they do.
If you had five words to describe Olivia Chavez, what would they be?
Scientist, rancher, grit, flower, and thoughtfulness.
Can you describe one mentor relationship or BU faculty member who has made an impact on your experience in graduate school?
My PI Dr. Olga Gursky has made an immense impact on my graduate school experience here at BU. She has a unique story like I do, so to have a strong, female biophysicist as an example has been very helpful and inspirational. She is understanding and thoughtful, but stern and technical when she needs to be. I know that I am very lucky to be training under her specifically. She takes the time to mold her students, both scientifically and professionally. Planning experiments and understanding the work is one thing, but creating a healthy work-life balance is also a challenge. She has helped me with this challenge too. When I have faced adversities due to being a female, Hispanic/Native American scientist, she has been there to support me and give advice, because she has been through it too.
What advice would you give a first year graduate student?
Suck it up. First year is so hard. Especially if you are international or not local, like me, the pace of our program and the change of environment at the same time is a lot of transition for a person. I don't think there's advice that would be an easy fix, I think you have to put your head down and your fists up and go out swinging.