Meet Dennis
Assistant Professor in Pathology and Laboratory Sciences
---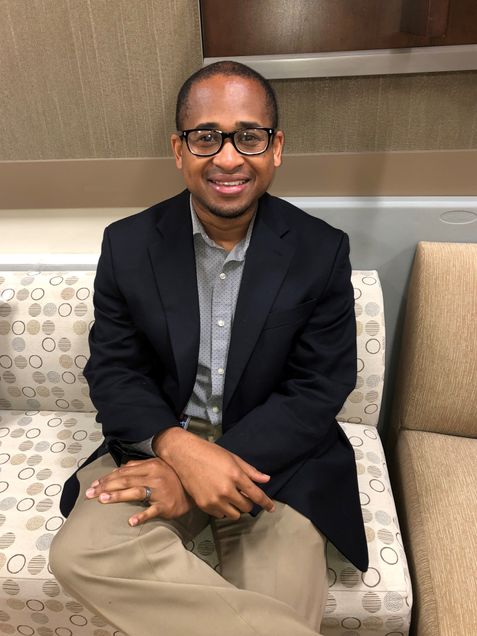 Dr. Jones grew up in Collins, MS – a small town about an hour from the Gulf Coast. He attended Morehouse College in Atlanta and was a biology major. He started college as a pre-med student, but soon realized that laboratory research was something he was passionate about. That was a personal discovery for him; he became excited about the idea of discovering something new. This led to a number of summer research internships as an undergraduate. During the summer after his junior year he participated in an internship in the Department of Immunobiology at Yale. It was a program similar to STaRS [The Summer Training as Research Scholars Program here at BUSM]. "That experience solidified my decision to attend graduate school. Working hard and showing my dedication to research during  my undergraduate studies helped me get into graduate schools across the country. I chose Yale based on my incredible summer experience".   After graduating, Dr. Jones carried out post-doctoral studies at Massachusetts General Hospital. He joined the faculty at BUSM in 2018.
 Can you give us an overview of your research?
My lab now is focused on cancer, specifically cancer that has spread (metastasized), and this is what kills people. Right now we're focused on T cells, a type of immune cell that can directly kill cancer cells. Many other groups have shown that these anti-tumor T cells are in tumors, at the site of origin, but they're unable to do their job of killing cancer cells. What we've found is that these T cells are not able to access metastatic tumors. We're trying to understand the mechanisms of how cancers exclude these T cells, with the goal of reversing this process so that T cells are able to kill metastatic cells.
Many scientists' academic journeys go in very convoluted ways. Has your research evolved over time and, if so, what led to the change?
My research has been a natural progression from one topic to the next. My interests have always been at the intersection of vascular biology and immunology. So, in graduate school I studied how inflammation, which involves immune cells being recruited to a site (due to injury, for example), leads to creation of new blood vessels and lymphatic vessels.
In my postdoc [at Massachusetts General Hospital], I was more interested in studying disease. I started studying cancer, which was a natural extension of my work in graduate school. Cancer generates a lot of inflammation, and this inflammation leads to the production of new blood vessels and lymphatic vessels. Cancer cells metastasize through newly-formed lymphatic vessels, ending up in lymph nodes. So, as a postdoc I studied lymph node metastasis.
In my current lab I hope to get even closer to looking at human disease by collaborating with clinicians here at the medical center to get an idea of what goes on in human metastatic cancer progression.
What drew you to BUSM?
For me, I did a postdoc because I loved being at the bench but didn't know what I wanted to do beyond that. My wife knew what she wanted to do and she identified a lab in Boston that was a leader in the field of Sickle Cell Disease research. She was offered a position, so then I also found a great lab in Boston that I was fortunate to join. The lab that she joined had a strong history of publishing in good journals and that environment suited her well for her academic aspirations. So, I said, "I'll do a brief postdoc and then find something else to do". She ended up going into industry and I was the one who did a 6-year postdoc and went into academia.
I had a good friend who, at that time, was a faculty member in the [BU] College of Arts and Sciences. He knew I was looking for an academic job and he introduced me to active networking. I always heard about networking but wasn't sure how it should be done. He had a lot of faculty events that he would be invited to and he would extend the invitation to me to actually come to these events and meet faculty, particularly if they were there from the biomedical sciences. At these events, I met a few BU faculty members and found that they were doing some pretty cool research. Also, they seemed like very collaborative people.
What advice would you give to a first year graduate student?
You should be excited about the research topic and seek to develop a mutual relationship with the advisor. These relationships usually involve the student learning and then being able to contribute to the advisor's lab and advance their science. However, I think there also needs to be more of a focus on career development. Choose a mentor that's interested in helping you identify careers that might be best for you, and someone who is interested in providing you with opportunities to explore those options. Make sure it's not a one-sided relationship, where it's all work and no career or professional development. Also, consider a team approach for mentorship. Advisors have a lot of answers but won't have all the answers. For example, I am a junior investigator but when mentoring I want to involve senior investigators to help me support graduate students. An advisor also may not be comfortable in certain areas, especially those relating to issues that minority students face, so a student may want to seek additional mentors.
What advice would you give to a graduate student looking for a postdoctoral position?
If you know what your career goals are, that's great. You should have an honest conversation with your prospective mentor. Talk about the steps needed to reach your goals and your timeline for being in the lab. If you want to go into academia, you may want to talk about the potential to develop your own project to take with you. If you want to go into industry, identify opportunities and establish connections that will get you more exposure to industry during your postdoc. It is also OK to not know what your career goals are when starting a postdoc. As long as you enjoy doing science, things will work out.
What are some of the things you like to do outside of your work?
In graduate school I had more of a social life outside of work. I played in a steelpan band in New Haven, CT and I was the Graduate and Professional Intramural Sports Coordinator. I also played intramural sports.
Now, since I have a young child, it's hard to do things outside of work other than things with her; play dates, birthday parties, swim class. I enjoy community service events with other members of Phi Beta Sigma Fraternity and traveling. Most of these personal favorites now incorporate family. I try to compartmentalize and dedicate the time I spend commuting and at home (especially before her bedtime and on weekends) to strictly being "family time". During these times, I disconnect from work as best as I can. That's how I try to create some type of balance.