Amy Brodeur, MFS, and Matthew Layne, PhD, Receive GMS Educator of the Year Awards
Each year, Boston University and Graduate Medical Sciences honors several faculty members who show steadfast dedication and passion toward graduate and doctoral education. These awards are based on student recommendations from across the GMS programs.
This year, we are thrilled to announce that GMS has awarded the 2022 Educator of the Year awards to Amy Brodeur, MFS, and Matthew Layne, PhD.
---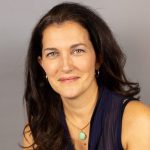 Amy N. Brodeur, MFS
Associate Director, Biomedical Forensic Sciences Program
Assistant Professor, Anatomy & Neurobiology
Brodeur, recognized as GMS Educator of the Year for MA and MS programs, has seen the Biomedical Forensic Sciences Program grow from its launch in September 2006 to now.
At Boston University, Brodeur teaches, coordinates classes and supervises research projects in crime scene investigation, forensic biology, physical evidence comparison and bloodstain pattern investigation. She also administers and maintains the forensic biology lab, oversees the Admissions committee and works to ensure that the BMFS program continues to meet FEPAC accreditation standards.
One of Brodeur's favorite parts of her work within the program, however, is mentoring her students. Each BMFS cohort accepts around 20 students.
"I love forensic science," Brodeur said. "I had a huge passion for it while I was a practitioner. I still do, and so I love seeing that same passion in my students."
With each new cohort, she meets students from a variety of different scientific backgrounds, like chemistry, biology, life sciences and genetics. Over the last 16 years, Brodeur has seen students accept internships and accept jobs at hundreds of different forensic labs across the country, and she often runs into them again at forensic science conferences.
One of Brodeur's favorite days of the academic year is commencement, where she can watch her students walk across the stage, receive their degrees and celebrate their two years of hard work in the program.
 "For most of the students, it marks the first time we're meeting their family or significant others, […] and I really like that too," Brodeur said. "Especially my research students, I really get to know them over the two years they're here, and so it's nice to finally meet the friends and family that have supported them throughout the process."
---
Matthew D. Layne, PhD
Assistant Dean for Research, Boston University School of Medicine
Associate Professor, Biochemistry
Layne, recognized as GMS Educator of the Year for PhD programs, has taught at Boston University since 2007.
His lab works to identify pathways controlling extracellular matrix (ECM) synthesis and assembly as they relate to fibroproliferative and connective tissue diseases, with the goal of developing therapeutic strategies for these conditions.
Layne mainly teaches in the PhD program within the Department of Biochemistry, but he also teaches other graduate students. As an educator, Layne has the opportunity to see students become experts in their field, and really "own" their knowledge. He enjoys seeing his students develop more autonomy and confidence as they progress through their graduate studies.
Layne said there is value in not only the research and experiment side of education, but the time spent in the classroom, too. For him, that time includes hours spent preparing for class, teaching and meeting with students – all on top of his lab work.
Despite his busy schedule, however, Layne recognizes that the most important part of being a successful educator is having the time to dedicate to students. He said that he particularly likes working with his students in small groups.
"I think it suits my style," Layne said.
---
Congratulations, Professor Brodeur and Dr. Layne, on well-deserved awards! Thank you for your continued dedication to your students and your part in making a difference in their academic journeys at BU.