Student Spotlight: Darius Haghighat MS '22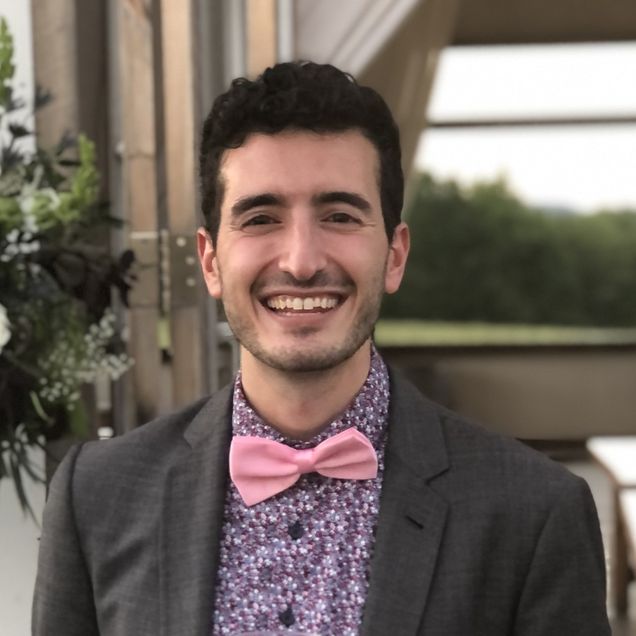 "I'm going to miss the people," Darius Haghighat (MS'22) said, reflecting on his last two years at Boston University. "It's a cheesy answer, but it's the truth. I feel like I'm really lucky."
The May 2022 degree candidate is preparing to graduate with an MS in Genetic Counseling – a program that has allowed him to combine his academic interest in complex genetic technology with his lifelong passion for working with people.
But Haghighat's success at BU extends far beyond the classroom. A vital member of the Graduate Medical Sciences team, Haghighat has served in a work-study role as a marketing and communications assistant since he matriculated in 2020.
On April 12, BU awarded Haghighat with the Graduate Outstanding Service Award during a ceremony at the Photonics Center building. He was one of four students honored out of the roughly 10,000 student workers employed at BU.
Dr. Theresa Davies, assistant dean of master's programs at GMS, recommended Haghighat for the award with an enthusiastic letter that expressed just how critical his work has been to the success of GMS and its students, faculty and staff.
"[Haghighat] has integrity and has and continues to be committed to the success of GMS and providing the programming our students need," Davies wrote.
During his time working with GMS, Haghighat took on a wide variety of projects and responsibilities that he balanced alongside his rigorous, full-time science course load, clinical duties and capstone project.
When he first joined the team, he was responsible for managing the GMS calendar, preparing a weekly Student Life and Wellness mailing and posting notices to the website. As he progressed in his role, Haghighat moved toward completing homepage articles, interviewing students and faculty members as needed, writing Spotlight features and helping to keep the website fresh.
"He is not just a superb employee and GMS team member, he is an exceptional young man with humility, a strong focus on social justice and providing for the greater good."

– Dr. Theresa Davies
Through the height of the COVID-19 lockdown, Haghighat assumed the responsibility of leading an admissions post-decision survey initiative, assisting with efforts to reduce melt rates of accepted students and taking over the GMS Press, a biweekly student newsletter.
Davies credits Haghighat's unwavering work ethic with helping the entire GMS office do their jobs – and support over 1,100 students – even better. "He became deeply entwined in making GMS successful over the past two years as we struggled through the pandemic, completing every task we threw his way," she wrote.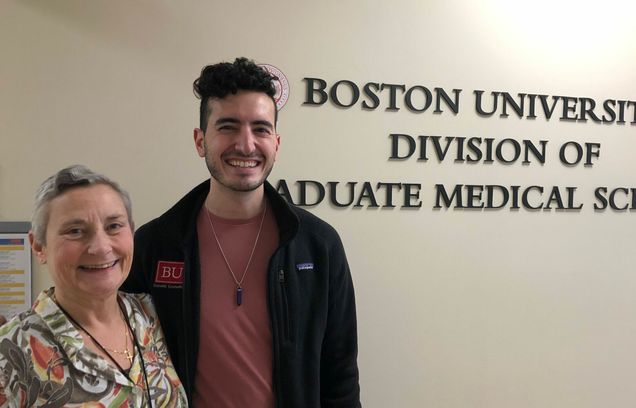 For Haghighat, one of the benefits of his work-study position came from its flexibility and variability. The variety of projects has kept the work interesting, and it meshes well with his commitment to his schoolwork and capstone.
"One of the nice things is having a supervisor who advocates for you and recognizes that you're a student first," Haghighat said. "I always feel comfortable talking to Dr. Davies about periods of time when I know that I'm going to be really stressed. She's always been super understanding about working within that."
---
A lifelong Massachusetts resident, Haghighat completed his undergraduate degree in biology and religious studies at Stonehill College. After debating what he wanted to do long-term, he moved into higher education and college admissions at Wheelock College.
Wheelock's merger with BU brought him to the undergraduate admissions office, where he stayed for three years. While he enjoyed his work with prospective students and their families, Haghighat found himself missing the hard science that had been an integral part of his undergraduate career.
After a Google search and several conversations with people in the field, Haghighat found the best of both worlds: genetic counseling. Coincidentally, he matched into the MS program at BU and moved from the Charles River Campus to the Medical Campus.
"It's a really unique field," he said. "It has the genetics knowledge, the scientific side of things. […] But also, it's all about communicating these really complex topics to patients and families, figuring out what their needs are. There's a really strong psychosocial component to it."
For his capstone, which he completed in April, Haghighat interviewed intersex people – individuals born with a combination of traits that make it so that they are not completely categorized as either male or female – to hear about their experiences and learn more about the ways they think healthcare providers can do better by them in the future.
"It's a group that's been pretty mistreated by the medical system historically, and it's also a group that will seek out genetics as a part of their diagnostic process," Haghighat said. "As a queer genetic counselor, I will take any opportunity I can to advocate for LGBTQ patients."
Throughout his time in the genetic counseling program, Haghighat has learned from and worked with several mentors who he one day hopes to emulate, such as Kathleen Berentsen Swenson, Kim Zayhowski, Lillian Sosa and Phil Connors.
"As a queer genetic counselor, I will take any opportunity I can to advocate for LGBTQ patients."

– Darius Haghighat
"It feels so nice to be a part of such a supportive community that I constantly feel like I'm being looked out for and rooted for," Haghighat said. "I think I'm going to miss that the most. Hopefully I'll be able to find that wherever I go afterwards, but I've just come to know and expect it here."
Following commencement, Haghighat plans to stay in the Boston area and ideally work as a prenatal genetic counselor. He encourages the graduate students coming behind him at GMS to follow their passions and always remember exactly what brought them to their field in the first place.
"You were picked to be here for a reason," Haghighat said. "Have faith in the fact that you are well equipped, and you belong where you are. […] Take advantage of every opportunity that you can, ask lots of questions and pay it forward afterward."