Physician Assistant Class of 2024 White Coat Ceremony

On Friday, March 25th, the Physician Assistant program welcomed their new cohort of students in a white coat ceremony.
The 25 students in the class of 2024 for the BUSM PA program were welcomed by Susan White, MD, Program Director and BUSM Dean and campus Provost, Karen Antman, MD. As part of the ceremony, keynote speaker Robert Lowe, MD, Assistant Dean for Medical Education and Associate Professor of Medicine in Gastroenterology, gave an impassioned speech to mark the start of the student's 28-month journey to becoming a medical care provider.
During their ceremony, the students recited the 'Physician Assistant Professional Oath' as a commitment to their profession and future patients alongside Alison Malet, President of the Carl Toney Society Class of 2023.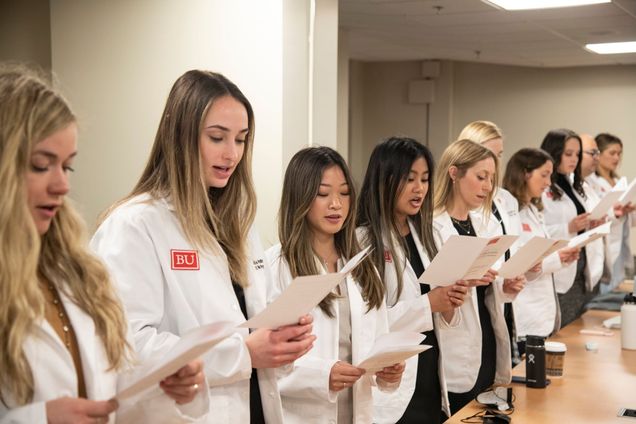 You can read more about the White Coat Ceremony and students experience posted by BUSM .
You can also view the recording of the live stream here. 
View photos on Facebook here.
CONGRATUATIONS!