PREP Symposium Celebrates '21 Scholars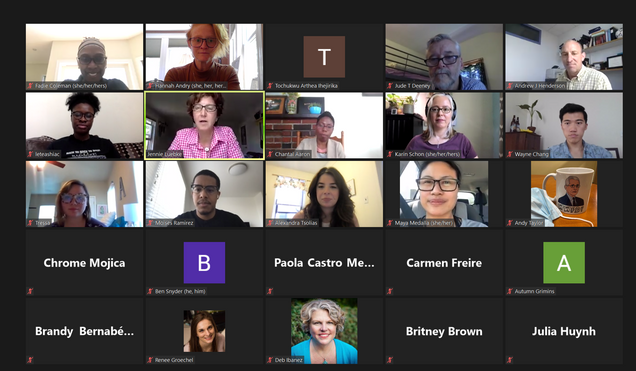 On May 27, BU PREP scholars – Chantal Aaron, Autumn Grimins, Hapshepsut Jackson and Moises Ramirez  – shared their capstone projects with faculty, staff, mentors, and program alumni at this year's Class of 2020-2021 Zoom Symposium.
The students highlighted their research and conclusions in their presentations, answered questions, shared the journeys that led them to the BU PREP community and discussed the next steps in their career journeys.
GMS applauds our PREP scholars on their hard work and celebrates their bright futures! We'd like to give a special thanks to the program directors, Drs. Fadie Coleman and Andrew Henderson and Program Administrator Nola Tochukwu Ihejirika (Pathology & Laboratory Sciences '21). A special thank you to the PREP mentors – Drs. Jude Deeney, Jennifer Luebke, Maria Medalla, John H. Connor and Scott E. Schaus. 
About PREP:
Boston University School of Medicine Post-baccalaureate Research Education Program (BU PREP) is a year-long preparatory program for recent bachelor's degree recipients seeking entry into competitive PhD training programs. The program fosters mentoring relationships that enhance personal and scientific development for members of historically underrepresented groups in the biomedical sciences, and is supported by a NIH/NIGMS R25 GM125511 grant.
BU PREP scholars are paired with BUSM's outstanding faculty, use state-of-the-art research facilities, and work closely with an advising team to create an individualized career plan directed toward doctoral graduate school entry and success.