Student Spotlight: Kiloni Quiles-Franco
Kiloni Quiles-Franco is a PhD student studying Molecular and Translational Medicine at GMS. She is currently the co-host of Vitamin PhD, a podcast produced at Boston University for anyone who is pursuing a doctorate, has a doctorate, or supporting others on their doctoral journey.
The podcast's fourth season is focusing on conversations with student organizations, faculty members, and staff from across BU schools and colleges about diversity and anti-racism. Co-hosts Kiloni and Khadija El-Karfi (Romance Studies) discuss how these individuals and groups engage in social justice work within their departments, labs, programs, and colleges. 
We chatted with Kiloni about her vision for the podcast's fourth season, tips for handling social justice fatigue, her hopes for upcoming diversity initiatives and more: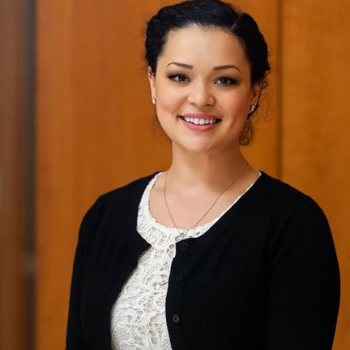 How did you first get involved in Vitamin PhD?
I was an invited guest on Season 3 for a roundtable discussion. I've also been involved in a lot of Diversity & Inclusion initiatives, racial and gender equality initiatives, and I'm an executive board member on a few different organizations. They reached out to me to be a co-host on Season 4 (after George Floyd's death) because they wanted a host from both campuses. I guess I had my hand in a few pots and they thought I'd be a good fit!
What's been one challenge and one highlight of working on this podcast?
One challenge has been trying to give everyone the space to speak their truth. We really wanted it to be constructive. We wanted it to be like investigative journalism without the 'Gotcha!' moment.
One highlight is that everyone is going to get something out of each episode. Each guest offers a different perspective that applies to people across the university. Every episode is about an hour long. You may think, "Whoa, that's a long conversation! Is it going to be redundant?" But we touch on so many topics that it's impossible for somebody not to feel moved. People who maybe don't come from underrepresented backgrounds will still see themselves in at least one of these stories. It's impossible not to. I think it's going to resonate with the entire BU community.
How did you map out the themes you wanted to feature in each episode?
We specifically patterned the first episode to talk about 'What will make you care?' We believe that the biggest obstacle in this fight for justice is the fact that there are a lot of people who don't feel like they have any say in the matter. They feel like it doesn't apply to them. There are also those who have been trying but are now experiencing something I call "social justice fatigue." That's when you're talking about these issues constantly and it's just so emotionally exhausting that you need to take a step back. We tried to address all of those people in the first episode because we want them hooked. We want them engaged in the conversation.
The second episode was directed at the people who care, but maybe don't know what to do.
In the third episode, we focused on barriers for underrepresented/BIPOC students who are matriculating into higher education. We looked at the tendency these students have of 'working to live' instead of 'living to work.' They work twice as hard to get half as far. There's this imposter syndrome where they feel like if they don't work so hard, they'll be looked at as lazy. They're afraid people will think they don't deserve to be where they are.
Each episode builds on the last. They're long episodes. We want our listeners to understand that they don't have to listen to them all the way through in one sitting. They can take it in bite-sized pieces. We want listeners to reflect, and we want them to recognize their own biases. We all have them. That's a big takeaway.
Building off this idea of social justice fatigue: how do you balance the gravity of these really heavy topics while still remaining hopeful for the future?
This is a topic I've been discussing for a long time. Since George Floyd, there seems to be a lot more engagement from administration. They're the ones reaching out now. They're saying, 'Hey, teach us! We want to know more.' That's encouraging. As heavy as these conversations are, I think what keeps me motivated is the fact that people are asking students for advice on what they should be doing differently.
We want listeners to reflect, and we want them to recognize their own biases. We all have them.
Is there an upcoming conversation or an episode this season that you're especially excited to share with your listeners?
I think Episode 3, which aired yesterday [March 18] is the best one so far. The way that the episode was cut together and the way that both of our guests answered our questions… the topics are just so broad that they fit with every department. This includes medicine, which isn't easy to do. It's hard to talk about students AND physicians AND directors (and so on) while making a solid argument for all of the above. I think that Dr. Monica Wang and Luis Ramirez did an excellent job of laying the foundation of how everyone across the board can address these issues.
If nothing else, everyone should listen to that episode. Let it set the tone for what the intention was for this season.
Did you have a vision going into this project of the impact that you believe PhD students and other graduate students can have?
I did not have a benchmark of what I expected that impact to be going into this. I'm just a vocal person. My goal is always to speak the truth, no matter what. Going into this, I didn't know that graduate students on their own could have such a big impact – I didn't expect so many people to be interested. Even before it aired, people told me they were excited to hear the first episode! I'm glad it's happening. It's all stuff everyone needs to hear.
Maybe people used to be siloed from these topics for one reason or another. Maybe the imposter syndrome has stopped some students, staff, and faculty from discussing them as much. Maybe it's been a topic that has brought up some discomfort in meetings. It's more relevant now.
My goal is always to speak the truth, no matter what.
One of the quotes from your first episode that really resonated with me is: "Activism and academia are not inherently separate." Do you have a quote or moment from the podcast that stuck with you?
This is a spoiler for Episode 5, the very last episode. Something that really stuck with me is the idea of a hidden curriculum in higher education. These are the things you need to do that aren't explicit in application requirements for graduate programs. They are just understood to be required. They are inherently biased in favor of people with privilege and resources. People without that aren't aware of them. This puts them at a disadvantage as they try to get into advanced degree programs.
I was lucky to get into a program called The Initiative for Maximizing Student Development in my undergraduate degree, which provided me with that hidden curriculum. The goal of the organization was to help improve diversity in biomedical research. To get people like me into the role I am in now. Otherwise, it would've been very difficult to have the opportunities that I've had. I think it's important to address that, to name it, and to acknowledge that it's real.
Is there anything we haven't touched on that you'd like to add to the conversation?
One of the things that I hope that our administration takes away from all of this is that there isn't a quick solution. These issues aren't going to be fixed in one or two years. The issues of systemic racism go back centuries, so the solution will take—at the very least—decades. Go into this knowing that it's going to be a daily and repetitive effort. There needs to be intentional initiatives put forward by the entire community as a whole. It needs to be continuous. As long as we go into it knowing that, then we'll be on the right path. If we go into this wanting to fix things quickly, then we'll just be slapping a Band-Aid on a pipe leak.
---
Want to learn more about Vitamin PhD? Check out their webpage here. If you are a PhD student interested in getting involved with the podcast, email gradpd@bu.edu for more information. You can also follow @BUVitaminPhD on Twitter for their latest updates.