"I Am a Work In Progress" Event with Dr. Erika Angle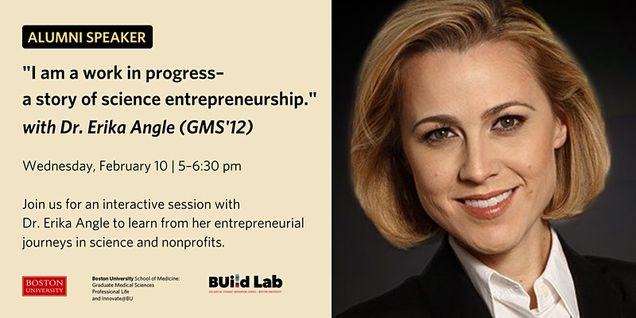 Join us for a special talk from Dr. Erika Angle to learn from her entrepreneurial journeys in science and nonprofit.
Find out how BU alumni Dr. Erika Angle (GMS'12) launched her entrepreneurial journey through biotech and social impact.
Hear how Dr. Angle founded a biotech company Ixcela and nonprofit Science from Scientists.
Ask questions during the live Q&A session
This event is sponsored by the BU Graduate Medical Sciences Professional Life office and Innovate@BU's BUild Lab IDG Capital Student Innovation Center. By registering for this workshop, you agree to receive emails from Innovate@BU. You can unsubscribe from our emails any time.