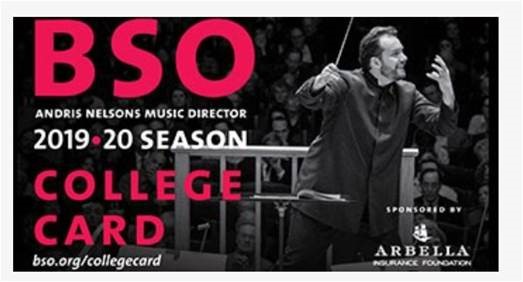 Get discounted tickets to concerts at the Boston Symphony Orchestra with the  BSO College Card. GMS has BSO College cards available.  Please stop by L317 and see Jorge to pick one up.
STUDENTS – How do BSO College Cards work?
Step 1: Pick up a FREE BSO College Card ($25 value). Students receive free tickets throughout the season.
Step 2: Visit www.bso.org/collegecard to set-up a BSO account. If you already have an account, skip to Step 3.
Step 3: Visit "Card Registration" in My Account, select "College Card", "Boston University" and enter the number in the bottom right concert of your card. Please then fill in the information on the back of the card. If you previously had a card, you must update your new Card no.
Step 4: You can then separately sign up for the BSO mailing list to automatically receive weekly emails with concert availability. You can find a link to the mailing list at the bottom of the www.bso.org/collegecard page.
Step 5: Visit www.bso.org/collegecard every Friday when the BSO has determined which concerts for the following week will have tickets available.
Step 6: Tickets may be reserved starting on Mondays at 10am for available concerts within the week ahead. You may reserve one ticket per concert program. To make your online reservation, visit www.bso.org/collegecard. Choose the concert date, select your seat, and add to cart. You can now print your concert ticket at home. Be sure to bring your college card, BU student ID, and ticket with you to the concert.