Student Spotlight: Farah Herrawi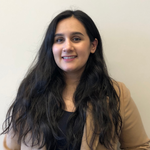 "When we think about health, we usually think about physical health," said Farah Herrawi, a second-year Mental Health Counseling and Behavioral Medicine student. "There's such a big need for people to be in the mental health profession, and that's the thing that people tend to forget."
Farah is dedicated to advocating for people with mental health illnesses, and works primarily with immigrants and refugees. She said a major reason she decided to work with this population is that her own family immigrated to the U.S.
"I have come to understand some of the challenges that this population faces when it comes to getting adequate and culturally sensitive health care services, especially mental health care."
As a fellow of the National Board for Certified Counselors (NBCC) Minority Fellowship Program (MFP), Farah completed a workshop in Atlanta, Georgia, and will be heading to Greensboro, North Carolina and Washington D.C. over the next year to continue her education and training.
In addition to the fellowship, Farah also completed a practicum at Boston Medical Center on the Psychiatric Consultation and Liaison service.
"This was a wonderful experience, one that I could only have gotten because I am attending BU, which gives students in my program these great opportunities to work in integrated health care teams."
Outside of her studies and work, Farah likes to hike—although she says she did more hiking when she lived in Las Vegas.
Farah received her undergraduate degree in biology at the University of Nevada Reno, where she minored in Asian studies. While she says she has not adjusted well to the Boston weather, she is glad she came here for her graduate education.
"Boston has so many different populations you can work with, and in some cities it's more restricted," she said when discussing her decision to study at Boston University's Graduate Medical Sciences. "In Boston you can work at the hospital, you can work with immigrants, you can work with whoever you want."
Next year, Farah will complete a year-long internship at the Refugee & Immigrant Assistance Center in Roxbury.
Her dream job is to work for a major global platform like the United Nations or World Health Organization and advocate for those who struggle with mental health illnesses. Until then, she plans to further her education and apply to PhD programs in Counseling Psychology.