Fall BU Best Professional Development Events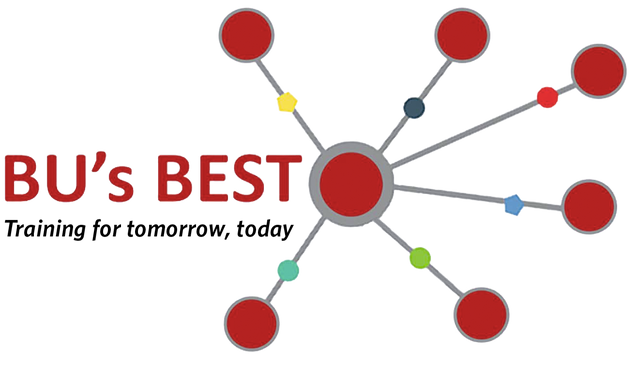 WPDC SheInspires Lunch Series w/ Prof. Shoumita Dasgupta

10/31/19
12:00pm-1:00pm
72 E. Concord St.,
Room L306

This month's guest will be Dr. Shoumita Dasgupta, a current leader in educational advancement and academic research at BUMC. Dr. Dasgupta is a Professor of Medicine and Assistant Dean of Admissions at BUMC. *Please reserve your seat as lunch is served and space is limited.*

RSVP

Grant Writing Workshop: Specific Aims

2:30pm-4:30pm
72 E. Concord St.,
Room L306

Receive feedback on your Specific Aims grantsmanship for your NRSA grant, drafts must be submitted to abolgion@bu.edu and hender@bu.edu 2 days before the workshop, sign up to receive reminder e-mails.

Creating Your Own Career Plan

11/7/19
12:00pm-1:30pm
72 E. Concord St.,
Room L109AB

This workshop will help you create an outline of your career plan that will facilitate career development conversations with your mentor, help you set goals, and make the most of your BU experience. *This event is in collaboration with The Postdoc Academy* Lunch will be served.

Bringing your ideas to market

11/7/19
5:00pm-6:30pm
72 E. Concord St.,
Room L306

Should patenting your project be where you start? Join us for discussion with the Office of Technology Development. Food will be provided.

Scismic Industry Job Search Panel with Resume Feedback

11/14/19
4:00pm-5:00pm
24 Cummington Mall,
Room LSE 103

Come listen to experts on the hiring side of industry and receive feedback on your resume. *This event is in collaboration with Scismic* Please register as refreshments will be served.

Overcoming Stereotypes and
Imposter
Syndrome

11/19/19
12:00pm-1:30pm
72 East Concord St,
L110

This interactive and informative session will engage attendees to understand the complexities of imposter syndrome and its potential impact on career growth and personal well-being,
and will provide strategies to alleviate it. Open to all.