Military Match
2023 Interview Dates
Wednesday, Sept. 20, 2023 – Reserved for military applicants
---
Thank you for your interest in the general surgery residency program at Boston University Chobanian & Avedisian School of Medicine/Boston Medical Center. Our five-year program provides residents with the range and depth of surgical experience and academic exposure required to develop superior surgical skills and the ability to make informed, independent judgments. We are committed to preparing future generations of highly skilled surgeons. Residents gain experience in preoperative, operative, and postoperative patient care across the spectrum of general surgery, including broad exposure to trauma care.
The Department of Surgery has six categorical residency spots,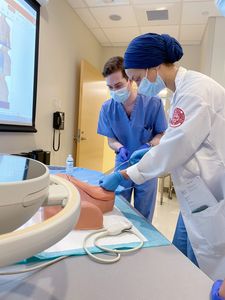 with one spot reserved for an active-duty military resident chosen through the military match. The program attracts and recruits from diverse academic, geographic, and cultural backgrounds. More than half of our general surgery residents are women, and one-third are from groups underrepresented in medicine. Residents interested in careers in academic surgery develop the necessary skills in surgical research through a broad range of training opportunities designed to maximize academic development. The majority of our residents pursue fellowship training.
Our General Surgery Residency Program, which is accredited by the Accreditation Council for Graduate Medical Education, is based at Boston University Medical Center, a modern medical complex located in the heart of Boston's South End. The medical center includes the Chobanian & Avedisian School of Medicine (SOM), Boston University School of Public Health, Boston University Goldman School of Dental Medicine, and the National Emerging Infectious Diseases Laboratories, as well as Boston Medical Center (BMC).
The primary teaching affiliate for the Chobanian & Avedisian SOM, BMC is a private, not-for-profit, 514-bed academic medical center. BMC emphasizes community-based care, with a mission to provide consistently accessible health services to all. It is the largest safety-net hospital in New England, as well as the largest and busiest provider of trauma and emergency services. Beyond BMC, residents rotate at the VA Boston Healthcare System, Boston Children's Hospital, and Cape Cod Hospital, providing training that is broad and deep.
Application Process
Military Applicants
Interested applicants should forward their CV, a personal statement, and an unofficial transcript of their USMLE/COMLEX scores to Lana Ketlere, surgery residency program coordinator, by Sept. 1, 2023. 
Additional Information
Please contact:
Lana Ketlere, Surgery Residency Program Coordinator
Phone: 617.638.8442
Fax: 617.638.8409