General Surgery Residency Program
The Boston University Chobanian & Avedisian School of Medicine/Boston Medical Center (BMC) Surgery Residency Program provides residents with the range and depth of surgical experience and academic exposure required to develop superior surgical skills and an ability to make informed, independent judgments. Our five-year program, which is accredited by the Accreditation Council for Graduate Medical Education (ACGME), is committed to preparing future generations of highly skilled surgeons.
Through exposure to a large, diverse patient population, residents gain broad and deep experience in complex open and minimally invasive surgery. With very few fellowship programs, the focus of our program is the education of the general surgery resident.
Residents interested in careers in academic surgery develop the necessary skills in surgical research through a broad range of training opportunities designed to maximize academic development. Residents who choose to spend dedicated academic time on research complete course work in statistics and other methodologies to become independent researchers.
Clinical excellence is at the core of the Chobanian & Avedisian School of Medicine/BMC program.
---
Learn More About Our Program
If you missed our virtual information session on August 25, 2022, you can still view a recording of it.
---
Our general surgery residency video offers a great overview of our program.
---
About Boston Medical Center
The Surgery Residency Program is based at Boston University Medical Center, a modern medical complex located in the heart of Boston's South End. The medical center includes Boston University Chobanian & Avedisian School of Medicine, the Boston University School of Public Health, the Boston University Goldman School of Dental Medicine, the National Emerging Infectious Diseases Laboratories, as well as Boston Medical Center (BMC).
BMC is a private, not-for-profit, 514-bed academic medical center. It is the primary teaching affiliate for Boston University Chobanian & Avedisian School of Medicine. BMC emphasizes community-based care, with a mission to provide consistently accessible health services to all. It is the largest safety-net hospital in New England, as well as the largest and busiest provider of trauma and emergency services.
The program recognizes the importance of surgical preparation for the certifying and qualifying examinations of the American Board of Surgery. Board examination techniques are introduced to the resident as part of the didactic curriculum and as surgical judgment and technical skills are developed.
Clinical research, as a method for developing the appropriate approach to clinical problems, is expected from all residents. Opportunities for database reviews, quality improvement, and case series are abundant throughout the residency.
Take an aerial tour of the BMC campus.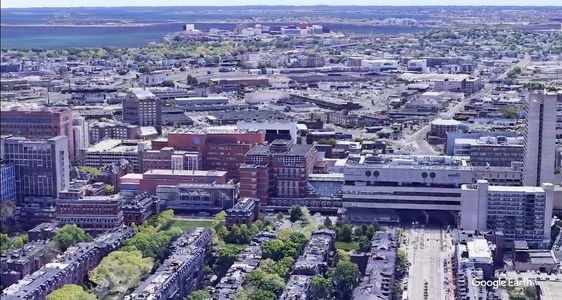 ---