Statement on Diversity
With a longstanding commitment to fostering a community and culture that reflect the rich diversity of our society and those we provide care for, the Department of Surgery welcomes individuals of all backgrounds, cultures, and individual differences regardless of ethnicity, gender, race, religion, or sexual orientation.
We actively seek to encourage, maintain, and provide support for diversity among our faculty and trainees, believing that a diverse academic community greatly enhances every aspect of our mission — in patient care, teaching, and research.  Further, we believe that a diverse academic environment is essential to the development of future leaders in health care, preparing them to succeed in an increasingly global community.  We also believe that maintaining a truly diverse community requires a deep and ongoing commitment to inclusion that must permeate our culture, values, norms, and behaviors.
The Department of Surgery is home to the Center for Transgender Medicine and Surgery, the Community Violence Response Team, and Socially Responsible Surgery. We are aligned with Boston Medical Center's mission and we strive to more fully reflect the communities we serve. To enhance our diversity efforts, we collaborate with the Boston University Chobanian & Avedisian School of Medicine Office of Diversity and Multicultural Affairs and support Boston University's statement on diversity.
Third Annual DEI Visiting Professor Day – September 8, 2023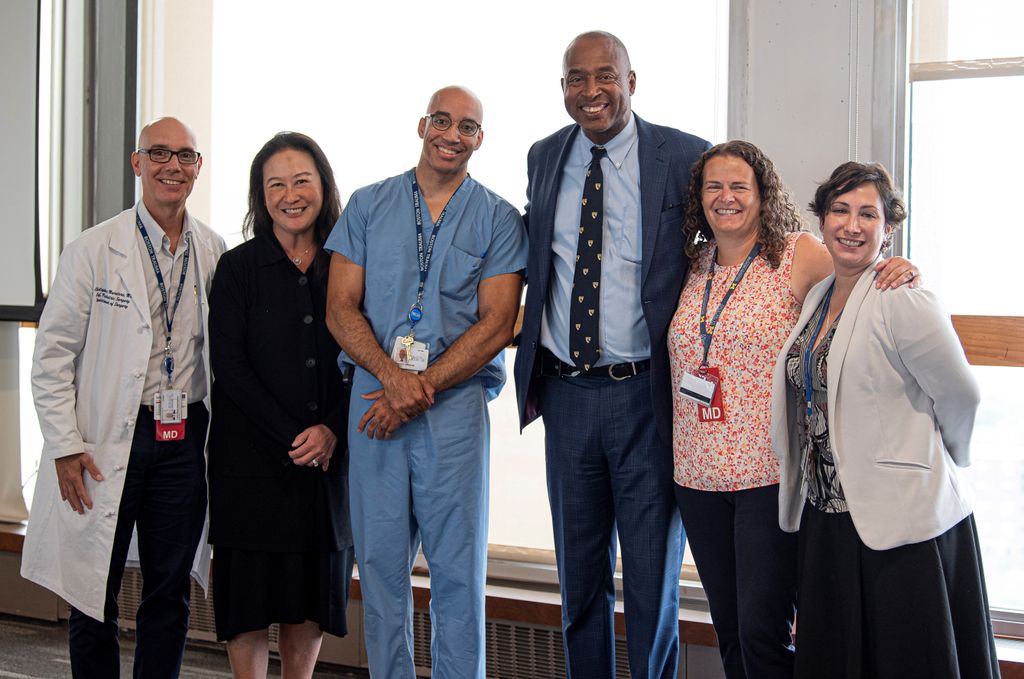 We were happy to welcome Selwyn O. Rogers, Jr., MD, MPH (third from right), as our third annual DEI Visiting Professor on September 8, 2023. Dr. Rogers is Professor of Surgery in the Department of Surgery at the University of Chicago, Chief of the Section of Trauma and Acute Care Surgery, and Director of the Trauma Center for the University of Chicago Hospitals. Dr. Rogers shared his wisdom with residents and faculty over the course of the day, which ended with an inspiring keynote address.