Resident Academic Development Time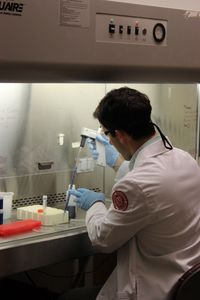 Surgical research is part of the training of residents interested in an academic career, and clinical research is encouraged while in clinical training. Surgical residents interested in an academic career typically commit to one or two years of dedicated research time, which we denote as Academic Development Time.
During Academic Development Time, the trainee pursues an approved series of activities intended to enhance a future academic career. Residents have been part of numerous T-32 training grants here at Boston University and elsewhere, and there are ample opportunities for course work in statistics and other research methodologies. Often a resident will pursue a formal degree in the Boston University School of Public Health during this time away from clinical duties.
Clinical research is also available to residents during the clinical years of training. Residents author as well as participate in collaborative scholarly activity and preparation of peer-reviewed publications. Award-winning presentations have been given by numerous residents. Travel for presentations is funded by the department with the expectation that a manuscript will be submitted.