Surgical Research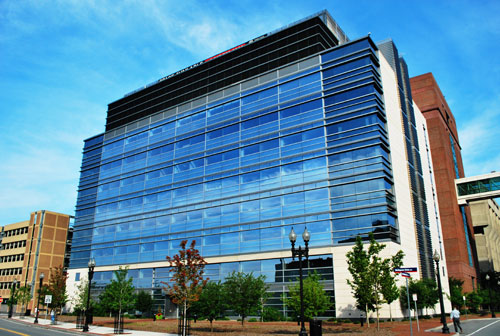 Research is an integral part of the Department of Surgery, and reflects a major commitment by the department to advance the field.
Our work includes basic science, clinical and surgical outcomes, public health and disparities in care, and translational research. Active collaborations with colleagues in the BU Schools of Medicine, Engineering, Public Health, and Management are the basis for projects in the clinical, health services, and education research arenas.
Our modern research facilities include several fully equipped molecular biology laboratories, staffed by basic scientists, senior technicians, and personnel with expertise in all aspects of biomedical research.
The Research Advisory Council provides residents and faculty with advice and assistance in the design, conduct, and analysis of both basic science and clinical research studies.
Research Advisory Council Members:
• Allan Stolarski, MD (resident member)
• Tony Godfrey, PhD
• Donald Hess, MD (ex officio)
• Kelly Kenzik, MS, PhD (guest faculty), Univ. of Alabama at Birmingham
• Marina Malikova, PhD, MSci, MA, CCRA, RAC
• Amy Rosen, PhD
• Teviah Sachs, MD, MPH
• Jeffrey Siracuse, MD, MBA
• Jennifer Tseng, MD, MPH (ex officio)
• Christina Wee, MD, MPH (guest faculty), Harvard Medical School
For additional information regarding research in the Department of Surgery, please contact: Teviah Sachs, MD, MPH