Basic Science and Translational Research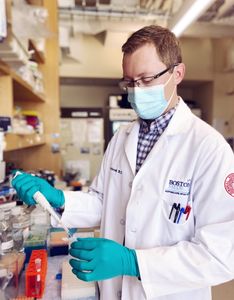 Research is an essential aspect of our work at Boston University Chobanian & Avedisian School of Medicine and Boston Medical Center (BMC). The Department of Surgery is committed to advancing care through surgical research. We pursue initiatives that support all aspects of biomedical research, from explorations at the basic science level, to translating fundamental discoveries into treatments that improve human health. These pursuits are vital to the education, training, and development of our students, residents, fellows, and physician-scientists.
Conducted in environments that cultivate scientific inquiry within the traditional surgical disciplines as well as across disciplinary boundaries, our aim is to foster multidisciplinary research, not only within the Department of Surgery but also with investigators from other departments, such as Biomedical Engineering. These activities are critical to translating breakthroughs in basic science to the bedside, and beyond, using novel treatment modalities for the betterment of patients.
Our students, residents, and faculty participate in various labs and affiliated organizations. The following are highlights of basic science and translational research being performed within the department:
Cancer Genetics & Molecular Pathology
The focus of Dr. Godfrey's lab is cancer genetics and molecular pathology. The lab's current goals include investigations into esophageal adenocarcinoma, a cancer with increasing incidence in the Western world, and Barrett's esophagus, a known precursor condition to the malignancy. Through close collaboration with surgeons, pathologists, and oncologists, the lab strives to make a direct positive impact on the lives of patients by developing new molecular approaches that allow for the earlier detection, staging, and treatment of cancer.
Immunobiology of Sepsis & Trauma
The focus of Dr. Remick's lab is to investigate the immunobiology of sepsis and trauma. Using various murine models of sepsis, the lab is actively working to describe variations in responses to injury and illness. The lab has been successful in identifying populations for which novel therapies may prove beneficial; these therapies include those targeted at survival and organ function in septic shock. Its productive research is an ongoing collaborative effort between the Departments of Surgery and Pathology.
Senescence & Delayed Wound Healing
The focus of Dr. Roh's lab is to investigate the role of senescence in delayed wound healing of aging, acute wound healing processes, chronic wounds such as venous ulcers, pressure ulcers, and diabetic ulcers, and pathologic cutaneous scarring. Dr. Roh is a reconstructive surgeon who aims to improve the health and quality of life of patients affected by wounds and scars. The lab's accomplishments in biomedical research serve as a model example of translating discoveries in the laboratory to new approaches in medical care.
For more information about resources:
For a full listing of Core Laboratories & Facilities, please click here.
For further information on faculty research interests, click here.