Socially Responsible Surgery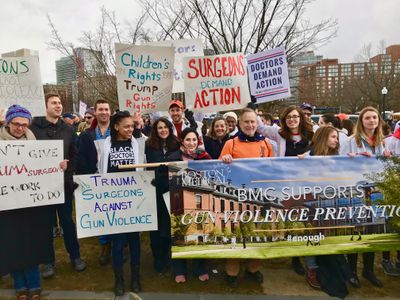 Recognizing social responsibility as a core value of surgical practice, and surgery as an essential component of global health, the Socially Responsible Surgery Committee was formed in 2014 to identify opportunities for leadership, research, and collaboration in the training of globally minded surgeons committed to surgical equity.
Leadership
FACULTY ADVISORS

Tracey Dechert, MD
Lisa Allee, MSW, LICSW
Sabrina Sanchez, MD, MPH
Our Mission
Education
Introduce future generations of surgeons to concepts of disparities in surgical care and provide surgeons with the tools to advocate for their patients and communities.
Incorporate advocacy training into resident and medical student curricula
Participate in educational activities throughout the BUSM community across specialties
Partake in educational opportunities nationally and internationally
Research
Engage in research methods to better understand disparities in surgical care and access and design appropriate interventions to address these inequalities.
Design and implement studies focused on the understanding of access to surgical care in our communities
Identify deficiencies in existing databases and improve upon them by engaging with other local academic institutions
Apply concepts derived from local research to identify principles that can be applied worldwide to understand disparities
Advocacy

Strengthen the ability of surgeons to engage in political and social platforms to improve care of surgical patients. Encourage the allocation of resources towards addressing surgical inequalities.
Advocate for patients on a personal level within the doctor-patient relationship
Engage in meaningful dialogue within our institution and between other institutions
Encourage participation in the formulation and evolution of healthcare policies that address access to surgical care
Service
Expand our service to patients beyond providing surgical care and create a positive change within their sociocultural context and within their communities beyond the walls of our hospital.
Design and implement interventions to address inequalities in the health of our surgical patients
Build multidisciplinary teams to address inequalities driven by community priorities and interests
Serve our communities in meaningful ways that extend beyond surgical care
Contact Us
srsurg@bu.edu
(617) 414-5643
For more information about Socially Responsible Surgery at Boston Medical Center, please visit our website.