Critical Care Training
Pulmonary Fellowship Training
---
Medical Intensive Care Unit (MICU)
Pulmonary Critical Care first year fellows rotate through the Boston Medical Center medical intensive care unit four times during their first year of fellowship. Click here for more details.
Anesthesia Rotation
Second year fellows continue their critical care training during a month long rotation on the anesthesia service. The intent of this rotation is to develop a proficiency in elective and emergent airway management, use of double lumen endotracheal tubes and tube blockers, preoperative pulmonary assessment, and line placement. The fellows are instructed in preoperative clinical assessment related to anesthesia for elective and emergent surgery. There is formal instruction on induction agents, muscle relaxants, opiates, and inhalational agents. The fellows are instructed on the use of medications for conscious sedation. Fellows also spend time in the Post-Anesthesia Care Unit to gain experience in managing the types of problems that occur immediately following surgery. Fellows also attend anesthesia meetings, lectures, and Grand Rounds during this rotation.  Fellows also have the opportunity to hone critical care ultrasound skills working with the critical care anesthesia team during this rotation.  Fellows also receive additional airway skill development through the Pulmonary Fellow Airway course conducted in the Solomont Simulation Center.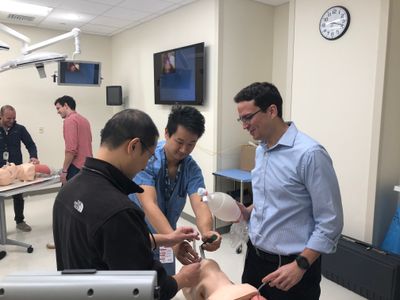 Surgical Intensive Care Rotation:
Third year fellows continue their critical care training by spending 1 month in the surgical intensive care units of Boston Medical Center as critical care fellows. This unique clinical experience takes advantage of the fact that Boston Medical Center is a Level I trauma center, with 28 SICU beds, and 1544 trauma admissions a year. In this capacity, Boston Medical Center is a receiving facility for the Boston Medflight Program, which is the main air evacuation system for this region. The critical care staff is board certified by The American Board of Surgery, Internal Medicine, and/or Anesthesia, and Critical Care. During this rotation, our fellows are directly involved in the care of severely injured patients, gaining the skills necessary to care for trauma victims. In addition to trauma, our fellows are involved in the care of orthopedic, general surgical, neurosurgical, and vascular patients that are admitted to the surgical intensive care unit.  Boston Medical Center has begun an ECMO program for the management of complex cardiac surgery and medical patients. Pulmonary and critical care fellows have the opportunity to work with the multidisciplinary team of cardiac surgeons, pulmonologists, and cardiology to care for critically ill patients requiring ECMO support.
Neurocritical Care Rotation:
Third year fellows continue to expand their clinical expertise by spending a 1 month rotation with the neurocritical care service.  The Boston Medical Center neurocritical care service treats 500-600 patients a year with diverse diagnoses including subarachnoid hemorrhage, large territory stroke, hemorrhagic stroke, status epilepticus, neuromuscular emergencies, CNS infections, CNS tumors, and post-operative neurosurgical patients.  Fellows have the opportunity to manage these critically ill patients under the guidance of board-certified fellowship-trained neurointensivists.