Tuberculosis
The tuberculosis (TB) clinic at Boston Medical Center (Boston University School of Medicine) is a collaboration between the Pulmonary and Infectious Disease departments and the Boston Public Health Commission (BPHC). The TB clinic is the largest in Massachusetts, caring for over a thousand new patients annually, including on average 40 cases of active tuberculosis. Patients are referred to the TB clinic from multiple hospitals and community-based clinics in the greater Boston area.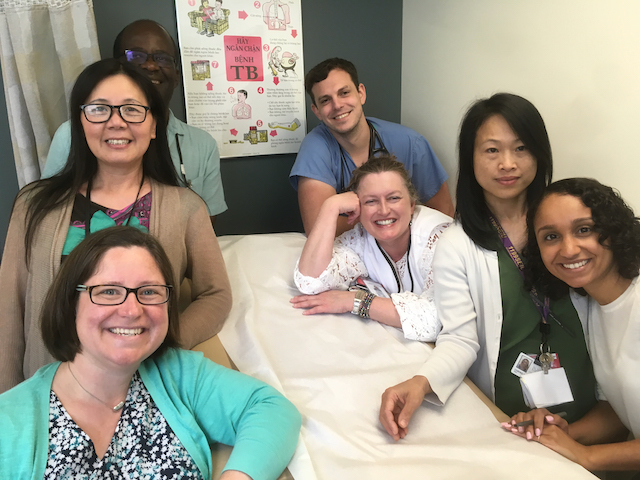 The staff of the TB clinic is comprised of physicians with expertise in both infectious disease and pulmonary medicine, nurses and outreach workers from the BPHC and a variety of language interpreters. The clinic provides initial TB screening, diagnosis and management, including management of complex cases of multi drug resistant tuberculosis.
Clinical Activities:
Evaluation of patients with positive TB screening tests (PPD, Quantiferon, T-spot)
Treatment of patients with Latent TB Infection (LTBI)
Evaluation and management of contacts of patients with active TB, as identified by the BPHC
Diagnosis and management of patients with active TB, including multidrug resistant strains of TB
Management of complications related to TB medications
For Patients
Comprehensive tuberculosis (TB) diagnostic services, treatment, and monitoring for persons with TB are available. Confidential HIV counseling and testing, indicated as part of TB case, is available during clinic sessions.
Clinic Location
Boston Medical Center (BMC)
Preston Family Building – 5th Floor
732 Harrison Avenue
Boston, MA 02118
Phone
Appointments: (617) 534-4967
Nurse triage:    (617) 534-4875
Fax
(617) 534-4976