Boston Medical Center Interstitial Lung Disease (ILD) Clinic
History: The Boston Medical Center/Boston University Pulmonary Section has a long and proud history of clinical care and research in interstitial lung disease and pulmonary fibrosis dating back to the initial descriptions of UIP (usual interstitial pneumonia which is referred to as Idiopathic Pulmonary Firbosis) and DIP (desquamative interstitial pneumonia) by Dr. Ed Gaensler and colleagues in 1975 (Carrington et al. 1978). Subsequent seminal work on the BMC/BU campus has included the description of bronchiolitis obliterans and organizing pneumonia (BOOP) (Epler et al. 1985) and a review of Dr. Gaensler's experience with chronic eosinophilic pneumonia (Jederlinic et al. 1988). The Pulmonary Center also developed the current animal model of human pulmonary fibrosis that is used worldwide to test the efficacy of potential treatments and develop insights into the pathogenesis of this disorder (bleomycin induced fibrosis in rodents).
More recently, The Pulmonary Center has pursued basic science advances in pulmonary fibrosis and participated in clinical trials to identify candidate treatments for idiopathic pulmonary fibrosis (IPF/UIP) and scleroderma ILD, led within Pulmonary by Dr. Arthur Theodore. With the recent focus on precision medicine research initiatives, the discovery of genetic associations with ILD subtypes, and the establishment of the BMC/BU Center for Regenerative Medicine (CReM) and its national lung disease- specific stem cell repository (that includes induced pluripotent stem cells derived from ILD patients) BU launched a formalized advanced lung disease specialty clinic focused entirely on ILD and led by Dr. Finn Hawkins and Dr. Kostas Alysandratos (shown below). The ILD clinic includes formalized integration of multidisciplinary state-of-the art care and bench to bedside research initiatives focused on ILD.
At BMC, we provide expert care for individuals with a variety of interstitial lung diseases including idiopathic pulmonary fibrosis, hypersensitivity pneumonitis, autoimmune related lung disease (including scleroderma, rheumatoid arthritis, Sjogren's syndrome, polymyositis), cryptogenic organizing pneumonia, and familial pulmonary fibrosis.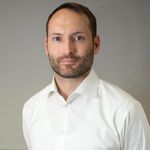 Finn Hawkins, MB BCh
Dr. Hawkins obtained his medical degree at the National University of Ireland, Galway. He completed internal medicine training at University College Hospital, Galway and the Mayo Clinic, Rochester, MN. Dr. Hawkins completed fellowship training in Pulmonary and Critical Care Medicine at Boston University and is currently an Assistant Professor of Medicine.
Research: Dr. Hawkins in an NIH funded investigator in the Center for Regenerative Medicine of Boston University. The Hawkins lab studies lung development and disease using induced pluripotent stem cells.
Link to Hawkins Lab website 
Finn Hawkins BU bio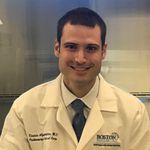 Kostas Alysandratos, MD PhD 
Dr. Alysandratos obtained his medical degree and doctoral degree in Immunopharmacology from the University of Athens in Greece. He completed his internal medicine residency training at the University of Texas Southwestern and Parkland Medical Center at Dallas, TX. He subsequently pursued clinical fellowships in Sleep Medicine and Pulmonary/Critical Care
Medicine at Boston University Medical School and Boston Medical Center. During his fellowship training, he joined Dr. Darrell Kotton's laboratory at the Center for Regenerative Medicine (CReM) of Boston University and Boston Medical Center. He is currently an Assistant Professor of Medicine at Boston University School of Medicine.
Research: His current research aims to expand our scant knowledge of the pathogenesis of common lung diseases such as interstitial lung disease (ILD) and specifically the role of alveolar type 2 (AT2) cells at the inception of disease. Under the mentorship of Dr. Darrell Kotton, he has developed an in vitro model system that permits investigation of epithelial-intrinsic events that lead to AT2 cell dysfunction over time using patient-derived cells that carry a disease-associated variant, SFTPCI73T, known to be expressed exclusively in AT2 cells.
Dr. Alysandratos has received several honors and awards throughout his career including from the American Thoracic Society and the American Lung Association. While in residency training, he was voted as honorary member of the Alpha Omega Alpha Medical Honor Society by the university's academic community. Most recently, Dr. Alysandratos received the Pulmonary Fibrosis Foundation I.M. Rosenzweig Junior Investigator Award for his innovative research on stem cell-based models of pulmonary fibrosis.

Kevin C. Wilson, MD
Dr. Wilson obtained his medical degree from the University of Maryland. He completed internal medicine training at Massachusetts General Hospital and additional training in Pulmonary and Critical Care Medicine at Boston University. Dr. Wilson joined the faculty at Boston University in 2003 and is currently a Professor of Medicine. He is a three-time recipient of a Presidential Commendation from the American Thoracic Society.
Research: Dr. Wilson's expertise is in evidence synthesis and clinical practice guideline development. He has served as lead methodologist for approximately 20 clinical practice guidelines, including clinical practice guidelines related to various interstitial lung diseases like idiopathic pulmonary fibrosis, hypersensitivity pneumonitis, sarcoidosis, lymphangioleiomyomatosis, and bronchiolitis obliterans syndrome. He has published more than 140 scientific articles. A list of select interstitial lung disease-related publications can be found using the following link.
Multi-disciplinary team: The ILD team have a recurring multi-disciplinary meeting with members of the Radiology, Pathology and Rheumatology departments to review cases, imaging studies, biopsy results and provide recommendations.
Referral information:
Make a donation:
Rheumatology
Marcin Trojanowski
Radiology
Anu Rebello

Ashley Davidoff

Pathology
Erick Burks
Thoracic Surgery
Kei Suzuki
Virginnia Litle