Curriculum/Education
Pulmonary Fellowship Training
---
There is a weekly teaching session for the first year fellows that are designed to cover core topics in pulmonary and critical care medicine. The goal of the core curriculum is to provide a foundation in the basics of pulmonary and critical care medicine. The sessions include didactic lectures, chest x-ray and CT interpretation, hands-on teaching about ventilators, BiPAP, CPAP, and tracheostomy tubes.  We have an outpatient pulmonary curriculum utilizing case-based teaching scripts available for all fellows.
This is a weekly conference attended by the fellows and faculty of the pulmonary and cardiothoracic services to discuss the diagnostic and therapeutic management of patients at Boston Medical Center. Specific patients are discussed, imaging is reviewed, and pathology is discussed. The goal of this conference is to develop treatment plans for complex patients. This conference provides an opportunity to discuss patient care in a multidisciplinary format.  Each conference session is begun with a section called "Radiology Round-up".  During this 15-min teaching session, fellows and attending are called upon to interpret radiology imaging that includes plain films, CT scans, or echo imaging, and then create a differential diagnosis based upon imaging alone.  The imaging selected for the teaching session represent "classic radiology imaging" such as the silhouette sign, atelectasis, and mosaicism or specific disease entities such as eosinophilic lung diseases, pneumomediastinum, fungal diseases, or pulmonary ossification.
Combined Clinical and Research Conference (CCR)
The entire pulmonary division along with several community-based practicing pulmonologists attend the weekly CCR conference. At this interactive clinicopathologic conference (CPC), first year fellows present "unknown" clinical cases to faculty members. Fellows are able to observe and learn how a faculty member reasons through a case as data is presented.  Key elements of the case are discussed by the faculty member and at the end of the discussion, the first year fellow presents a summary of the pertinent relevant literature. The intent is to highlight new and classical literature regarding diagnosis, treatment, or disease mechanisms. During the year, the core topics of sleep, exercise physiology, and allergy are focal points of the conference.  We also utilize this conference time for clinical updates given by the pulmonary faculty who are sub-specialists in pulmonary disease. During this conference, we also have  research presentations by research trainees (pulmonary fellows, pre-doctoral, post-doctoral researcher) from the Pulmonary Center.  Ongoing research within our department is discussed and the research discussions contribute to the educational research training of all pulmonary fellows.

Multidisciplinary Critical Care Journal Club
Once a month, a clinical multi-disciplinary journal club is convened with faculty and fellows from Emergency Medicine, Pulmonary and Critical Care Medicine, Neurocritical Care, Anesthesia Critical Care, Surgical Critical Care, Critical Care Pharmacy, and Cardiology.  A fellow and faculty member present a selected article and oversee the ensuing discussion. The goals are to identify new and interesting clinical findings, and to teach fellows how to critically read and interpret published literature in critical care medicine.
Senior Fellows' Conference
This is a weekly conference that is run by senior fellows. Individual senior fellows lead a case-based discussion on a specific topic along with a review of the pertinent literature. The conference varies from reviewing interesting radiography, case management issues, discussion of palliative care issues in critical care medicine, reviewing exercise physiology and sleep cases, and new treatment strategies.  In addition, during this conference time, there is additional formal instruction on point of care ultrasound (POCUS) topics taught by pulmonary, surgical and anesthesia critical care attendings skilled in POCUS.
Thoracic Oncology Conference
This weekly conference is a multidisciplinary conference in which thoracic surgery, oncology, radiology, pulmonary, and radiation oncology review lung cancer patients and formulate diagnostic and management plans.  During this conference session, fellows have the opportunity to hear the clinical presentations of thoracic patients, review the chest imaging by CT and PET, review the pathology of biopsies and resections performed.  The fellows learn about immunohistochemistry and the genetic mutations seen in lung cancer.  The fellows learn how to perform clinical and pathologic staging of lung cancer patients and the state of the art management of lung cancer patients that includes surgery, neo-adjuvant chemotherapy/radiotherapy, adjuvant therapy, stereotactic radiosurgery, and immunotherapy.
Social Justice Forum 
Inspired by the 'Black Lives Matter' movement and the profound detriments of a lack of Diversity, Equity and Inclusion (DEI) in academia and medicine, a group of trainees within the BU Pulmonary Center founded a trainee-driven initiative called "BU Pulmonary Center- Social Justice Forum (BUPC-SJF)" in June 2020. The goal of the BUPC-SJF is to educate the community about social inequities and disparities rooted in academia and medicine, empathize with one another, and come out as better-informed global citizens in addition to being great scientists and clinicians. Since its commencement, this initiative has grown to be positively welcomed by the BUPC leadership and has been formally included into our weekly departmental conference series as 'CCR-SJF' merger forum.
Scientists to Follow' seminar series. The goal is to have an informal discussion about career trajectories of our invited guests belonging to traditionally underrepresented groups (URG) in academia/ medicine/ industry, to learn about the hurdles they have/had to overcome on their way and to  celebrate our guest speakers via the BUPC's wide community reach.
Simulation Training Programs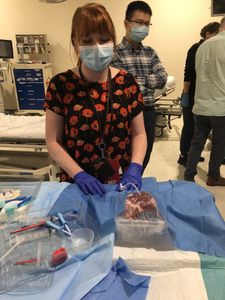 Boston Medical Center has a state of the art Simulation Center which is utilized by the Pulmonary and Critical Care Medicine Fellowship for skill development. The list of simulation programs that Boston University Pulmonary and Critical Care Fellows cycle through include:
Bronchoscopy Simulation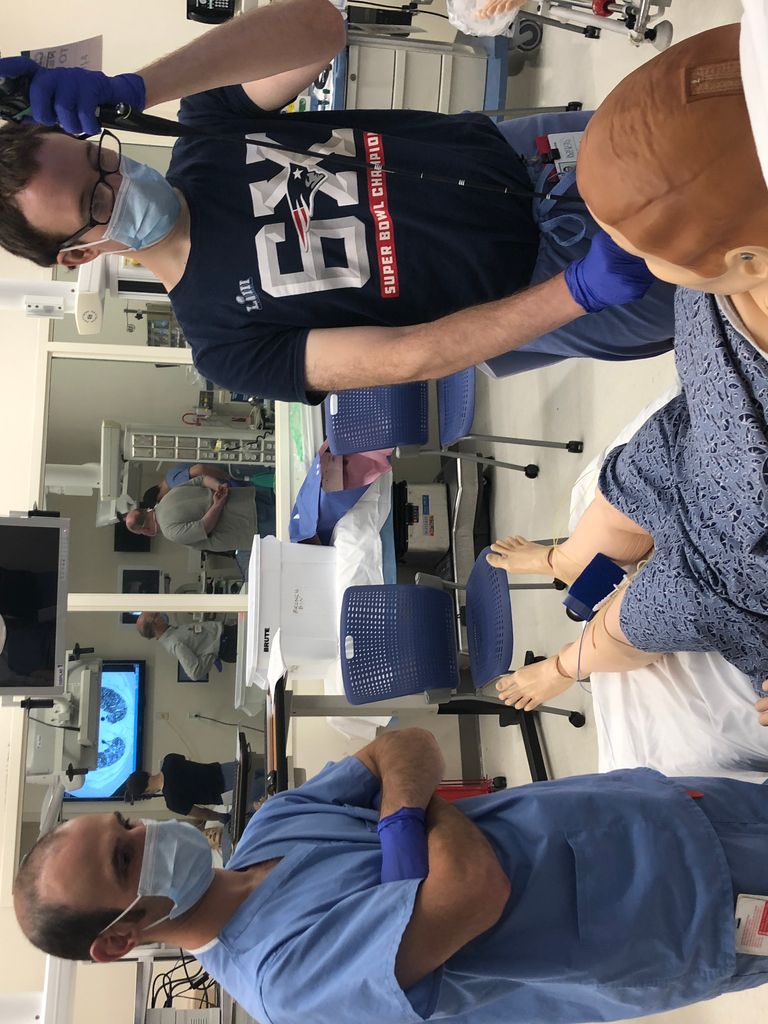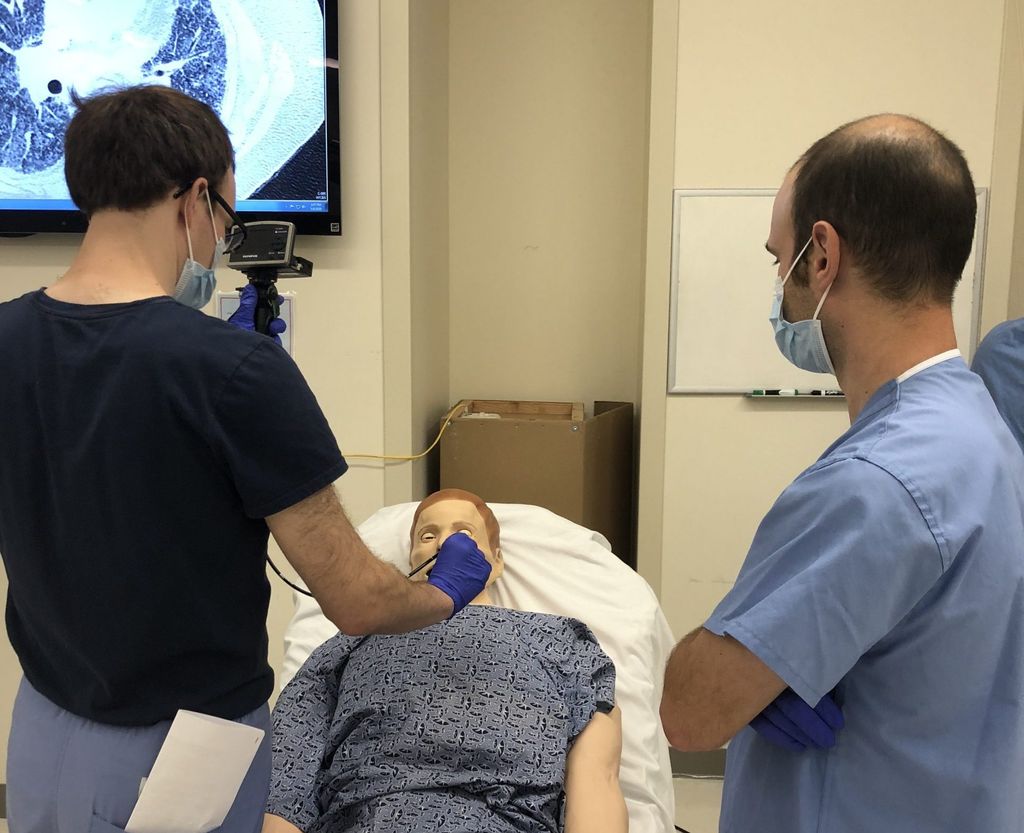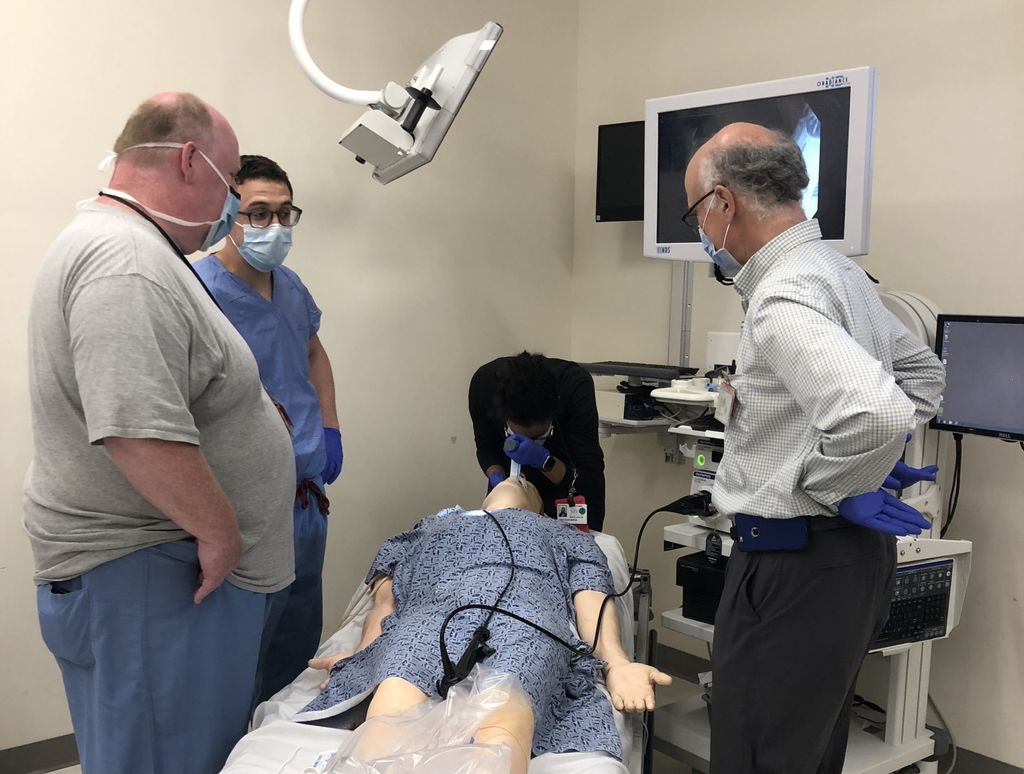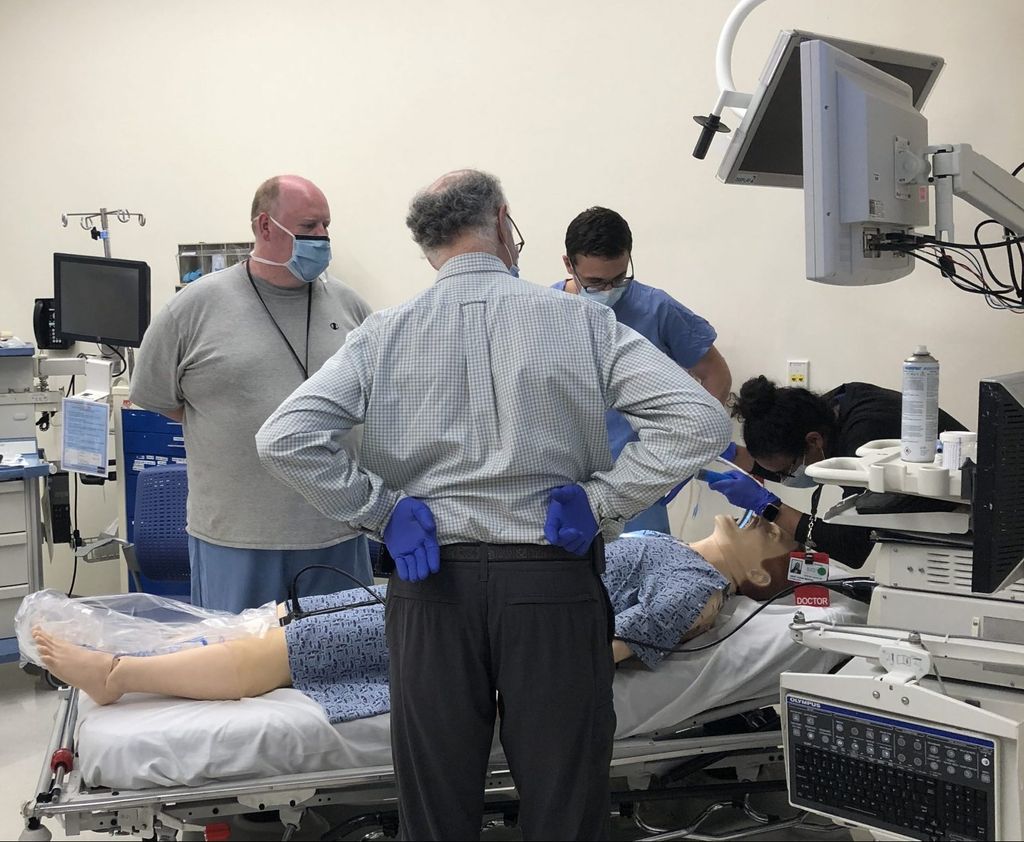 EBUS Simulation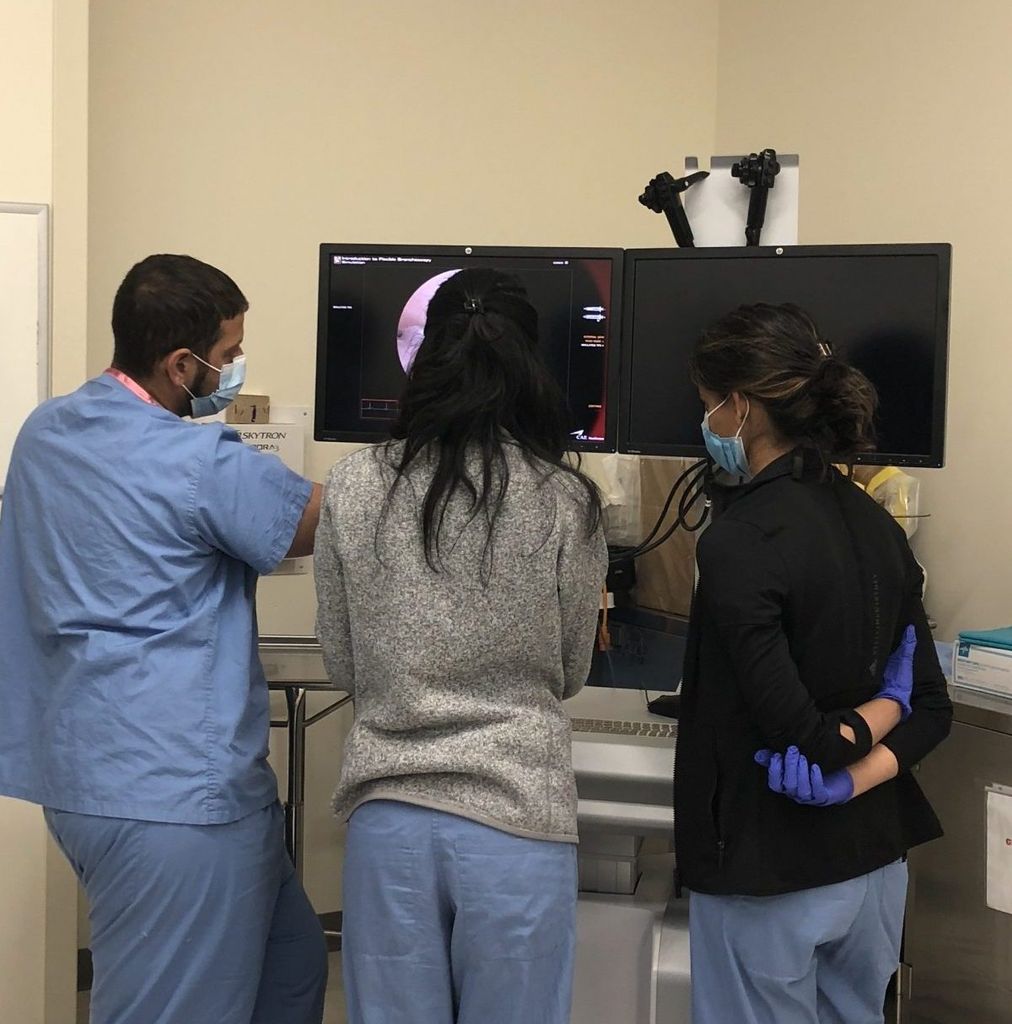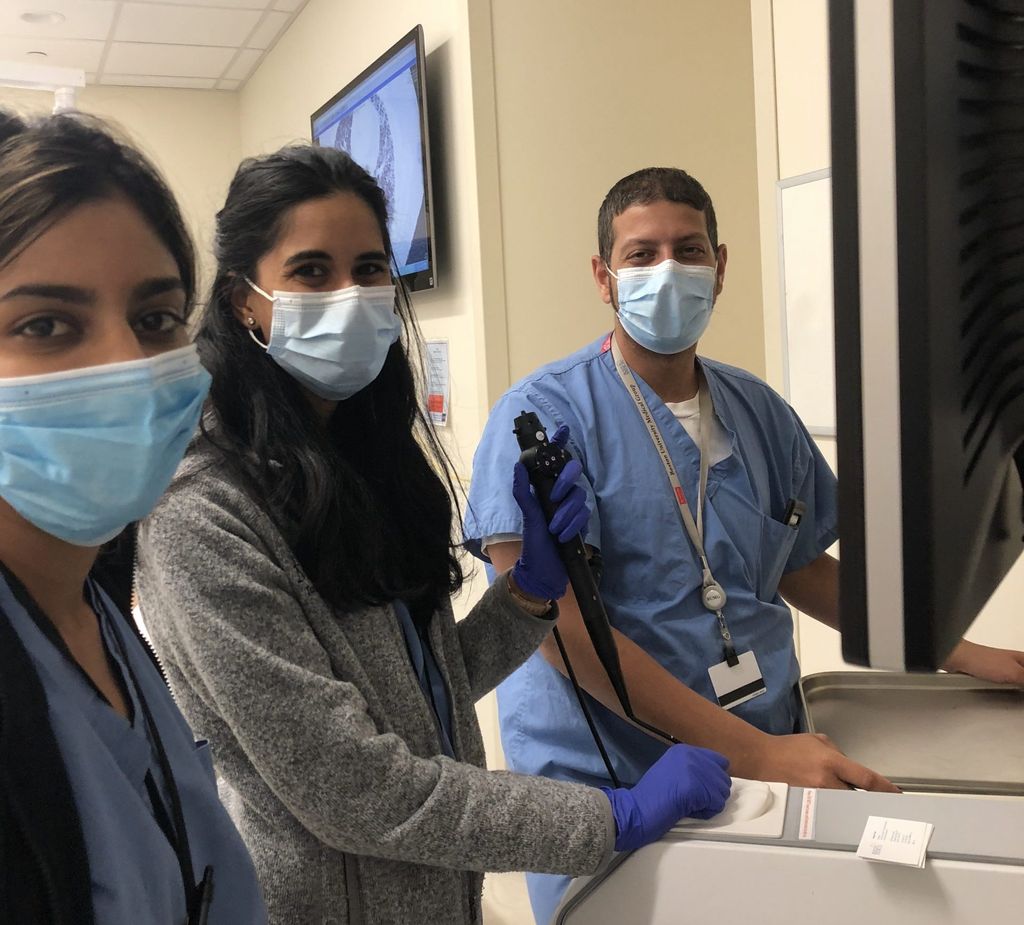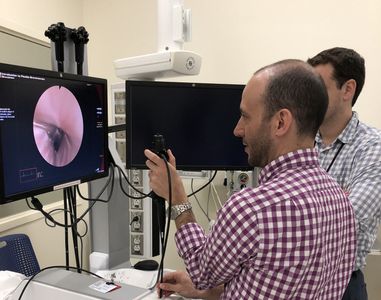 Mechanical Ventilation Training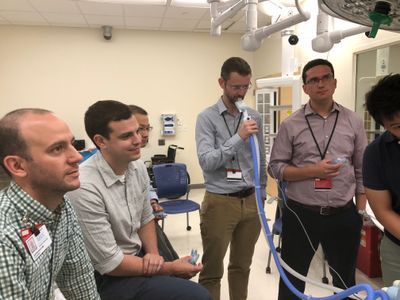 Pleural Training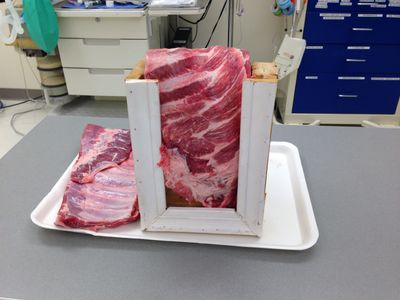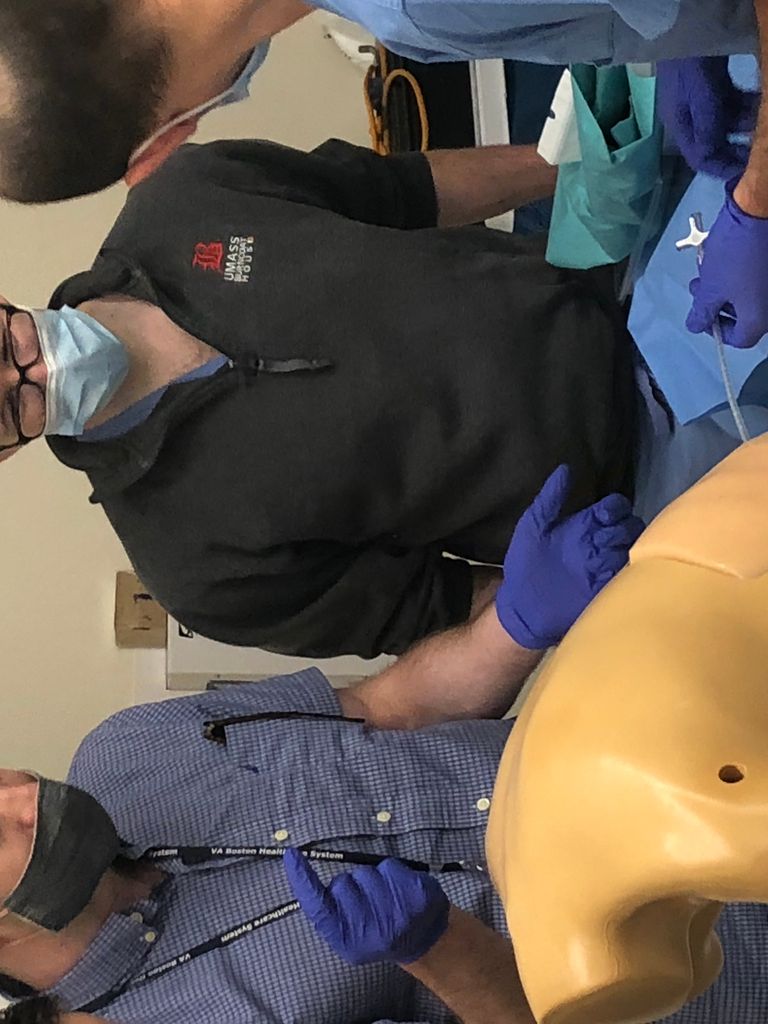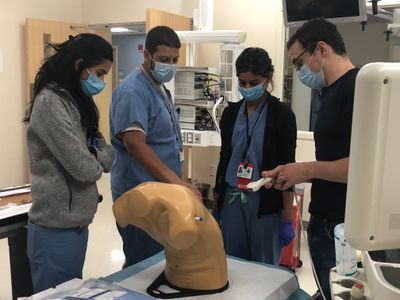 Critical Care Ultrasound Training
Pleural
Vascular
Cardiac
FAST exam
Lung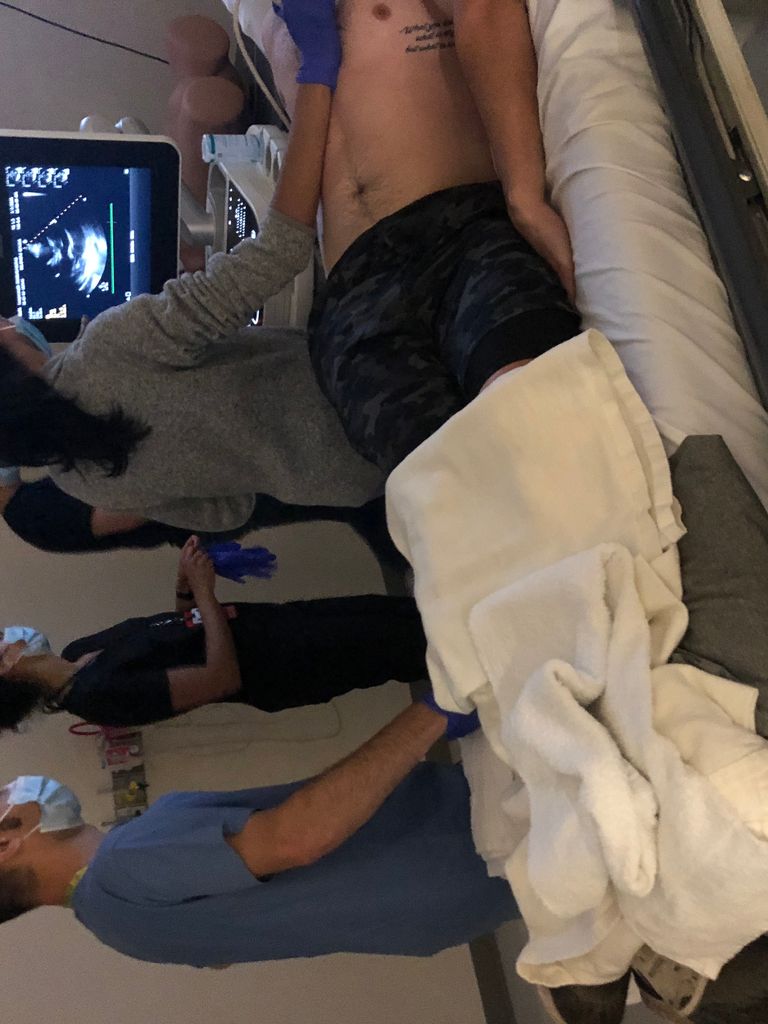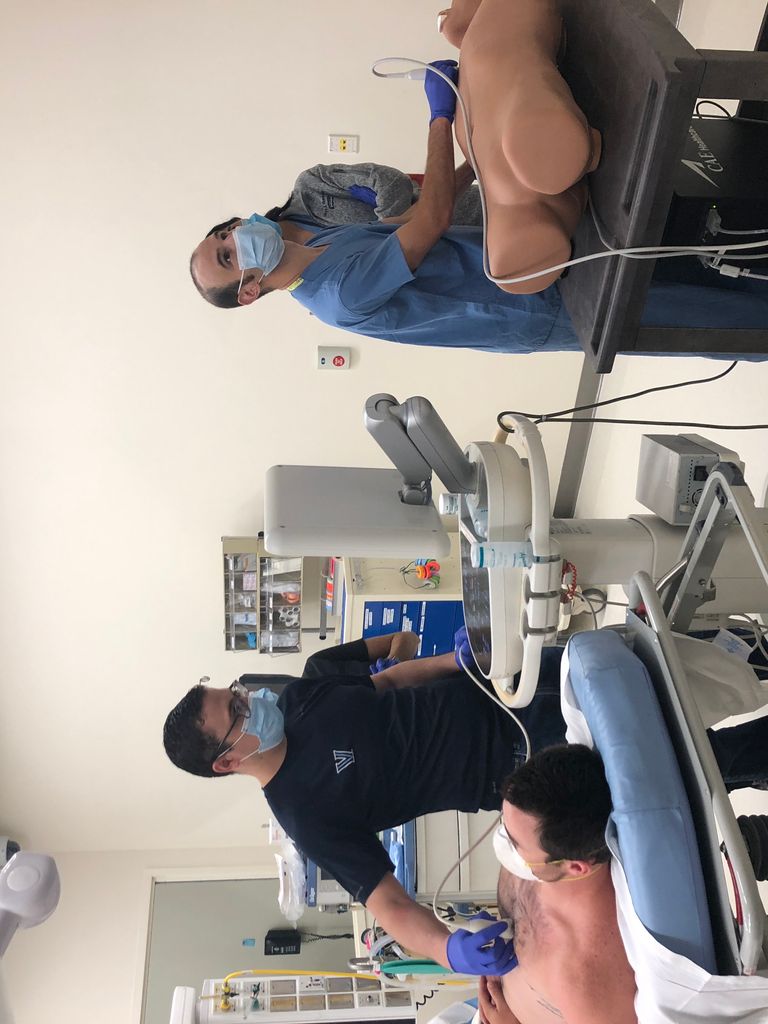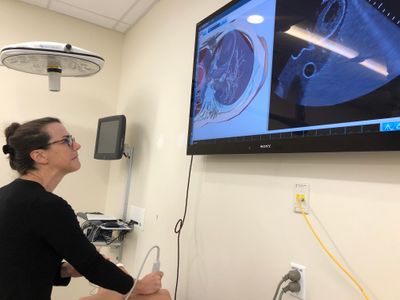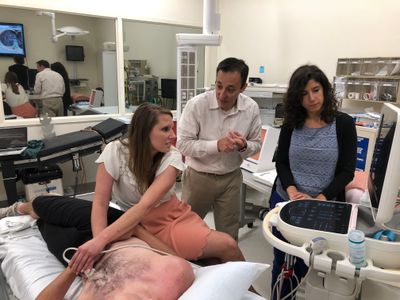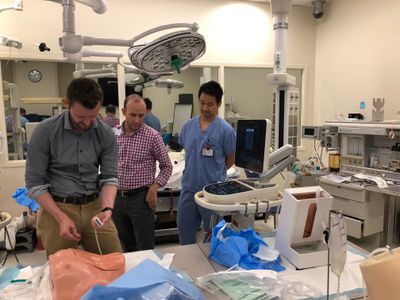 Airway Training
Emergency Airway Management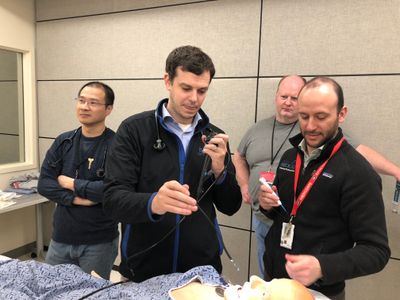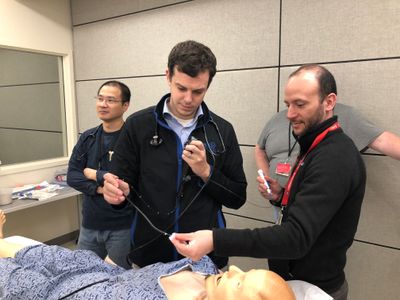 Emergency Tracheostomy tube management
Code Blue Simulations: facilitating cases for residents
Decompensating patients