Overview of Program
Pulmonary Fellowship Training
---
The program is a world-class ABIM-accredited Pulmonary Medicine and Critical Care Medicine fellowship that requires completion of three years to be board-eligible in both sub-specialties. Fellows have an opportunity to remain in the fellowship program for a fourth year to continue their mentored research. The first year follows a traditional clinical track that enables trainees to learn the requisite skill for the diagnosis and treatment of both common and rare diseases of the lung, and for the diagnosis and treatment of critically ill patients. In the second and third years, fellows spend the majority of their time carrying out a mentored research project. Several clinical months are interspersed in these years, including anesthesia, cardiopulmonary exercise testing, lung transplantation, neurocritical care, and surgical intensive care unit rotations. Many fellows choose to remain for a fourth year of entirely protected research time, which is helpful in transitioning to faculty positions. Throughout the fellowship, there are numerous, regularly scheduled conferences of both a clinical and research nature.
Continuity Clinic:
Fellows care for pulmonary patients in their weekly pulmonary continuity clinic in the Shapiro Ambulatory Care Center at Boston Medical Center.  The continuity clinic is a ½ day session per week for the three-year training period.  Fellows will also have the opportunity to attend the TB clinic at Boston Medical Center where fellows have the opportunity to learn about TB classifications, chest x-ray interpretation, along with the diagnostic and management strategy for patients with latent and active tuberculosis. Fellows also receive Sleep Medicine training by attending the Pulmonary Sleep Clinic precepted by a board certified Pulmonary Sleep Medicine Attending.  Senior fellows have the opportunity to attend pulmonary specialty clinics including thoracic oncology, pulmonary hypertension, asthma, TB, interstitial lung disease, lung nodule clinic, and sleep disorders.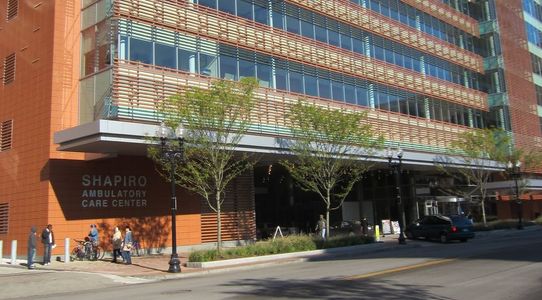 Call Schedule:
Weekend coverage is one weekend every six weeks for all the first and second year fellows. Third and fourth year fellows do not have weekend call responsibilities.  Pulmonary and Critical Care Medicine service weekend coverage is provided by two pulmonary and critical care attendings and two pulmonary and critical care medicine fellows.  Weeknight call is beeper call from home, with each fellow on call one night per week.  There is no in-house call for pulmonary and critical care medicine fellows.
Vacation:
Fellows have 4 weeks of vacation each academic year during their fellowship.