Category: New Service
On December 8th, Boston University Medical Campus IT will begin using a new ticketing system called ServiceNow, which will improve the way the IT Service Desk receives and handles requests from the community.
Many things will remain the same.  Faculty and staff can still submit tickets online at www.bumc.bu.edu/it/ or via email to bumchelp@bu.edu.  And, as always, you can call x8-5914 to submit a request over the phone.  You will still receive updates to your tickets via email and be able to respond to those emails in order to communicate directly with the IT staff assigned to your ticket.  Emails you receive from BUMC IT's ticketing system will look different and contain new ticket numbers beginning with INC.  They should be readily distinguishable as legitimate emails and contain information that is familiar to you.  Look below this text for examples.  If you are concerned whether an email is legitimate, don't hesitate to contact us.
With ServiceNow, BUMC IT will be using the same system as the Charles River Campus IT Help Center, which will aid us in communication between campuses regarding both university-wide IT issues and requests that impact single users.
We look forward to the improvements that ServiceNow is going to bring to our department.  We appreciate your patience as we begin this transition.  If you have any questions or feedback about ServiceNow, please feel free to contact us.  Our hours are 8:30AM to 5PM.  We can be reached at x8-5914, bumchelp@bu.edu, or by walking in to our office at 801 Massachusetts Avenue (Crosstown), Suite 485.
Here are some sample tickets for your reference, so you can see what ServiceNow ticket updates look like in your email.
When a ticket is created, you will receive the following notification: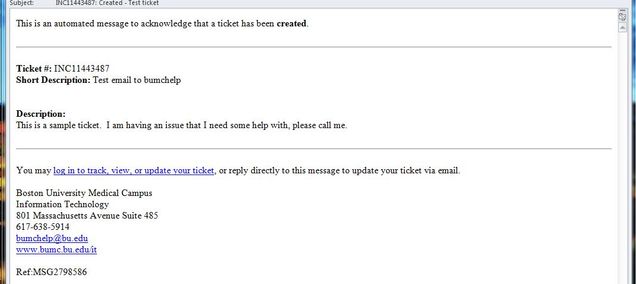 When a ticket is resolved, you will see the following notification:
BUMC Information Technology is excited to offer instructor lead training for Qualtrics Online Survey Software.
BUMC staff and faculty can choose from class at 2-3pm or 3:15-4:15pm, Wednesday February 13th.  Training will take place in L213 at the School of Medicine, 72 E. Concord St.
Qualtrics Survey Software is a new BUMC service that enables BUMC staff and faculty to create custom web-based surveys for data collection and analysis to support teaching and research at BU. If you would like to learn more about Qualtrics, choose from one of the two intro sessions. The course will be taught by a Qualtrics instructor.
Please reserve your spot by clicking the following link:
http://www.bu.edu/phpbin/signup/?event_id=113
If you have any questions feel free to contact the BUMC IT Service Desk at 617-638-5914.