Category: BUworks
To BUworks Shoppers and Approvers:
It was recently discovered that punchout catalogs are not functioning properly when accessed through Firefox 16 (released on October 9). You will be able to get to the punchout catalogs and put items in your cart. However, when you attempt to purchase them, you will get a blank screen. Firefox15 (and prior versions) still work correctly.
Until Firefox releases an update that solves the problem, we are recommending that Windows users shop with Internet Explorer. Alternatively, instructions are provided so that Windows users can revert to version 15. Unfortunately, all Mac users must revert to Firefox 15 since Safari and other browsers are not supported by BUworks.
The affected punchout catalogs in SRM include:
Airgas
Bio-Rad Laboratories
Fisher Scientific
Grainger
Qiagen
Office Depot (which is limited to only a select number of users)
SHI International Corp
Sigma
If you have any questions, or any problem downgrading to an earlier version of Firefox, please feel free to contact us.
NEW FEATURE – Shoppers to Receive Automatic P.O. Email Notifications
We have received feedback from many shoppers requesting notification when a purchase order is sent to the vendor. We are pleased to announce that effective April 27, shoppers will automatically receive email notifications when a purchase order is generated and transmitted to the vendor.  The P.O. notification contains basic information including P.O. number, value and shopping cart number.
Example of P.O. Notification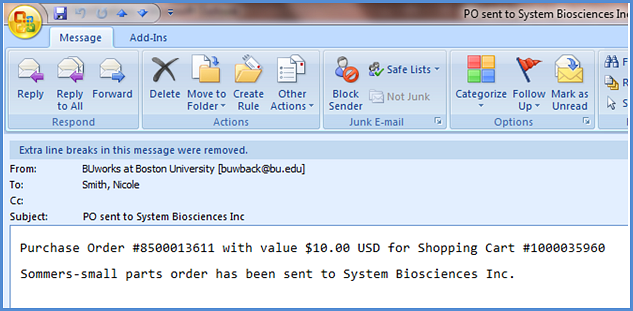 A Few Points:
The email notification will be sent to the Shopping Cart creator's BU email account when the P.O. is sent to the vendor.
A copy will NOT be sent to the Goods Recipient or the Requester (the person Bought on Behalf Of).
The email is sent immediately – it is not batched.
Shoppers will receive one email notification per Purchase Order, for example:

1 shopping cart creates 1 purchase order— 1 email is sent
1 shopping cart creates 2 purchase orders—2 emails are sent, 1 per purchase order
If a purchase order is created manually without reference to a cart—1 email will be sent for the manual PO
IF You Do Not Want to Receive Email Notifications:
We understand many Shoppers may prefer not to receive P.O. email notifications.  If you wish to filter the email notifications so they do not appear in your mail, you can establish rules in Exchange 2010 that will direct incoming mail into specific folders based on criteria you specify. Detailed directions on how to configure Outlook 2010 or Outlook Web Access (OWA) are available on the IS&T website using the following link: http://www.bu.edu/tech/comm/email/exchange/management/rules/
If you have any questions please contact the IT Help Center at ithelp@bu.edu or 617-353-4357.