Ph.D. Degree
PhD-Nutrition Metabolism Handbook (2014-2015)
Welcome to the Nutrition and Metabolism Doctoral Program!
Nutrition scientists apply the tools of physiology, biochemistry, molecular biology and genetics, a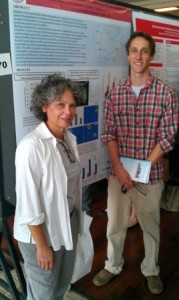 s well as epidemiology and social sciences, to questions that are important for understanding the impact of nutrition on human health. They focus on understanding how nutrient metabolism is integrated at molecular, biochemical and physiologic (systems) levels.
The doctoral program in Nutrition and Metabolism will provide you with core knowledge of the biomedical sciences through the FiBS curriculum and then apply this knowledge to the study of nutrition and metabolism in health and disease. Unlike a degree in biochemistry, students also acquire knowledge of translational research at clinical and population-based levels.
Program Highlights
Faculty of ~30 nationally and internationally-known researchers and educators, based in basic science departments and Department of Medicine.
Students have many research opportunities with well-funded faculty conducting basic, clinical and translational research.
Training focuses on developing skills in research design and methods as well as critical thinking skills through class discussions of cutting-edge literature in small classes.
Resources at BU include the NIH-funded Boston Nutrition and Obesity Research Center and the Clinical and Translational Sciences Center. Core facilities of BUMC and BU provide outstanding opportunities for broadening knowledge and gaining access to the latest technologies. The Evans Center for Interdisciplinary Research sponsors Affinity Research Collaboratives (ARCs), including several that focus on topics in nutrition and metabolism.
Beyond our Core Requirements
You can tailor your coursework and research experience to pursue your interests. We encourage you to take full advantage of the myriad course offerings at BU that will provide you with the expertise needed to address nutrition-related research questions.
Doctoral students are required to rotate through 2-3 different laboratories/research groups before choosing a mentor for their thesis work. Directed study opportunities to pursue research or specialized topics under the guidance of a faculty member are also available.
Although our program is young, graduates of similar doctoral nutrition sciences programs have gone on to such jobs as research scientists, clinical associates in the pharmaceutical industry, biotechnology, academic positions at colleges/universities/medical schools, directors of obesity prevention programs, medical writers and the like.
Our interdisciplinary program is mainly based in the Department of Medicine at the Boston University School of Medicine, but we have faculty from many other departments of the School of Medicine and Boston University.
Research Interests
Our faculty's research interests include the role of nutrition and nutrient metabolism in the pathogenesis, prevention and treatment of chronic diseases from basic, clinical and epidemiological perspectives.
Examples of specific areas of research include the following:
Nutrient signaling in obesity & diabetes
Adipocyte biology including adipogenesis and metabolic regulation (Corkey, Farmer, Fried, Kandror, Pilch, Puri)
Islet biology/insulin secretion (Corkey, Shirihai)
Bioenergentics (Shirihai, Corkey)
Muscle metabolism, diabetes & exercise (Ruderman)
Nutrient transport (Hamilton, Kandror, Pilch)
Clinical/Translational Research
Obesity, diet and weight loss (Apovian, Fried, Istfan)
Interventions to prevent sarcopenia of aging (e.g. dietary protein,exercise) (Apovian, Moore)
Dietary factors and childhood obesity (Bandini, Lenders, Moore)
Vitamin D and health (Holick)
Bariatric surgery outcomes (Istfan, Apovian, Moore)
Diabetes, obesity and inflammation (Ruderman, McDonnell, Apovian
Dairy, calcium and risk of obesity and its co-morbidities (Moore))
Obesity, menopause and cardiovascular risk (Moore, Coviello)
Obesity and cancer risk (Denis, Moore, Fried)
Diet and blood pressure (Moore)
Requirements for the PhD in Nutrition:
PhD students interested in nutrition and metabolism follow the Foundations in Biomedical Sciences (FiBS) curriculum. This innovative and interdisciplinary core course provides an integrated perspective on topics traditionally taught in separate courses such as biochemistry, cell biology, genetics and genomics, and molecular biology. Nutrition coursework can be taken in the first or second year of graduate study. Note that NU755 (Fall) is not a prerequisite for NU756 (Spring).
Required courses for a PhD in Nutrition and Metabolism are as follows:
Back to Nutrition & Metabolism Home Page