Spotlight on Student: Fadie Coleman
Fadie Coleman, PhD Candidate
Department of Microbiology
Not all people are lucky enough to find a career they are passionate about, but Fadie Coleman, PhD candidate in the Department of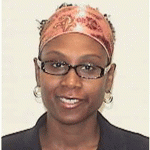 Microbiology, has found two. A researcher and a teacher, she pursued a doctorate degree to combine both her career interests into one. Actively involved in the GMS community, she serves as a positive role model for what happens when you reach for your goals.
What brought you to BU?
I started at BU as an undergraduate student. It was in undergrad that I came to realize my penchant for research and teaching, which has provided me with a great and lasting experience. Through a listing at BU, I discovered a college summer internship at the Brigham and Women's Hospital. After getting a taste of doing research, I found myself drawn to academic medicine. Taking the information gleaned from a senior-year career-counseling survey, I found myself drawn to teaching, and I became a classroom science teacher straight out of college. I taught middle school chemistry and physical science, and a few years later I taught high school biology, physical science, and an advanced elective in animal behavior that I designed. However, in between my teaching middle and high school, I actually did an extensive stint in biomedical research at the Channing Laboratory of Harvard Medical School and Brigham and Women's Hospital. It was at this point that I started to consider graduate school because I knew that I wanted to continue to pursue my education in the sciences, academia in particular. When I spoke to my mentor and friends in the field about my decision, they all said the same thing: "make sure you go to a school/program that will prepare you to become an independent scientist and where mentoring is a main focus." I explored my alma mater, Boston University, because I heard great things about their graduate program. On my interview day, it did not take long for me to appreciate and admire the collegiate atmosphere among the researchers and faculty. But, what stood out for me that day was that the graduate program is student-driven and matched my learning style perfectly. I could remember saying to myself, "I can tell that I am going to get an excellent training here."
What program are you in?
I am a PhD graduate student in the department of Microbiology, fulfilling my thesis work in the Pulmonary Center under the mentorship of Joseph Mizgerd, ScD. I am very interested in infectious disease, immunology, and host-pathogen interactions. My graduate thesis work is on the study of pneumonia, with a specific focus on pneumococcal pneumonia (a bacterial pneumonia), which is a major cause of disease worldwide and causes significant morbidity and mortality in the U.S. I study pulmonary immunity and its critical role during bacterial lung infection and host defense. Currently, my focus is on the macrophage-pneumococcal interaction during pneumonia. We are working on designing a tool that would allow for a way to predict which bacteria in the community are more likely to cause disease as well as come up with therapeutic approaches to help protect against infection.
What do you hope to do after you earn your degree?
After completing my PhD, I plan to continue my research training by doing a postdoctoral fellowship focusing on lung immunity and host-pathogen interactions. I have aspirations of being a contributor to the advancement of science and making a mark as an independent researcher. They say that you can do anything with a PhD degree and I plan to do just that by looking for ways to weave my love for research, teaching/mentoring and writing into a career.
You recently helped with Program in Biomedical Sciences (PiBS) Recruitment Day. How was that experience?
Helping with PiBS Recruitment Day was really a great experience! PiBS is just another reason why I believe BU is truly a unique place to study. I was very happy to serve as a volunteer for Recruitment Day because I felt it would provide me with the perfect opportunity to share with prospective students all of what BU has to offer. There are some things that are not easily communicated through the literature and statistics, and it takes one-on-one conversations to fully convey. An example of this is what I believe is one of the graduate program's major strengths—mentoring/individual attention. The PiBS Recruitment Day was different from past years, and really embraced the idea of an umbrella program. It was good to be able to talk to candidates, even if they ultimately end up in a department outside of Microbiology. I think this program sets up a greater collegiate environment and encourages collaboration beyond specific disciplines.
Are you involved in any other activities on campus?
This year, I am serving as a Microbiology Department student representative, which is a student-elected position that I consider a true honor. My role is to represent the Microbiology student body as one cohesive voice and to serve as a conduit between the students and faculty/staff. I also serve as a student representative on the Graduate Medical Sciences Student Organization (GMSSO) and as an academic tutor for the Dental Microbiology course. Between these roles and my research, I am kept very busy.
What do you enjoy doing outside of BU?
My family means everything to me. My daughter and husband and extended family and friends are my biggest support system and they are the people I surround myself with when I am away from the lab/school. A lot of our family activities revolve around the arts, and Boston readily provides opportunities to enjoy an array of diverse performance and visual events. My husband is a musician, and my nine-year-old daughter is very involved in dance, music, and theatre. Musicals, concerts, museums, and plays are regular events for my household. We're so excited about the upcoming spring and summer days. Now that the weather is starting to get nice, we'll be able to spend a lot more time outdoors and playing in the park.
Do you have any advice for current students?
Take the time as a graduate student to learn about what motivates you—your passion. Use these years to develop your work ethic and challenge yourself to always reach for the stars. Look to your classmates, peers, faculty, mentors, and staff for support and remember to return the favor. Remember that it is okay to strive for the big things, but make sure to appreciate the small along the way. It's the little things/moments in lab and life in general that will carry you through the graduate experience.