Student Spotlight: Shahar Castel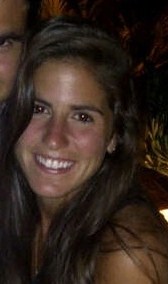 Shahar Castel
Masters Student, Medical Sciences
Did you like the new design for the GMSSO tee-shirt?  If so, keep reading!  Shahar Castel, the designer, is not only an artist, but a young scientist interested in pursuing a medical career.  Born in Israel and raised in Boston, Shahar loves pursuing her many passions close to home.
What brought you to BU?
I have always known that I wanted to pursue a career in science, particularly medicine.  After graduating from Emory University in 2009, I was at a crossroad when it came to choosing the next step for me.  Ideally, I hope to pursue a career in medicine, and to do so, I knew I needed to further my education with a Master's degree, preferably from a school in Boston where my family and friends are.  My best friend growing up, Ilona Goukassian (MAMS 11') attended the MA in Medical Sciences (MAMS) program at BUSM directly after graduation, and she shared with me all of the wonderful opportunities this sort of program could provide me, and I was instantly sold.  Although I explored several other programs in New England as well, the MAMS program seemed to have the most to offer.
What are the advantages of pursuing a MAMS degree at BUSM?
The MAMS program at BUSM offers a curriculum that is equivalent to a first-year medical school curriculum, without the clinical time, and provides accurate insight into the academic demands of medical school.  Most MAMS students elect to complete their coursework in the first year, and then complete a thesis project in the second year, although some chose to complete both their courses and thesis in the first year.  I will be completing my thesis this year, after working very hard in my courses last year. I will be working with a plastic surgeon at the Boston Medical Center, Dr. Spiegel, who specializes in Facial Feminization Surgery (FFS). I will be surveying transgender patients on whether FFS helps to improve their psychosocial anxiety as it relates to their appearance.
What do you hope to do after you earn your degree?
I plan to complete my thesis and apply to various medical and doctoral programs next year.  Although traditionally, students will apply to medical schools during the summer directly after completing their first year courses, I have decided to apply the following year, in order to make me the best applicant possible. Additionally, though I ultimately would like to pursue a medical degree, I am also very interested in all the neuropsychological diseases, and could see myself with a research career as well.  This coming year and next will allow me to explore these other options, and see what sparks my interest most!
Are you involved in any activities on campus?
Last year, I volunteered at the Sharewood Projects, which is an organization that offers a free healthcare clinic for the locally underserved population and is led by medical students and physicians at Tufts University School of Medicine.  It was a great experience, and encouraged me to continue pursuing a career in medicine.
You are the designer of the new GMSSO t-shirt.  What was your inspiration?
I love images of city skylines, and I enjoy creating art.  While I tend to sculpt more than anything else, I heard about the GMSSO contest to design a tee-shirt, and thought it was a great opportunity to create a 2-dimensioanl image of the Boston skyline.  After three months from submitting my design, I heard that I had won and was thrilled.
What do you enjoy doing outside of BU?
I currently live with two out of my three older sisters in the South End area of Boston.  It is great to be able to come home to them and have distance from what I am learning about in class or the research I am doing for my thesis.  I am usually working on a piece of art, which I like to give as gifts for my friends and family.  Additionally, I am teaching myself to play the piano, I am trying to learn Spanish (something I have always wanted to do), and I play for the Boston Ski and Sports Club soccer league on a co-ed team that I have been playing for over the last 3 years. I also played in an indoor soccer league with a team of other GMS graduate students last year.
Do you have any advice for current students?
The MAMS program is a lot of work.  Students in this program cannot expect to "cram" and do well.  You really have to work at managing your time so that you can review lectures and keep up with all the work.  In the first semester, I did nothing but study.  You don't have a lot of time to relax, so you have to make time for yourself, even if it's just taking an hour to watch a TV show, or meeting friends outside of school. In the second semester, you learn how to balance all the work and life outside of school.
In general, I would say make sure to use all the resources BUSM has to offer you.  At orientation, the GMS professors tell us that they are here for us, and they really mean it!  Ask your instructors for help; they really want to be there for you and help you succeed.  And don't be afraid to get tutors for any classes you may be having trouble in!