Faculty Spotlight: Dr. R. Jarrett Rushmore III
R. Jarrett Rushmore III, PhD
Assistant Professor
Graduate Director for the Department of Anatomy and Neurobiology
A faculty member, active researcher, student mentor, husband and recent father, Dr. Jarrett Rushmore, Assistant Professor in the Department of Anatomy and Neurobiology, balances all of his responsibilities with enthusiasm and grace.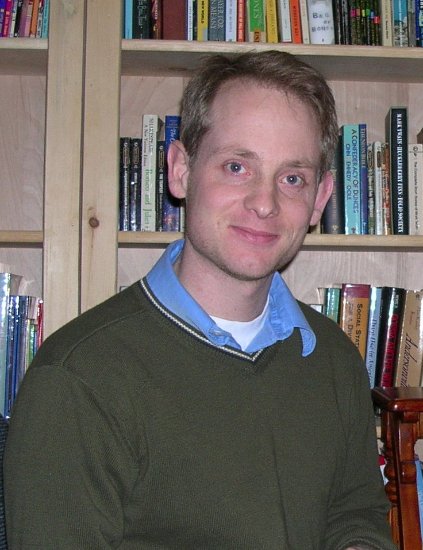 What brought you to BUSM?
I started at Boston University as a laboratory technician in 1995 after graduating from Trinity College with a background in Neuroscience. I joined the doctoral program in the Department of Anatomy and Neurobiology and performed research about how brain circuits in the visual system respond to damage.  After completing my doctoral degree, I was recruited to stay at BUSM as a faculty member.
Are you involved in any research at the moment?
I'm really interested in how the brain responds to damage, and then recovers from damage. Most recovery after brain damage is quite limited, and so we have been using non-invasive brain stimulation to train the brain circuits that mediate recovery and improve function after brain damage.
You have many roles within GMS.  Can you tell me about some of them?
Sure. I serve on a variety of committees, but most of my time revolves around teaching or advising students.  In the medical school, I teach in the Medical Histology and Medical Neuroscience courses.  I also teach to graduate students in the Cellular Organization of Tissues.  I serve as the director of the graduate programs in the Department of Anatomy and Neurobiology.  I'm also an advisor for the Master of Arts in Medical Sciences students, and also serve on the Academy of Advisors in the medical school.
Can you tell me about the Anatomy and Neurobiology Masters and PhD programs?
The Master's degree in Anatomy and Neurobiology is called the Vesalius program after Andreas Vesalius, the father of Anatomy.  Vesalius was remarkable not only for his anatomical drawings, but because he was one of the first people to actually teach Anatomy.  As part of their first year curriculum, our students take medical gross anatomy, medical neuroscience and medical histology, and come back in their second year and teach medical and graduate students in these very same courses. The students find this experience transformative – both in their understanding of the discipline, and in the development of their confidence to become first-rate academicians.
The doctoral program is also unique.  We tailor the curriculum to the individual doctoral student, and have three curricular tracks to reflect the interests of the students (Anatomy, Neurobiology, or Anatomy and Neurobiology).  These students are outstanding, particularly in their cutting edge research in the neurosciences or in the anatomical sciences.  However, what really distinguishes these students is that they also become expert educators in the discipline.  They are closely and intensively trained to teach biomedical sciences to medical, graduate, and dental students.  As a result, our students have had great success in a tight job market, and many are offered faculty positions in academic medical centers directly upon receiving their degree.
What is the most challenging part of your job?
The most challenging part of my job is balancing the different aspects of the job.  There are a lot of different aspects of a faculty member, and thinking about how best to solve a scientific problem is a very different way to think from how to best teach a particular concept, or to produce an effective policy.  It's a challenge, but it also helps me understand how my brain works, which as a neuroscientist is something I like to think about.
What is the best part of your job?
Well, I love science and I really enjoy teaching – these are the hallmarks of this job.  One thing I didn't expect was discovering that one of the best things about my job is the students.  The medical and graduate students I advise and teach and work with in the lab are simply outstanding people.  They are incredibly accomplished people, they are clever and smart, they have explored the world, they think about their place in the world and actively think how to make the world a better place.  They are unique, interesting, passionate, and inspiring.
How do you like to spend your time outside of BUSM?
My time outside BU is mostly spent with my family.  My wife and I have a nine-month-old daughter who has just started to crawl. We have also recently experienced the joy of new home ownership, so I've recently spent some time killing hornets, chasing groundhogs, and realizing that I'm a really bad carpenter.
Do you have any advice for current students or prospective students?
I think that what really sets BU apart from other research programs is the level of engagement by the faculty.  I think the faculty at BU have a culture in which they go to extraordinary lengths to mentor, help, and support graduate students. All the faculty I know have an open-door policy, and they spend a tremendous time mentoring, teaching and just talking to students.  They always have time for questions, regardless if they are in the middle of a grant or preparing a lecture, and go out of their way to make sure students are doing well.  I'm very proud to be a part of this.   This level of engagement and commitment amazes students who have been undergraduates or graduate student in other institutions, and they are quite simply taken aback by how much the faculty really care about how they are doing.  My advice is that students should take advantage of this really unique and special environment.