Spotlight on Students: Ridda Hasnain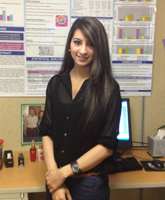 Medicine is not only about healing—it is about prevention.  Ridda Hasnain, a Ph.D. student in the Medical Nutrition Program, understands this concept and hopes to use her BUSM education to establish preventative health measures around the globe.
When did you first know you wanted to pursue science?
From a very young age, I was interested in human health.  Throughout my undergraduate education, I planned to pursue a career as a medical physician.  When I arrived at Columbia University for my Master's, however, I grew a specific interest in human nutrition.  As I completed my degree, I realized that I wanted to prevent, rather than treat, medical conditions.  When I understood how my research in nutrition could prevent diseases, I decided to pursue a doctoral degree.
What brought you to BU?
When I started searching for the right doctoral program, Boston University School of Medicine stood out.  BUSM was different from a lot of other schools because it offered an integrative and collaborative experience.  Graduate students, regardless of what program they were in, worked with multiple departments and multiple investigators from different labs.  Students interact with faculty and peers outside of their own program.  I thought this interaction would be a valuable part of my graduate education and prepare me for a career where there is much collaboration and interaction.  Also, BUSM has a diverse student body.  My peers and I come from all different backgrounds, and we all have varying research interests.  I believe that this diversity and transfer of ideas will help me in the long run.
Can you tell me a little about the program you are in?
I am in the Medical Nutrition Sciences Program.  Compared to other nutrition programs in the country, this program is relatively new.  Because it is new, the current students really have an opportunity to shape the future of the program.  There are three tracks in the program tailored to meet the needs of each individual in Medical Nutrition Sciences program:  molecular/biochemical nutrition, clinical nutrition, and nutritional epidemiology.
The basic sciences track explores the biochemistry behind nutrition and how nutrients interact with the body while the clinical track is designed to educate students on how nutrition research can be applied to preventative measures in the clinic.  The third track, epidemiology of nutrition, is the track that I am pursuing and examines causes of disease and their association with nutrition.
What do you hope to do after you earn your degree?
In a general scope, I want to research and find components of the human diet that prevent diseases, but I also want to have clinical exposure to teach patients that there are wholesome and natural approaches to preventing disease.  I hope to be able to impact the community and improve public health policy.  In Pakistan, where I am from, there is little awareness of how diet can affect lifestyle, and I hope to develop a program here and abroad to fill this gap in knowledge.
You recently presented at the 2012 Future of Food and Nutrition Conference and won the award for best presentation.  Can you tell me a little about your research and that experience?
The Future of Food and Nutrition Conference is a student-led conference at Tufts University.  I presented a poster on dietary protein and its impact on body composition and risk of obesity.  Overall, it was a great experience because it gave me the opportunity to learn about the research my colleagues from other institutions were performing, and to think of novel questions related to my own research based on my presentation and discussion with other scientists.
Are you involved in other activities on campus?
I am involved in the admissions and recruiting process for the Medical Nutrition Sciences program.  This is an interesting and rewarding role because it really does help to shape the future of the program.  I get to meet with prospective and incoming students to advise them in any areas they may need help.
What do you enjoy doing outside the walls of BU?
I love trying new cuisines! Given my field of study, it's not secret that I absolutely love food.  I also enjoy traveling whenever I can. And I love to just spend time with my family and friends and take advantage of all that Boston has to offer.
What advice can you give other postdocs, or GMS students?
I think it may be helpful to many students if they start a PhD program with a general interest, rather than a highly specialized goal.  PhD students will go through many rotations in different labs with different principle investigators, and these experiences will help them develop their general interest while finding a lab environment they can work in.  Also, rotations are a time to apply your knowledge to novel questions.
Students should take advantage of all the BU campus has to offer.  For instance, taking a class that is unrelated to your field may help you in some way later on in your career.  Also, talk to your peers.  These discussions will help shape what it is you want to accomplish while here are BUSM.