Spotlight on Faculty: Dr. Gene Blatt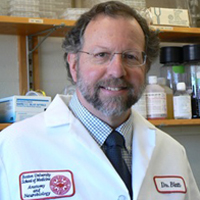 When faced with administrative meetings, teaching, laboratory research, and writing publishable articles and books on a daily basis, coming to work can seem daunting.  For Dr. Gene Blatt, Professor of Anatomy and Neurobiology, multi-tasking is the key to perform at his exemplary level in all these areas.  Making greats strides in autism research while participating in multiple facets of the Boston University community, Dr. Blatt easily earns the respect of his colleagues and students.
You recently attended a meeting in Washington, DC on autism.  What was that experience like?
The meeting was over the course of three days, and there were approximately 300 attendees.  Overall, the meeting presented a global view of the state of autism research.  There was focus on genetics, animal models, cognition, and behavior from many different experts in the field through oral presentations as well as poster presentations.
You actively research autism.  Can you tell me a bit about your research?
My research focuses on neuropathology and neurochemistry of autism using post mortem human tissue.  Obtaining both frozen and fixed tissue from brain banks, including the one at McLean Hospital, we cut thin 20 to 40 micron sections and mount them on slides.  With the formalin fixed sample, we stain the tissue to see the cellular cytoarchitecture of the brain using NISSL to determine if there are any abnormalities present within specific brain areas.  With the fresh frozen samples, we dip sections of the tissue in radioactively tagged ligand solutions to label neurotransmitter receptors and transporters.  The radioactivity on the slides is shown on film is then quantified.  The neurotransmitter profile in brain regions in individuals with autism, are compared to age and gender matched controls of individuals without autism.  Thus far, the research has shown that there is a profound defect in the inhibitory GABA system in the brains of people with autism.
How did you get into research on autism?
I earned my Ph.D. degree from Thomas Jefferson University studying the cerebellum, and then went to Salk Institute for two years for a post-doctorate position working in neurophysiology.  When I came to BUSM, I worked with Dr. Rosene researching the limbic system.  In the late 1990's, I was completely inspired to change my research focus upon meeting Dr. Margaret Bauman, a pediatric neurologist, who showed me slides from autism cases that had similar abnormalities in the cerebellum and limbic system.  Very few people have the opportunity to engage in significant research that combines every aspect of their education.  Slowly, I made a transition from mainly animal research to pursue post-mortem human research.  The transition was timely as autism research was just becoming a burgeoning field that was receiving much attention.
Do you think the research on autism has made significant progress, or do you think we still have a long way to go before we fully understand autism?
Autism is a heterogeneous disorder, which means that there are many different factors to consider, such as genetics, environment, immunology, and even a mother's condition during pregnancy.  The progress in the field is progressing as new technologies emerge.  I am currently collaborating with a lab in London who is performing a three-year study on children with autism using a new imaging technique, Magnetic Resonance Spectroscopy (MRS).  This technique allows for the sampling of a particular part of the brain in an MR scan, and MRS shows how the neurochemical levels of specific brain areas are impacted.  This in vivo research with the London lab supplements my in vitro studies of the post mortem brains here are BUSM.  Collectively, there is more awareness of autism today, and it remains unclear why the prevalence rates are increasing although better diagnosis may be a contributing factor.
As well as being a professor in Anatomy and Neurobiology, you are involved with a number of administrative committees, such as the Academic Policies Committee (APC).  What pushed you to become so involved in such activities?
Participation on a department-wide, division-wide, campus-wide, and university-wide level is critical to understand the workings of the institution.  All GMS faculty should participate to some degree, and I joined the APC about seven years ago.  After a year, I was nominated by Dr. Franzblau and voted for by the committee to be the Chair.  Mostly all of the current MA and MS programs were approved since then.  It is a very busy committee.  I also serve as the liaison to the Ph.D. Steering Committee, as Chair for the Faculty Appointments and Promotions Committee for  the Department of Anatomy and Neurobiology, as a member of the Department Qualifying Examination Committee, as a member of the department Faculty Search Committee, as a member of the GMS By-laws Committee, as a MA in Medical Sciences faculty advisor and conduct mock interviews for MA students, as an Advisor-At-Large for the Crumpler Academy of Advisors, and as an interviewer for potential M.D./Ph.D students.
What is your favorite part of your job?
Along with teaching lectures in some graduate-level courses in GMS, I also teach medical students in Neuroscience and Medical Histology.  Teaching is very important to me, but I am also very committed to research.  I am constantly working to keep up with current projects and new information on autism.  The best part of my job is that there is a balance between teaching, research, and administrative duties.  On top of that, I do a great deal of writing.  Though it can be hard to find time to write in between everything else, my lab produces between three and five journal articles a year, as well as one or two book chapters a year.  And there is always a grant to write.  Last year I edited and contributed to a book, The Neurochemical Basis of Autism: From Molecules to Minicolumns with Springer Publishers.
What do you enjoy doing outside of your office, lab, and Boston University?
I am an avid golfer, and I love nature.  My Master's degree had an emphasis in Ornithology and Field Biology.  Much of my time outside BU is spent outdoors hiking or bird watching.  I spend a lot of time with my wife, and my son and daughter-in-law who recently had our first grandchild.  I love being a grandpa!
Do you have any advice for GMS students?
I agree with the philosophy that I quickly learned from Dr. Deborah Vaughan in Medical Histology when I first came to BUSM in the 1980s: It is so important to be an active learner.  Understand the material rather than just memorize it; work in study groups; ask your teachers questions because we are here to help you. From one of my mentors here, Dr. Douglas Rosene, I learned that if you plan to go into research, make sure you choose a productive talented lab team that will provide good training and involve yourself in many interesting and creative projects.  Learning multiple techniques will allow you to build a repertoire of skills to tackle projects in many different ways.  Finally, take the same active attitude to research as you do to teaching and learning: make it a priority to contribute to your field, through talks, collaborations, and publications. Receiving valuable feedback is essential to deepen your understanding of your research endeavors.