Spotlight on Students: Maria Vasilakos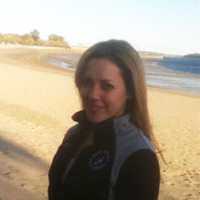 Choosing a career is not always an easy task.  A graduate from the M.A. in Medical Sciences – Oral Health Sciences track and a first year dental student at the Boston University Henry M. Goldman School of Dental Medicine (BUGDM), Maria Vasilakos provides some insight on her unique path into the dental field.
What made you choose the field of dentistry?
Ever since I was a young child, I wanted to be a dentist.  As I grew up and during college, the idea of dentistry disappeared, and I ultimately earned a degree in Biology, with a marine biology concentration, from Northeastern University.  After graduation, I taught scuba diving but eventually wanted to further challenge myself.  I decided on teaching.  In my third year, as a high school biology teacher, a student sought me out for advice on class choice to better prepare her for dental school.  As I was researching prerequisites for programs for my student, I rekindled my childhood interest in dentistry and began to look for dental schools for myself.
I understand you graduated from the M.A. in Medical Sciences (MAMS) Oral Health Track.  How did you hear about the program, and how was your experience in the program?
I met my husband while I was studying for the DAT.  As my husband was a graduate of the GMS MAMS program, he encouraged me to apply to the Oral Health track within MAMS in addition to dental schools.  The MAMS Oral Health program was perfect for me, as it had been a while since I had been a student.  Without the program, dental school would have been a struggle.  I had to work hard to get my work done and earn the grades, but it prepared me for the heavier course work in dental school.  The Oral Health track equipped me with study habits that have been critical for me to get through my current academic work.  Because I took classes with BUGDM while in the Oral Health track, I am able to fully focus on elective courses that require the basic science knowledge for this first year.  In one sense, I would definitely say I have an advantage over my classmates that did not graduate from the MAMS Oral Health track, or another similar program.
Congratulations on being elected Class President!  What made you decide to run for office?
Entering BUGDM, I wanted to become more involved as a student representative.  I am a different type of dental student – I am older than most of my classmates, I have a Master's degree in Oral Health Sciences, and I have years of experience in a field other than medicine.  I wanted to be able to use my unique situation to contribute to the first-year class.  As President, I will be responsible for academic issues students face, such as the scheduling of exams and courses.  I also will get to plan some social activities to unite the class, including a possible ski trip this winter.
What are your future plans once you graduate from the dental school?
I want to practice dentistry, but I also want to teach.  My past experience as an educator was an influential aspect of my life, and is something I want to continue.
What advice can you give current GMS and/or MAMS students as they work to complete their degrees?
GMS offers very unique opportunities to its students. Particularly with MAMS, the program can make you, or break you.  The MAMS program is a second chance for you if your undergraduate career was not as appealing as needed to get in to medical school.  If you do well in the program, then you have a very good chance continuing on into medical, dental, or other professional school.  If you do poorly, then you lose the second chance, and there may not be a third.  It is so important to strive for success in the GMS programs, and to do that, you will have to study hard.
Balancing academics and a social life can be difficult, especially for students new to the Boston area.  Set aside time both during the week and on the weekends for studies and extracurricular activities.  I also surround myself with people who are passionate about their studies, who I can talk to about classes, and who are supportive of my goals.  You can find many ways to combine your social and academic interests.