Spotlight on Students: Geunwon Kim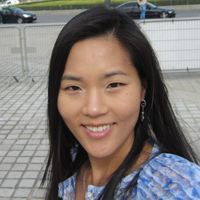 Not many people can say they enjoy waking up and going to work every day.  Geunwon Kim may be an exception.  A current MD/PhD student in her fourth PhD year, she mixes research with passion as she attends conferences and prepares for her MD years at Boston University School of Medicine.
Welcome back to Boston!  I understand you were just at an International Conference?
Yes, the 2011 Gordon Conference "Stress Proteins in Growth, Development & Disease," which was a six-day conference in Lucca, Italy focusing on the role of stress proteins as regulators of disease and life span.  I had to forego an MD/PhD conference here in the States, but overall, it was worth it.  The conference was small with approximately a hundred people, but there were some big name scientists, and the quality of research was outstanding.  I was a bit star-struck actually, especially when I had to approach them.  I've read about their research, and having the chance to talk to them was inspiring.
What was the research you presented?
I presented my research in a poster session on the mechanism behind the attenuation of heat shock factor in senescent cells.  The experience gave me exposure, and many of the prominent scientists who were there came to see my poster.  They commented and discussed my research with me, and they gave many ideas to further my research.  More importantly, I found the more I talked about my project, the more familiar I became with it.
What PhD program are you in here at BU?
I am in the Molecular Medicine PhD program.  I absolutely love my program.  When I was considering PhD programs, I knew I wanted one with a diverse group of faculty with experience ranging from basic science to translational science.  In addition, the Molecular Medicine Program at BU offers a variety of seminars that keep me engaged in other areas of science, besides my narrow field of research.
What made you choose the combined MD/PhD program?
I always knew that I would be a doctor. In college, a professor took me under her wings as a freshman and showed me what research was all about. After that, I wanted to incorporate research in my career and MD/PhD seemed like a good idea. Since starting this program, I have realized how important it is to understand how disease affects a person, but also to do so at the molecular level.  Even though I am working with cells in the lab, I and other researchers are always thinking about how the bench work would translate to the clinics. The MD/PhD program facilitates this translational thinking and research.
What are your future plans/goals?
I love to balance the clinical and research work.  I haven't decided if I will go directly into clinical medicine or become a researcher.  Right now, research makes me want to get up in the morning and go to work where I might find something new.  My work in the lab is exciting, and I love when I can see the applications of my research in tangible ways.
What have you found to be the most challenging part of your academic career as a MD/PhD student here at BU?
I am in my 4th year as a PhD candidate, and it has been a very challenging experience.  The education I am getting now is very different from all my past degrees.  When you are a PhD student in a lab, there are no answers, you must find the answer yourself and back it up with your research.  There are no right and wrong answers that can be verified with a textbook.  You have to utilize what you already know to venture into the unknown, and this is definitely something I struggled with in the beginning.  When I first started the program, I needed and wanted some validation that my research and progress was either right or wrong.  But then I soon realized that it is okay not to know what will happen.  I learned that the whole process of a PhD is about exploring your subject, building thinking skills, and learning how to get an answer to your question from your own work. This was the hardest part, and I am still getting used to it.
Are you involved in other activities outside of research?
I am also on the Volunteerism Committee for United Way Women's Initiative.  The purpose of this organization is to involve women in Greater Boston area to make a difference in the lives of other women and families.  We recently compiled a demographic survey to better understand the volunteer pool in the area.
Do you have any advice for current GMS students?
Don't give up.  Be passionate and take pride in your work.  Also, if you have the opportunity, present your research.  For Masters students considering a PhD, make sure you love the research, which is a process – process of asking the right questions.  Always be asking why/how, and then find a logical solution in any way you can.  Boston University is a great school, so take advantage of the faculty and resources.