Spotlight on Students: Flavien Leclere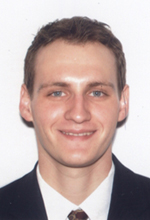 Balancing graduate school and all that comes with it—classes, research, exams—is not easy.  We sat down with Flavien Leclere, President of the Graduate Medical Sciences Student Organization (GMSSO) and the recent recipient of the   Robert F. Troxler Award in Biochemistry, to hear how he maintains a busy schedule, and has fun doing it.
Can you tell me a bit about GMSSO and how you got involved?
I was heavily involved in a lot of activities during undergrad and really wanted to participate.  I initially wasn't planning on becoming too involved.  I kept receiving emails about the Executive Board, but it wasn't until some of my peers convinced me to run that I ended up becoming the President of GMSSO. So far, things are running relatively smoothly.  It's a little hectic during this transition as we lose some members and gain new ones.  But the old Executive Board members have been very helpful and supportive of the new board members and me.
As the newly elected President, do you have any plans for the upcoming year?
There is nothing set in stone as of yet.  We hold an annual blood drive, and would like to add a second one.  We also work with Project Gratitude by staffing collection booths and assembling leisure items, clothing, food, and personal hygiene products for troops overseas. A new organization we would like to begin working with is Freedom House.  Part of its mission is to promote educational excellence in Boston's most distressed urban neighborhoods.  Freedom House has found that students are having a difficult time with the sciences, and we hope to participate by tutoring them in basic science subjects.  We really want to tie the GMSSO to a charitable organization, and Freedom House might be it.  We also want to host a screening for the film Life of a PhD Student, and we are currently very focused on the upcoming 2011 Fall Orientation.
What other activities are you involved in here on campus or in the Boston Community?
I am a member of the American Red Cross of the Massachusetts Bay area by participating on the Disaster Action Team.  I had participated in the Disaster Action Team in Milwaukee and enjoyed it so much that I chose to participate here in Boston.  It involves being on call for a certain time period and being part of the first response to fires.  It has been hard being a graduate student and responding to those kinds of calls, especially when the call is at three in the morning and there is an exam the next day.  Seeing people lose everything in a fire is very emotional, but the experience is extremely rewarding.
What program of study are you in?
I'm in the Master of Arts in Medical Sciences (MAMS) program.  When I completed my undergrad, I was looking for a program that would help me in medical school, but I didn't want to jump right into a PhD program.  I chose BU because everyone I talked to was very straightforward and upfront.  I knew what I could expect from the program, and I knew what BU expected from me.  It seemed like the best decision I could make.
As a second year MAMS student, you must be putting a lot of though and work into your thesis.  What is the most rewarding or the most difficult part about the research?
I will begin my thesis research this July in a laboratory at Harvard Medical School.  My research will focus around p53 and the HPV virus.  I completed previous research as an undergraduate, both with a mentor and independently.  I have also worked in projects that involved organizing and analyzing years of data using statistical methods. Research can be very rewarding but it requires a lot of patience, especially in the laboratory.  Things don't always work, and tests can go wrong.  It is a lot of repetition.  But it is part of the bigger picture, and I am looking forward to beginning my thesis work.
You were recently awarded the Robert F. Troxler Award in Biochemistry.  Do you have any advice for incoming or current students on how to set high academic standards while still maintaining involvement in other activities?
Balancing everything will be different for everyone.  I was lucky that my undergraduate institution had a very rigorous biochemistry program, so I obtained a very significant background in the subject.  But ultimately, you have to have fun while learning the subject.  Hopefully everyone who is considering medicine as a career is doing so because they enjoy it.  I also think it's important to look at your studies from a practical aspect.  Don't study by memorizing everything in the syllabus.  You have to understand how the material all fits together.  Once you understand the bigger picture, then memorizing the little details becomes easy. But it all starts with enjoying the subject.
My advice for studying is to go outside and stay out of the library.  I like to study somewhere I can talk to other people involved in other things, like at home.  My roommates are not science majors, and I cannot talk to them about Biochemistry. That keeps me open and prevents me from thinking on one track.  You have to split your studies up and, if need be, take a break to enjoy other things too.  And definitely don't cram for those tests.