Spotlight on Students: Stephanie Seidl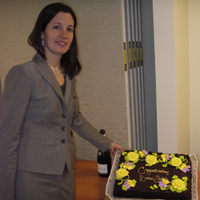 Completing a graduate degree requires hard work, dedication, motivation, and the sacrifice of free time.  Even when it seems that there is no end in sight, the final degree does pay off.  Stephanie is one of the many GMS students that will be graduating this May and entering the work force. One of GMS's involved and successful students, she is here to provide some hope, insight, and advice for current students.
Q. What are some of the activities you have been involved in while here at BUSM?
I received a travel award the past three years that allowed me to travel to Atlanta, Washington DC, and San Francisco. I presented posters in all three cities at Atherosclerosis Thrombosis Vascular Biology (ATVB) meeting, along with 500-600 other presenters. I have also been teaching 'Cell Culture Techniques' at City Lab, and I participated in Whizkids for three years, an organization that teaches hands-on science projects to elementary and middle school aged students in addition to how to complete a science project and present it in a science fair. And I was part of GMSSO for four years.
Q. Can you tell us more about GMSSO and your involvement?
The Graduate Medical Sciences Student Organization's (GMSSO) goal is to help bring students from all of the GMS departments and programs together to share ideas or concerns as a united student body. We also organize various social and volunteer activities. I was a member and President of GMSSO until this year, but I decided to give up my involvement while I focused on school my final year. The driving force behind GMSSO is the desire to create a better life for students.  With this organization, one of our main accomplishments was to get better student healthcare coverage and a maternity leave policy in place for students. We also do community service activities, such as organizing blood drives. We have been extremely fortunate to have Dr. Hyman's support, and she has been an excellent advocate for our causes. Participating in GMSSO activities and being on the committee is a great way to meet everybody around BUSM, especially the faculty.
Q. You are finishing your time here at BUSM this spring and graduating. Tell us about your program and graduating.
I was in the Cell and Molecular Biology program, but later joined the Biochemistry department.  I just defended my thesis on the effects of inflammation on smooth muscle cell extracellular matrix on March 30th!  It was definitely a challenge to write a thesis that covers four years of experiments, but as long as you tackle a little at a time and stay on top of the corrections, it is very manageable.  Going into the oral defense, I really did not know what to expect, but it really is one big discussion about what you have done for the past four years and it closely resembles that of a committee meeting.  It provides an opportunity to think about the 'big picture' and how it relates to your research.
Q. Do you have plans for after graduation?
I recently accepted a job working for a company in Danvers called Cell Signaling Technologies. It is nice to have something lined up after graduation, but it was challenging to balance schoolwork and the job search; it took a while.  The economy turned slightly better and job openings were slowly posted. I guess it hasn't even really hit me yet that I am done.  Maybe it will on Saturday's commencement ceremony.
Q. Any advice for other graduating students looking for jobs?
I sent out twenty-five or more résumés.
You really have to look for job postings, and send resumes, every day. Employers are only looking at the résumés they receive in the first few days. It has a lot to do with good timing.
Start job-hunting early!
Talk to committee members and reach out to classmates that have graduated to develop connections.
Q. What about advice for those still in GMS or writing their thesis and ready to defend?
Try and write your thesis in sections; do a little bit here and there. Tackle it early on and you'll have less to do at the end.
Before your seminar and defense, take a deep breath and just relax (which I was told but found it difficult to actually do).
Try and enjoy it! The faculty are really approachable, and they want you to succeed.
Go to a conference. Try to attend at least one. National or international. You never know what information you will find that will drive the direction of your research.
Good luck to Stephanie and all the graduating GMS students!
By GMS Student,
Maggie Wentworth