Faculty Spotlight: Dr. Andrew Henderson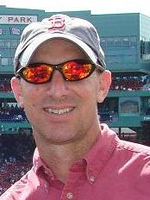 Many of us imagine our professors growing up playing with chemistry sets in the garage or assuming that they have no social skills unless you want to talk about their research. Dr. Andrew Henderson thinks these stereotypes are not fair and not only did he not have a chemistry set, he would argue the social part of science such as interactions with students and colleagues has helped him become a creative and innovative scientist.
Q: Can you tell us a little about your educational background?
I am originally from California and attended University of California, Riverside where I earned my BS and MA in Biology and my PhD in Biomedical Sciences. I did my post-doc at Columbia University. It was a big decision for me to venture to the East coast but I wanted to challenge myself both professionally and culturally. I was at the right age and at the right time in my life to take on and appreciate what New York City had to offer.
My first research experience was the summer before my senior year in college. I would joke that my major was soccer and I had no experience or idea what research involved. I was fortunate to find a summer position with a biotech company in San Diego, which turned into a real job following graduation. After working for this biotech company for about a year, I realize that I wanted to have a stronger voice in the direction of science and that could only be possible if I returned to graduate school. However, it was this first experience that got me excited about research and immunology and, probably more importantly, showed me that there were potential careers in science which I had an aptitude for.
Q. How did you ended up here at BUSM then?
There were a number of reasons for my move to BUSM. Professionally, I was at Penn State for about ten years, I had great colleagues and students, and there was a real strength in basic science. However, I thought moving to a medical school would be beneficial to my research program and I would be challenged to think about more translational or clinically relevant questions. It was also important to be at a quality institution that valued good research, had strong graduate programs and had quality people. I wanted an environment that allowed me to be creative and to explore and go in new directions with my research. Your environment and the colleagues you work with are crucial to the creative process in research. Some places I visited (but will refrain from mentioning by name) were intellectual deserts. It is a great misconception to believe that this doesn't matter. You can't be creative in a vacuum. One of the great advantages here are the graduate students. They ask questions and bring a fresh perspective to their work. Both students and colleagues can push you in new, exciting ways.
Q. Will you tell us more about the research you are currently involved in?
I am currently interested in HIV latency. I am curious about why drugs do not lower or eradicate HIV infection at a molecular level. We are investigating how cellular signals and biochemical processes positively and negatively regulate HIV expression and whether targeting these events influence the ability of the virus to replicate..
Q. What else are you involved in on the BU Medical Campus?
I am involved in various journal clubs and committees on the campus. I am Chair of the Instutional Biosafety Committee (IBC), which reviews BU laboratory recombinant DNA and Biohazard protocols. Recently, I have become more involved in committees reviewing graduate studies at the medical school.
I am most passionate about my involvement in graduate studies. I truly enjoy the teaching aspect of my job, especially in the lab. Watching a student grow and learn is an amazing experience and makes teaching so worthwhile. My students also push me and move me forward as well.
Q. Advice for students?
• Whatever you decide to do, be passionate and have conviction. Keep in mind most of us spend a lot of time at work, so, enjoy what you do.
• We tend to think there is a fixed path for a career, but in reality there is no such thing as a perfect linear career path. It might take more than four years to finish college or grad school, you might decide to work for a few years or travel, its okay, enjoy and learn from all your experiences. With each experience, you will change and grow. More importantly, these are the experiences that will provide you with the confidence and the maturity to create new opportunities for yourself.
Bringing together passion, optimism, and creativity to the BU community, Dr. Henderson certainly inspires graduate students.
By:
Margaret Wentworth