Spotlight on Students: Crystal Oechsle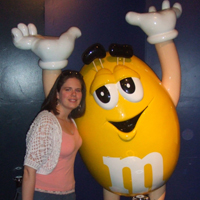 Fighting crime can start from GMS!  Often, the most influential information in a court case is built from the evidence obtained at the crime scene and processed in the lab. With all the terrible crimes that can be committed, it is comforting to know there are individuals like Crystal working to gather and analyze essential evidence that identify suspects. Not only has she been practicing forensics at the State Police DNA Unit, but she has been working to create a more effective system to analyze DNA collected from a crime scene.
Q: What program are you in enrolled in and why that program?
I am in the Masters of Science in Biomedical Forensic Science Program. This is my third year in the program attending part-time. I studied forensics and chemistry during my undergraduate studies at Ohio University. Forensic science has so many disciplines, which can be applied to many places. I was working in the State Police DNA Unit and a number of my coworkers were already in the Forensic Science Program at BUSM. I wasn't sure if I wanted to continue school, so I took one year off. Then I sat in on a class here. There are not many opportunities like the program at BUSM in Forensic Science.
Q: Recently, you attended a conference and presented a poster. Can you tell us about that experience?
My advisor, Dr. Grgicak pushed me to do the poster. I was initially uncertain as to if this was a good idea, but once I actually saw the poster hanging up in the hallway, it was like: Wow, I did that! I ended up being extremely pleased with the poster and proud of the work I did. Now I am even looking into publishing a paper based on this poster. The poster, titled 'A Comparative Study of Biological Fluid Identification Methods:  Lateral Flow Immunochromatographic Test Strips and Real-Time PCR Quantitation using Quantifiler® Duo," presented information on analyzing DNA from sexual assault kits. When analyzing these kits, the initial step is to determine if there is any male DNA and then, if there is, further testing is done to determine the exact DNA.
I presented my poster at the 2010 Annual Meeting for the Northeastern Association of Forensic Scientist. Presenting my poster at the conference allowed me to gain a new appreciation for the peer review process, and I was pleased with the receptive attitude my poster received. It also provided me with interesting feedback and new questions to investigate. The best part of the conference was the free-form case presentations from different labs. It was open to the participants to introduce  their own interesting topics, and was a great opportunity to gain a feel for the experience of different labs throughout the region. The conference taught me that there is still a long way to go in the field and it ignited thoughts of 'what next' and 'where do we go from here'.
Q: What does working in the State Police DNA unit involves?
There are two aspects of the job. One is the crime scene response unit. This means I get to go out to the scene of a crime to collect evidence. Doing so, I get to interact with victims and suspects, although I am really just collecting evidence from them, not asking them questions or interrogating them. The other aspect of the job is criminalistics, which includes working on the evidence in the lab. Overall, I don't interact frequently with the people involved in the investigation, although I have received a 'thank you' from a victim in one case.
Q: Does your job ever require you to testify?
Yes. I am often called to court, but I have only actually testified 10-12 times in four years. Often, when I am called to the courtroom there tends to be a lot of "hurry up and wait" occurring. It's not like you see on TV.  The courts are unpredictable, and I don't often actually testify.
Q: What is next for you and your career?
I don't have a life plan right now. My advisors are definitely encouraging me to continue my education with a PhD, but I am thinking that I need to develop my lab skills and gain more hands on experience in the field. It is a challenging career to have, as one must live near a city with crime to have the most opportunities. My husband recently accepted a job in Chicago and has been living there since this fall.
Q: Wow, how long have you been married for?
We were married in October of 2009. We have been together for ten years, since high school, and it just worked out that we went to the same college after graduating. He moved out here for a year, but had a better opportunity in Chicago. Now it is just me and our Irish Wolfhound, Apollo, who is a gigantic, wonderful dog that requires lots of playtime.
Q: Between working full-time, attending classes, creating posters, maintaining a marriage, and taking care of a dog, what do you do for yourself?
Don't forget thesis writing and comprehensive tests.  Well, I enjoy being involved in sorority life in Boston. I was in Delta Gamma at Ohio University, and I am able to give back to that organization as the treasurer for a chapter here in Boston.  It is a small chapter, but I am excited to report we have been able to lease a small space for the women of the chapter to gather and organize, and we are now in the process of renovating it.  It has really allowed me to stay connected to my past and connect here in Boston.
Q: Any words of advice for others presenting their posters or interested in the Forensic Science field?
It is a rewarding career if you are truly interested in it and can handle it.
Take a class if you think you may be interested in Forensic Science; you don't necessarily have had to be a forensic major to get into the field.
For presentations: Be prepared and confident in what you have done.
o   No one else knows what you've done or as much as you know about your research.
Crystal Oechsle has given us a small taste of what it means to be involved in the Biomedical Forensic Science Program and the type of opportunities one can gain from this field. While she manages her career, school, a husband, and a personal life with grace and a smile, she is making an impact in the field of forensic science.