Spotlight on Faculty: Dr. Stephen Brady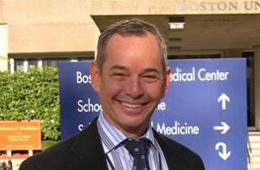 Dr. Stephen Brady, Director of the Mental Health Counseling and Behavioral Medicine Program in the Division of GMS, and an Associate Professor of Psychiatry is not only passionate about his work and career but intensely interested in engaging students in conversation whether in or outside of class. Dr. Brady would often give lectures without a single PowerPoint slide, yet all students become captivated by his knowledge and enthusiasm. Dr. Brady cherishes new challenges and experiences that his professional life bring and hopes to continue to infuse new ways to get students interested and motivated about learning.
Q: Tell us a little bit about your personal and educational background?
I received my B. A. Degree in Sociology at the University of Florida and then attended the University of California Santa Barbara for my M.A. and PhD degrees in Counseling Psychology. I also completed a Predoctoral Internship and PostDoctoral Fellowship at the University of California- San Diego.
Q: What are your current research interests?
There are two areas of scholarly interest I have maintained over the past 20+ years. I am interested in gay and lesbian identity development as well as HIV prevention in people with mental illness. Most recently, in 2010 I was awarded a five-year, National Institute of Mental Health Grant to study the effectiveness of an HIV prevention intervention our research group has developed and piloted with people with severe mentally illness. Over the course of the study we will recruit patients with current mental illness who are also engaging in high risk behavior for HIV. We intend to randomly assign 300+ participants to either our experimental intervention or to care as usual. We will then examine changes in risk behavior at 3, 6 and 12 months post-intervention. In order to complete this study I am working closely with a number of faculty associated with the Mental Health Counseling and Behavioral Medicine Program including core faculty Drs. Berger-Greenstein and Levy-Bell.
Q: What led you to pursue research on mentally ill at risk for contracting HIV?
My early clinical work with the LGBT community in the beginning of the AIDS epidemic was really the catalyst for my interest in both gay identity and later HIV prevention for people with mental illness. Most of my early gay male patients and many of my friends and colleagues died from HIV/AIDS in the 1980's. My dissertation examined gay identity development and its relationship to psychological well being and one of my hypotheses was that untreated mental disorders may lead people to engage in sexual and drug risk behavior. At the same time I also completed a number of clinical rotations with people with mental illnesses and along with some key collaborators began to describe and examine how people with serious mental disorders regardless of sexual orientation might be at high risk for HIV.  Indeed since our early work in this area a good deal of research has examined the increased risk among this cohort. I am chiefly interested in clinical interventions that can reduce risk taking in vulnerable groups including people with mental illnesses.
Q: You have many roles throughout the BU and the Medical Campus. Can you tell us about some of these?
Well, my number one role is as the director of the Mental Health Counseling and Behavioral Medicine program in the Division of GMS. I was actually one of the faculty in charge of creating the program almost a decade ago.   My second priority here is my role as the PI of the HIV study as discussed. I also am involved in the University as a whole as an Officer of the Faculty Council at BU and serve on several committees at both campuses.
Q: If you had to choose only one of these roles, which one would you choose?
I really love them all. In addition to the roles I outlined I also have a small psychotherapy practice, which I wouldn't give up even though I am so involved here at BUSM. I like all of it and I enjoy the opportunity to do so many different things.  However, being engaged in so many different areas makes it difficult to be a leader in any one field.
Q:  Do you have any words of wisdom for graduate students here at BUSM?
Being good at anything demands lifelong learning. It doesn't end with an academic education.
It is extremely hard work being successful. Success mainly comes from working hard and requires a sustained effort.
Q: What about tips for students trying to build a successful career in academic research?
It is important for those interested in research to have good training as well as effective mentoring.  I didn't have a mentor early in my career and this meant that developing a research portfolio was a great challenge. However, I never gave up and eventually was able to develop the necessary skill set.
Q: Any other words of guidance or inspiration?
I work harder and I am happier in my career the older I get.
It is a great gift to have a career that has meaning as part of one's legacy.
Dr. Brady is an example of how hard work and persistence helps countless individuals with mental illness to reduce the spread of HIV. Certainly, Dr. Brady's career is the gold standard for GMS students to aspire to be.
GMS Student,
Maggie Wentworth