Research Week 2022 – Xixi Xu, MD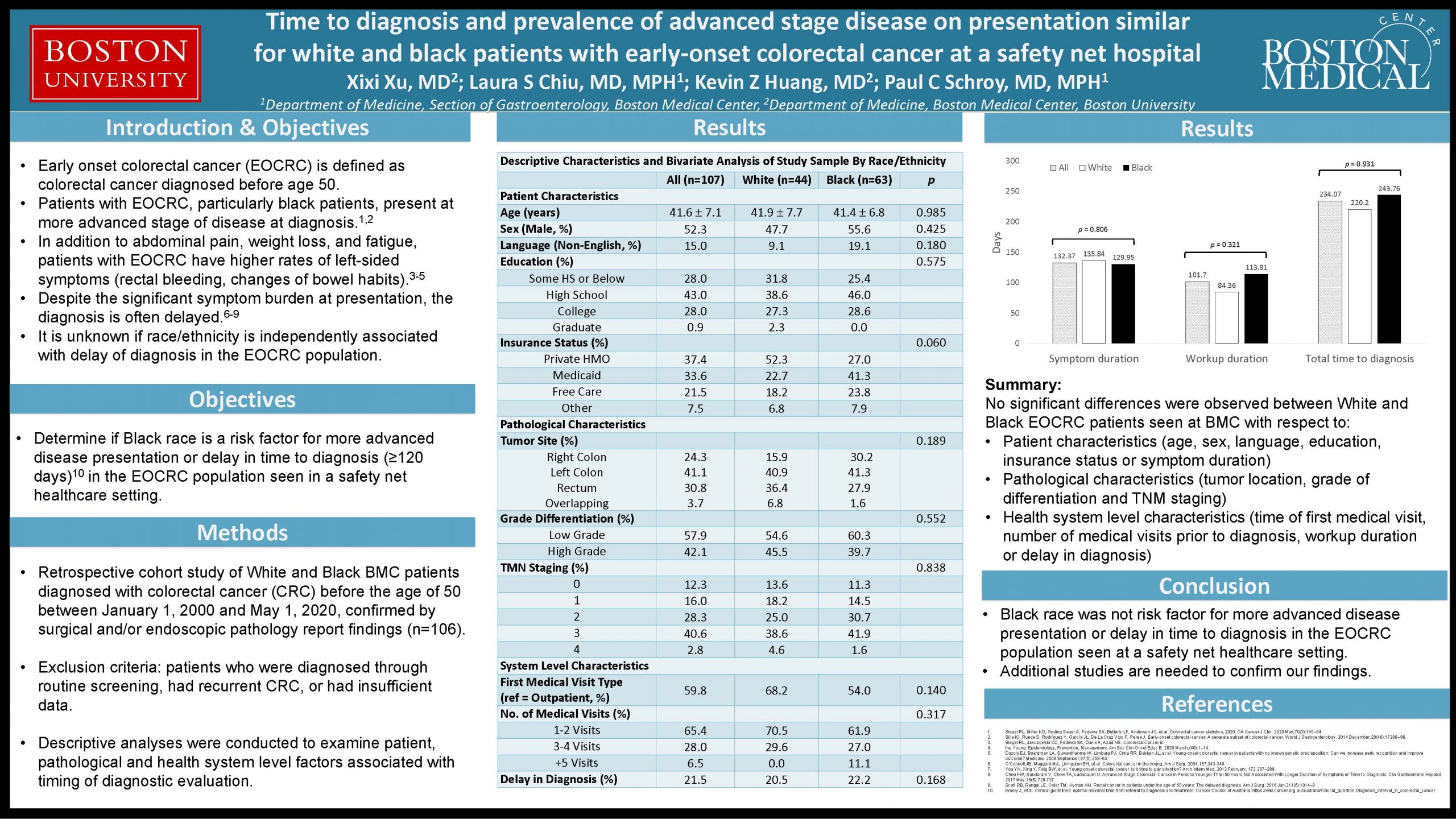 TIME TO DIAGNOSIS AND PREVALENCE OF ADVANCED STAGE DISEASE ON PRESENTATION FOR EARLY-ONSET COLORECTAL CANCER AT A SAFETY NET HOSPITAL
Xixi Xu, MD2; Laura S Chiu, MD, MPH1; Kevin Z Huang, MD2; Paul C Schroy, MD, MPH1
1Department of Medicine, Section of Gastroenterology, Boston Medical Center, 2Department of Medicine, Boston Medical Center, Boston University
Background: The incidence of early-onset colorectal cancer (EOCRC) is increasing in the U.S. Available data suggests non-Hispanic black (NHB) patients are more likely to present with advanced disease than their non-Hispanic white (NHW) counterparts. It is unclear whether this discrepancy is due to differences in tumor biology and/or disparities in time to diagnosis is unknown. Thus, we examine the association between race/ethnicity and stage of disease, tumor characteristics, symptom duration and health system level factors associated with time to diagnosis among NHW and NHB patients with EOCRC cared for at a safety net hospital.
Methods: We performed a retrospective cohort study of NHW and NHB patients diagnosed with primary adenocarcinoma of the colon or rectum before age of 50 who received care at Boston Medical Center, between 1/1/2000 and 5/1/2020. We excluded patients who were diagnosed through routine screening, had recurrent CRC, or had insufficient data. Descriptive analyses were conducted to examine patient, provider and system level associated with timing of diagnostic evaluation. The primary outcome of the study was time to diagnosis (defined as symptom duration plus workup duration); secondary outcomes include tumor histology, stage of disease, symptom duration, workup duration, number of clinic visits, and delays in diagnosis (time to diagnosis > 120 days).
Results: A total of 103 subjects diagnosed with EOCRC were ultimately reviewed for this preliminary study, with 40 NHWs and 63 NHBs. Compared to NHWs, NHBs had a higher proportion of males, non-English speaking status, and high school as their highest education level. NHB patients were more likely to be underinsured (Medicaid) or uninsured (Free Care) compared to NHWs. Overall, tumor site of disease was predominantly left-sided, but the prevalence of right-sided disease was higher among NHBs than NHWs. Compared to NHW patients, there were also no significant differences in the stage of disease, symptom duration, number of medical visits, time to diagnosis or delays in diagnosis between NHW and NHB patients
Conclusions: NHB patients with EOCRC were no more likely then NHW patients with EOCRC to present with more aggressive tumor histology, advanced stage disease, or experience delays in diagnosis within a safety net healthcare system. We speculated that the lack of difference in stage of disease is primarily due to fewer disparities in socioeconomic factors and healthcare system level barriers than those observed in other healthcare settings. Further studies are warranted to confirm these findings.