Residency Coaching Program
Coaching for Success
Established in 2016, the BUMC IM Residency Coaching Program is committed to the success of each individual resident. In addition to their adviser and mentors, residents are assigned a faculty coach that is selected and trained to support the resident throughout their training. Coaches work with residents to establish and achieve professional development goals, maintain their well being, and truly personalize their training experience.
Dr. Asher Tulsky, Director of Resident Development, takes meticulous care to match each resident with a coach outside of their intended career path, whose sole priority is the resident's learning and development. This enables coaches to give open, honest and constructive feedback, and residents to freely communicate and work on professional improvement goals.
Coaching and Caring Connection – Coaching for Now
The IM Residency Coaching Program is now going digital! Now in its third year, the Coaching Program has introduced an innovative approach aimed to increase engagement of faculty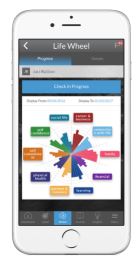 coaches and residents and help residents progress toward their personalized goals.
With pilot funding from the BU Digital Education Incubator and partnering with Achiiva, Inc., an Australian based app designer, the residency program launched Coaching and Caring Connection, a coaching app designed specifically for use by BUMC residents and coaches. Coaching and Caring Connection allows coach pairs to connect through their phones with features to help residents establish their goals and share them with their coach for accountability. Other features of Coaching and Caring Connection include messaging, monitoring progress of goals through development "wheels," inspiration boards and personal journaling.
While the Achiiva technology is used by professionals around the world, BUMC is in the midst of a clinical trial to measure it's efficacy in improving coaching specifically for medical residents. Half of our coaching pairs for the 2018 intern class have been randomly assigned to use Coaching and Caring Connection as part of their coaching program and the other half to use traditional coaching methods alone. Resident engagement, burnout, perceptions of performance and utilization of goal setting will then be measured to assess the impact Coaching and Caring Connection adds to the coaching experience. Stay tuned for the outcomes!