Welcome to the Dept of Medicine at BU & BMC
The Department of Medicine is home to internal medicine and medicine sub-specialty clinicians, researchers and educators of Boston University School of Medicine and Boston Medical Center. We train medical students, residents, and M.D. and Ph.D. fellows in general internal medicine and the subspecialty areas of internal medicine, as well as several interdisciplinary programs. The department is renowned for the impact of teaching and research programs, and for state-of-the-art clinical care to the patient population at BMC.

Top Headlines
---
Dr. George O'Connor featured in the New York Times
The article cautions that E-Cigarettes may help people to quit smoking cigarettes, there are still unknown health concerns of prolonged e-cigarette use, citing an editorial written by Dr. O'Connor and Dr. Belinda Borrelli in the New England Journal of Medicine. Read More. 
Dr. Emelia Benjamin, Vice Chair for Faculty Development & Diversity, featured on HealthDay
The article, Nearly Half of American Adults Have Unhealthy Hearts: Report, describes the report recently published in the American Heart Association journal Circulation.
Read More.
Amyloidosis Center (@Amyloidosis_BU ) Live Tweet on Feb 5th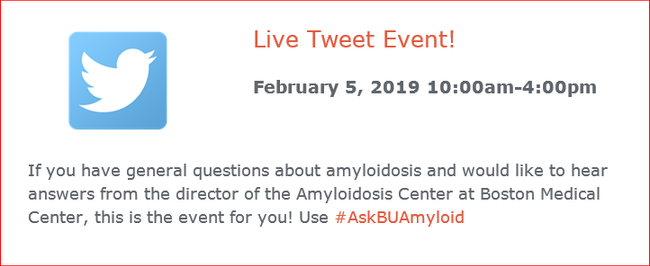 Dr. Angela Jackson Receives 2018 Jerome Klein Award
Dr. Jackson is recognized for the Jerome Klein award for her unwavering commitment to our patients and mission, her leadership in the medical community locally to nationally and her profound impact on education and mentorship throughout her 30 years on the medical campus.  Read More.
DOM Faculty Named 2019 Top Docs.
Congratulations to the 57 Department of Medicine faculty members who were named to Boston Magazine's annual Top Doc's list!
Read More.
Dr. Tuhina Neogi Named Chief of Rheumatology Section
Dr. Neogi is a international renown researcher and clinician from the BU rheumatology faculty. The Rheumatology Section, under Dr. Neogi's leadership, will now be comprised of the the unification of the sections of Rheumatology and Clinical Epidemiology. Read More.