About the Department – Message from the Chair of Medicine
Welcome to the Department of Medicine at the Boston University Medical Campus. We appreciate your interest in learning more about us. The Boston University Medical Campus contains the Boston Medical Center, and Boston University Chobanian & Avedisian School of Medicine, Public Health, and Dentistry. The Department of Medicine is affiliated with our two principal teaching hospitals, Boston Medical Center and the Boston Veterans Affairs Medical Center.
As Chair of the Department of Medicine, I look forward to our journey ahead. While the Covid-19 pandemic has changed and will continue to change medicine, our Department will remain committed to its missions including:
Outstanding & equal care for all
Health equity
Research that spans all domains from the laboratory bench to local & global health
Educational programs that position the next generation for success
We remain indebted to our history as a Department and the outstanding achievements of our faculty and staff. Now with close to 500 faculty, 14 Sections 15 research centers we are poised to broaden and expand our excellence. Our location in Boston provides the ideal backdrop to care for our community and to expand our basic, translational and clinical research programs.
Home to one of the country's leading residency programs, our Department is able to provide outstanding clinical and research opportunities to our housestaff, fellows-in training and medical students. Our faculty provide outstanding and diverse mentorship to our trainees allowing them to succeed both in their field of choice and type of career they seek whether it be clinically focused or as a physician-scientist.
Goals of the Department of Medicine
We believe that our success as a department is dependent upon exceptional achievement in each of our core missions of research, clinical care, and education.
In order to continue our leadership role as one of the country's leading research-intensive Departments of Medicine, we expect to:
Expect, support and reward both high aspiration and exceptional achievement;
Vigorously support a departmental community characterized by curiosity; collegiality, openness, mutual respect, diversity, integrity, generosity, and  service;
Provide sustained and meaningful mentorship;
Seek continuously higher achievement relative to historical and external benchmarks with a particular aversion to complacency;
Be attentive to the special obligation and honor in providing exemplary care for all members of the community, especially our underserved patient population;
Create discoveries that inspire our peers, establish new paradigms for future discovery, and ultimately improve the health of individuals and populations of patients;
Establish and continuously refine new models for achieving excellence by working across disciplines in our research, education, and clinical programs;
Develop responsive, supportive and challenging educational programs that enable our trainees and faculty to acquire outstanding, broad-based competencies;
Create policies and operations characterized by effectiveness, efficiency, integrity, equity, responsiveness, and value to patients, internal stakeholders, regulatory agencies and our institutional affiliates.
Ultimately, we seek to be a department that leads through the impact of our work, the generosity of our actions, the example we provide, and the value we bring to our profession and to the public.
We appreciate your interest and hope you will contact us if we can provide any additional information about Boston University's Department of Medicine.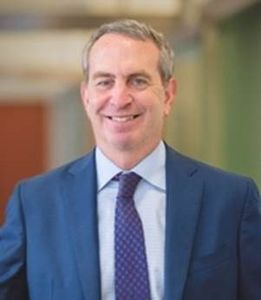 Anthony Hollenberg, M.D.
John Wade Professor and Chairman, Department of Medicine