Cores and Service Centers
The Department of Medicine Research Cores offer the BUMC and larger research community access to specialty imaging and analysis equipment and expertise. Training and demonstrations are offered by the Cores and time with the equipment can be booked depending on your needs.

The Analytical Instrumentation Core is to provide support/training to investigators through cutting-edge analytical instruments for analyzing biological samples. Our services include:
Protein & Cytokine Tests/Arrays
Fatty Acid Analysis
qPCR Array Service
We specialize in detecting and quantifying sample components and helping you design analysis to fit your experimentation needs. We are proud to offer demonstrations of equipment and results to the BU community in our lab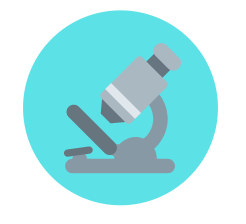 The Cellular Imaging Core is an optical microscopy core facility with a range of digital imaging microscopy systems for studying cells and tissues. Our services utilize a variety of equipment including:
IonOptix calcium imaging system
Olympus DSU spinning disk confocal microscope
Two-photon confocal
Nikon deconvolution wide-field Epifluorescence system
Zeiss LSM 710-Live Duo scan
Olympus stereo fluorescence imaging microscope
Leica SP5 confocal microscope
Olympus Upright
We are skilled at training users to operate all of our equipment to obtain their desired image of a variety of cell types.
The IVIS Imaging Core offers non-invasive monitoring of bio-luminescence and fluorescence in 3 dimensions within small animal models (rats and mice) and assay of comparatively sized tissue volumes post animal retrieval for specimens from larger animals. The IVIS Imaging Core is equipped with the Xenogen IVIS imaging System – with Fluorescence Kit, Anesthesia System, and Living Image Acquisition/Analysis Package.
The Metabolic Phenotyping Core provides experimental testing services to researchers studying metabolic diseases in mouse models. We are able to provide examinations to identify the following in live mouse models:
Measures of key health outcomes such as aging, cancer, disease progression, and obesity
Assessment of body composition
Measurement of basal metabolic rate
Assessment of Maximal Aerobic Capacity
Single Cell Sequencing Core provides in-house services for single cell RNA sequencing. Our single cell services include:
Library preparation using microfluidic devices using the Chromium Single Cell 3′ System from 10x Genomics and Bio-Rad® Single-Cell ddSEQ Single-Cell Isolator
Manual plate-based library preparations using CEL-Seq2 single-cell transcriptomics method using in vitro transcription
We use Illumina next-generation sequencing to bring you massive amounts of reliable, cost-effective, and robust data. We also perform tissue dissociation and Bioinformatic analysis as a fee-for-service.